Did you catch Wednesday's forth season premiere episode of The Conners? The half hour aired live on both the East and West coasts. You can watch it on-demand at CTV.ca.
What I liked most about it was all the looks backstage. It was as close to attending a live studio taping as you can get from the comfort of your living room.
That was one reason the cast, crew and producers went to all the trouble of doing a live show. It had been a full year since a studio audience had been allowed into the Warner Bros. Studios soundstage in Burbank, Calif., where The Conners is shot. The past season was produced under strict COVID safety protocols and a laugh track was laid over the soundtrack to simulate a live studio audience.
Wednesday night the laughter was real. The Conners cast, especially TV veterans John Goodman and Laurie Metcalf, really shone in the live performance format. Metcalf seems almost liberated as she played Jackie to the max, almost daring the other cast members not to crack up. Not in the episode, and missed, was Lecy Goranson (Becky).
Part of the plot had Darlene's son Mark (Ames McNamara) working on a school project by contacting other Conners in other states to see if their side of the family was as screwed up as his. The folks who appeared on Mark's mobile screen were actually fans of the series who responded to a BeaConner.com contest promotion.
Four grand prize winners (two from the East Coast live show and two from the West) received a US$1,056.00 appearance fee, along with a T-shirt and a copy of the script autographed by the cast, for saying their lines, live, on the series. A very cool idea, and nobody went up on their lines.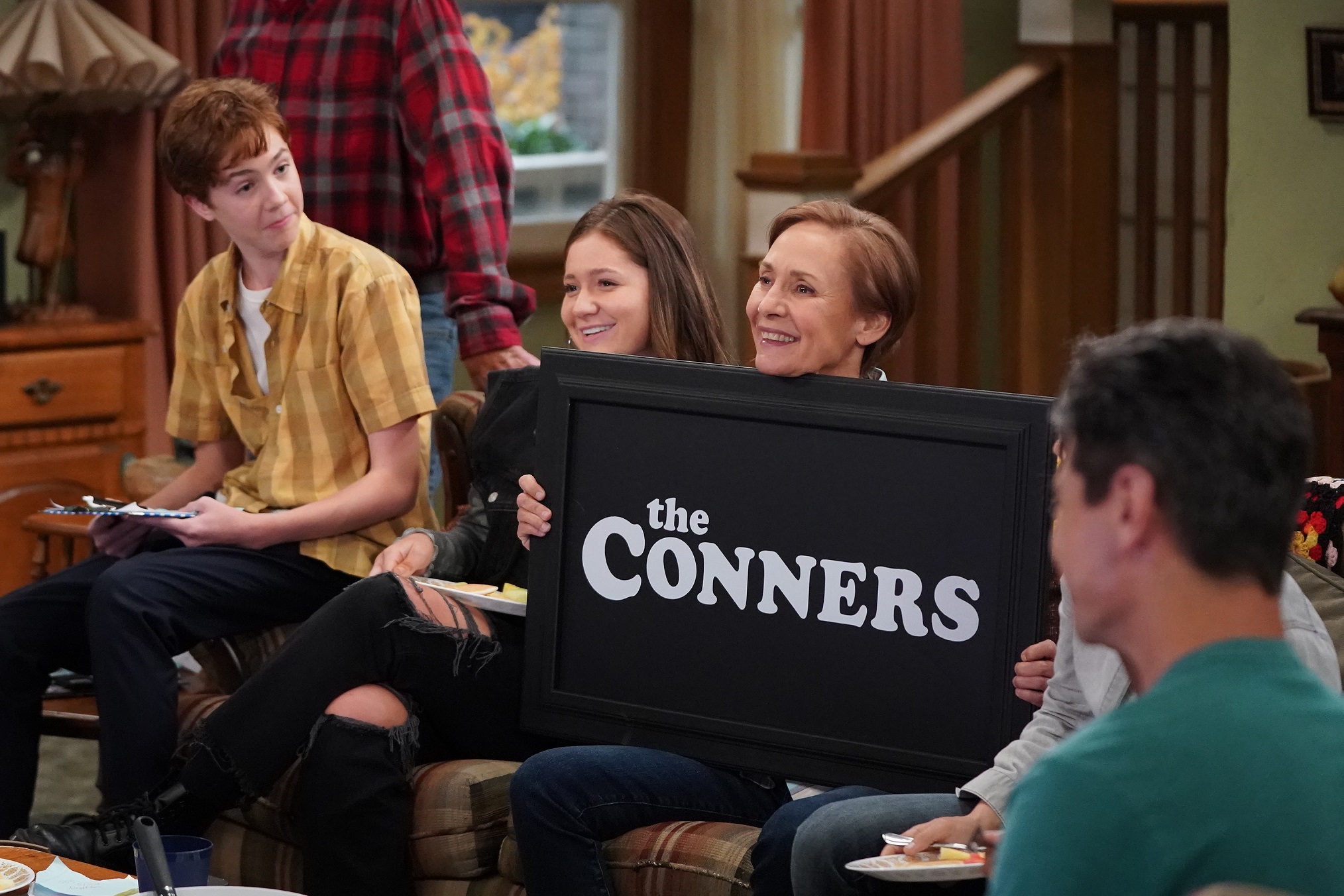 Back to the breaking-the-fourth-wall moments: at one point, Sara Gilbert's character Darlene was in the hardware store and had to go into the backroom where her (ex?) boyfriend Ben (Jay R. Ferguson) has been camping out. It is not, however, just a few steps to the right. Urged on by her castmates, Gilbert had to exit the store set and run down a narrow passageway to where the backroom set was standing at the other end of the soundstage.
At the end of the show, a back camera panned past the other floor cameras and over to the bleachers where a fully vaccinated and masked studio audience gave a prolonged standing ovation. The cast re-assembled on and behind the Conner's living room couch where Goodman held a sign dedicating the episode to Norm Macdonald. The late comedian got his Hollywood start 30 years ago writing for Roseanne and also contributed in recent years to the Conners reboot.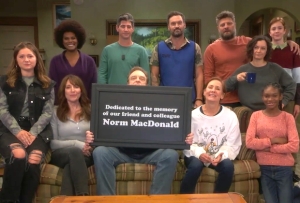 The only thing wrong with that salute? They spelled Macdonald wrong, with a capital "D." Hey, I've done it myself. Norm would have laughed.