Television's longest-running game show The Price is Right celebrates 50 season this week. It premiered on Sept. 4, 1972 with Bob Barker as host. Since then, according to CBSViacom:
Over US$300,000,000 in cash and prizes has been given away.
More than 8,400 cars have been awarded, including the very first car, a Chevrolet Vega valued at $2,746.00.
More than 2,000,000 audience members have been to the Bob Barker studio at Television City in Los Angeles to see a taping in person.
Over 68,000 contestants have been told to "come on down!"
The big wheel has been spun more than 63,000 times.
There have been 108 pricing games played over the course of the show's history.
Drew Carey, who took over from Barker as host in 2007, has been appearing on CBS Sunday Morning and The Late Show with Stephen Colbert promoting the anniversary.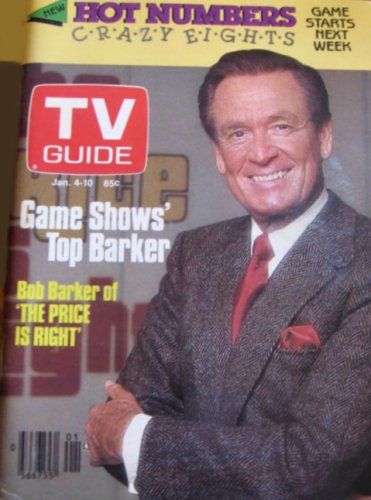 Barker, 97, is still with us. The "Happy Gilmore" slugger was quoted offering congratulations in a CBS release. "The show has the most enthusiastic and fun audience that one could ever ask for," he said. "Particularly close to my heart was the ability our vast popularity gave me to remind our entire audience daily about the importance of spaying and neutering your pets."
The weekday morning series, produced by Freemantle (originally a Goodson-Todman production) and seen in Canada on Citytv, is still the No. 1-rated daytime series on American broadcast television.
Really the series should be celebrating 60 years. A simpler version focused more on price guessing aired on NBC and later ABC from 1956 to 1965 with Bill Cullen as host. The NBC version was the first US game show to air in colour.
A French-Canadian version of the series (Price Is Right:À vous de jouer) aired from 2011-2012. The prizes were, well, more Canadian. Contestants won car rentals, not cars. Trips to Halifax instead of European cruises.
The Price is Right celebrates its milestone all this week by featuring a game each day where contestants can win up to 1 million dollars. There will also be a primetime Price is Right special airing Thursday on CBS.
I had the good fortune to visit the set on a few occasions. The CBS version has always taped inside the fabled CBS Television City studios in Los Angeles. Sold a few years ago to developers for US$750 million, CBS is now a tenant in what used to be its own building. It remains at the corner of Beverly and Fairfax, just north of the famed Farmer's Market. The building was built way back in 1952 and was home to stars such as Jack Benny, Red Skelton and Burns & Allen.
In 1986, I arranged for my parents to go to a Price is Right taping. They sat in the front row, wearing big yellow name tags, waving copies of that week's Canadian TV Guide with Barker on the cover. Barker came out to start the show and walked directly to them. "Ross and Marg, what do you have there?" he asked. They got their 15 seconds of fame at the start of the broadcast – but mom was still bummed to learn they were guests and therefore not eligible to compete for prizes.
In 2008, I lucked into an extraordinary opportunity to roam the set after hours. Me and TCA publicist Cindy Ronzoni had arranged to attend a taping of The Late, Late Show with Craig Ferguson that same night. A familiar face among her PR colleagues, Ronzoni was waved to the elevators unattended by CBS publicity personnel.
We got off on the wrong floor and wandered over to Studio 33, the newly-christened Bob Barker Studio. It might have been an accident.
That CBS space is sacred ground, and not just for its daytime game show connection. Long before Barker started handing out refrigerators and Rice-A-Roni on Price, this was the studio where The Carol Burnett Show was shot in the '60s and '70s. Match Game used to tape in Studio 33 (hence the vague whiff of stale cigarettes and booze in the air. God bless you, Charles Nelson Riley).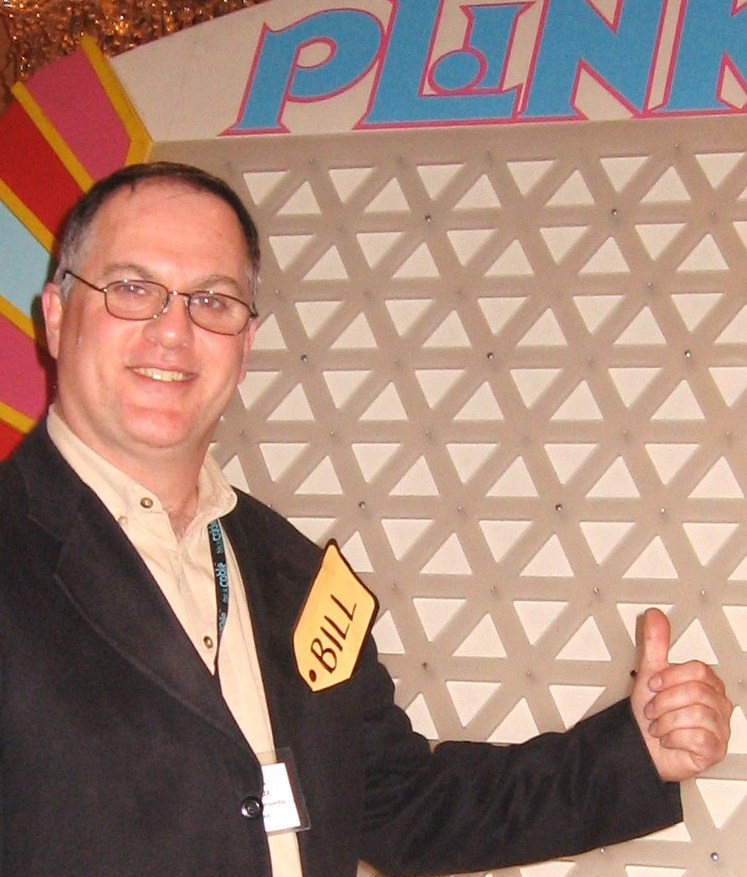 With only a couple of cleaners in the area, we walked right out to centre stage where Barker once stood. In front of us were row upon row of those red cushioned seats. Abandoned at night, the place was hushed like a church without tourists in T-shirts and name tags hopping and howling. Directly in front, just off the lip of the stage, were the four bidding podiums. Behind us were the giant showcase doors plus the final showcase area.
It was cool for a TV critic to be able to part the dusty, ruby and blue-grey CBS curtains, with their pattern of iconic CBS eye logos. Surely it was behind one of these curtains where Barker first made a grab for Janice Pennington's ass.
A few years later, in 2011, Television Critics Association members were invited to the set to attend a taping. We were greeted by Carey, who said at the time that Plinko and Hole-in-One are still the favourite games. His Plinko tip: drop the disc dead centre every time. As for guessing the suggested retail price of a car, NEVER assume it ends in "95."
Carey says his biggest gaffe was the day the studio audience was filled with moms-to-be. At the end of the show, he told the many pregnant women out front that he hoped they had safe deliveries–then he reminded them all to spade and neuter their pets! "I promised Bob Barker I would say that at the end of every show," he explained.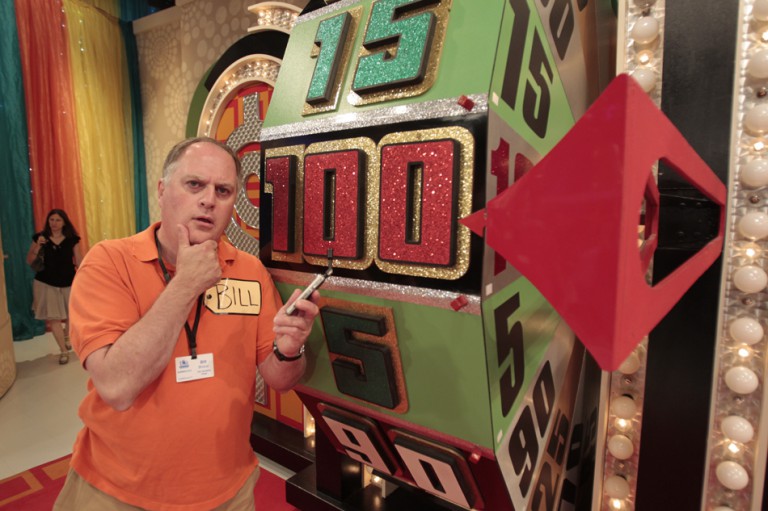 Carey has a pretty sweet schedule. Price tapes two shows a day, three days a week, then takes two weeks off. In a year, 190 shows are taped.
Critics were invited on stage to spin the big wheel. It is heavier than it looks. My spin stopped at 40 cents — but don't forget that's at least 60 cents Canadian.
The Price is Right's two-hour 50th anniversary primetime special airs this Thursday night on CBS.