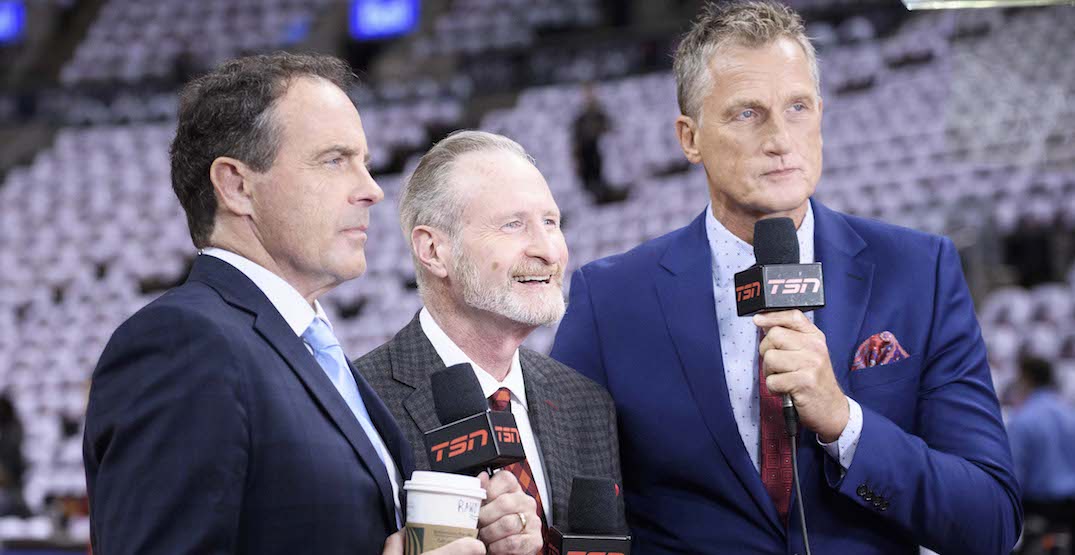 These are transitional times in the broadcasting business. Things can get very bottom line quickly when ad revenues bottom out. I get it, therefore, when releases are sent signaling the end of an association with a broadcaster who has enjoyed a nice, long career.
What I don't get, lately, is that these folks don't get to have a victory lap — even for one game.
TSN announced Thursday that Rob Black, a CFL play-by-play announcer and host of NBA on TSN, was "signing off from the network." This brings an end to a 30 year association with Bell that goes back well before he was a co-host on Canada AM.
The 59-year-old's departure comes a few weeks after it was announced by Rogers' Sportsnet that Jim Hughson was retiring as a play-by-play voice on NHL broadcasts. Hughson's career in the booth spanned 42 years. This news came right before the start of a new hockey season.
Both men were quoted in separate releases giving praise to their networks and expressing gratitude for being able to do something they loved for so long. Excutives at both TSN and Sportsnet heaped praise upon Black and Hughson. We all should go out under such pleasant terms.
This past summer, TSN Radio issued a similar sayonara to Michael Landsburg after five years as the Morning Show co-host of TSN 1050 Radio. That wrapped up a 37-year career dating back to the inception of TSN in 1984.
As Twelve Thirty Six noted Thursday with a link to a Toronto Star article, Landsburg's departure was amicable. The same could be entirely true for Hughson and Black.
The end does come for everybody, of course, even in sports broadcasting. There are rumors NBC is looking to ease well paid play-by-play Hall of Famer All Michaels out of the Sunday Night Football booth at the end of this season. Not that I could tell, but Wikipedia says Michaels turns 77 next month.
Perhaps Black, Hughson and Landsburg were happy to ghost; to go quietly off into the sunset (or like me into podcasting). Still, I have to applaud the way Bob Cole was given what amounted to a year-long victory lap his final, limited season as the play-by-play ace of Hockey Night in Canada. Cole's career spanned 50 years when he did his final broadcast in April of 2019. He is now 88 and is probably still pissed he's not in the booth.
Media companies: use the Johnny Carson rule. If your sports personality has been the voice and face of your franchise for 30 years or more, let them call a game or seven or even one last season as a happy sendoff for the fans. Make it an occasion. It's the warm and fuzzy thing to do, and here's the kicker — in most cases, you'll reap a once-in-a-generation ratings bonanza. Look it up.