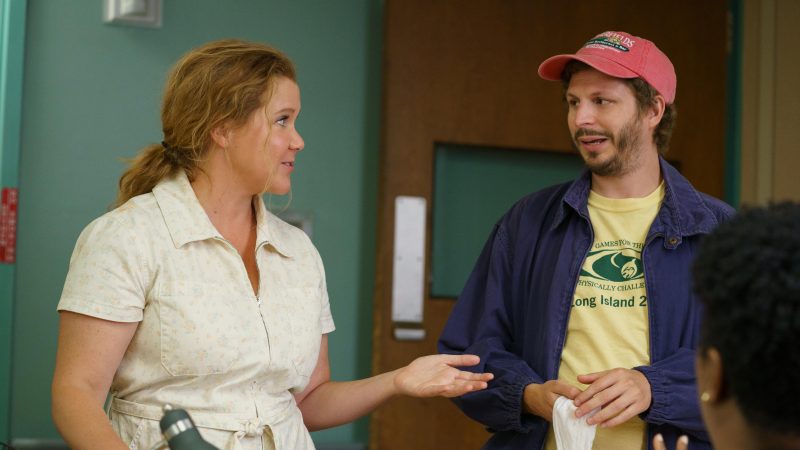 Is the world ready for a kinder, gentler Amy Schumer?
The 40-year-old comedienne broke big a dozen or so years ago, dishing fearlessly on her own sex life in ballsy comedy specials such as "Inside Amy Schumer" and Comedy Central roasts. By the time she wrote and starred in "Trainwreck" in 2015 she was a comedy super star, hosting Saturday Night Live, cracking Time's Most Fascinating People list and hanging out with A-list friends.
Schumer took a step back in recent years, getting married in 2018 and giving birth to a boy, Gene, in 2019. Some health challenges and creative setbacks followed. Reality shows such as Amy Schumer Learns to Cook and Expecting Amy (both 2020) did not seem to show her to her best advantage.
This month, she's back with two high-profile gigs. On March 27, she joins Wanda Sykes and Regina Hall as hosts of the 94th Annual Academy Awards. On Friday, her new series Life & Beth premieres on Disney+ and Hulu.
Life & Beth stars Schumer as a Manhattan wine distributor who seems to have the perfect life. Something happened which forces Beth to engage with her past. Through flashbacks to her teen years, Beth learns how she became who she is and who she wants to become, and she strives to live a more authentic life.
Schumer indicated she was on a parallel path as she spoke with reporters via a Television Critics Association zoom call in February.  
The New York native, whose middle name is Beth, says she has plenty in common with her character. For example, she said that "one of the things that surprised people is that I actually am an introvert. And I think so many of us have these conflicting sides of ourselves." She also saw herself as somebody who feels "supremely confident" even through she also suffers from "really low self-esteem."
Schumer added that we're all "hopefully evolving and trying to become the best versions of ourselves. So I wanted to show that dynamic."
One veteran reporter asked Schumer when she first understood that she was funny.
When she was around five-years-old, answered the comedian, comitting to a little TCA therapy.
"I was playing Gretel in 'The Sound of Music' at this Catholic high school. And every time I would come on stage, the audience would laugh.  And it made me feel hurt and embarrassed. And I remember the director explaining to me, "No, it's funny. It's good when you make people laugh. It means they love you and you made them happy.'"
Schumer went into some detail on the call about things she's had to deal with lately. Her pregnancy triggered hyperemesis and she also discovered she had endometriosis. "There's no studies.  There's next-to-no studies on any female illnesses," she lamented.
In the Life & Beth trailer, her character is asked if she has any pre-existing conditions. Her answer: "I'm a woman."
Schumer, who writes, directs and stars, is joined in the 10-episode series by Michael Cera, Michael Rapaport, and Laura Benanti. Cera, from Brampton, Ont., plays "more of a sensitive man." Schumer was keen to veer away from more portraits of toxic masculinity.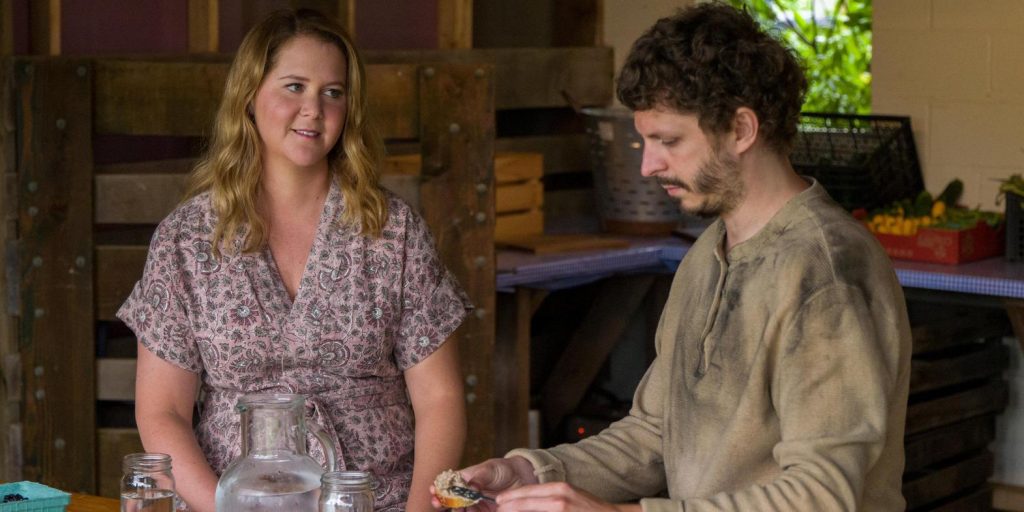 Asked if he found Schumer intimidating, Cera demonstrated how well he was cast. "As soon as you meet Amy and being invited to work with her kind of eliminates any intimidation. You just feel included and excited."
Schumer took another question and then pretended to be interrupted when her phone went off. It was Kim Kardashian on the line, plugging her own upcoming series and gushing all about Life & Beth.
"What's the TCA's?" asked Kardashian. "An airline?" If it was, the Kardashians would have the most frequent flyer points.
As a reporter on the call, you appreciate that Schumer went to the trouble of writing jokes and trying to entertain. Hey, extra effort.
Bringing in a Kardashian to be your "Hulu Honey," however, also does make you wonder a little about this new resolve to be more authentic. Then it dawns on you that she actually was being 100 per cent authentic. Dealing with fame is her reality.
Schumer was asked if she ever felt she over-shared, and where she draws the line.
"I don't think I've encountered that line," she said, adding, that making comic use of her most vulnerable, darkest self, "helps alleviate my pain about it and it is sort of therapeutic. 
"I'm sure I've shared more than some people would have cared me to. But I think it's helpful. I do. And it feels really great and powerful to feel like you might be making somebody laugh and feel better about themselves."
She references some iconic female comedians from the past, including Lucille Ball and early stand-up specialist and Ed Sullivan regular Totie Fields.
"I'm always happy when a comedian pulls back the curtain and shares themselves," she continued. "Because however great of a joke writer that you are … you have to love the person.  When Lucy stepped out on stage or Totie stepped out on stage, it was like you loved them. And I think that's a powerful thing about comics."
With Life & Beth, Schumer aims to take a step in that direction.