Perhaps the most impressive thing about the Kids in the Hall picking up right where they left off – 27 years after their last sketch season ended – is their total embrace of doing it at 60.
The series opens with Scott Thompson menacing through a yard sale. He's all tarted up in grey-ish dreads, medallions and rings like a comedy Keith Richards. We see him talking to some Gen Z neighbours, giving away old crap such as VHS tapes of the troupe's uncelebrated "Brain Candy" feature for one Canadian looney. "Reviews were mixed at best," warns our funky old friend.
No so this review for Amazon Prime Video's revival of The Kids in the Hall, which starts streaming this Friday. The new series is alive, plucked from the grave and back to crush heads all over again.
To drive home that point, Dave Foley, Mark McKinney, Scott Thompson, Bruce McCullough and Kevin McDonald are all exhumed, dug out of the same grave site, dazed and confused but otherwise functional. Much of their signature bits have also been dug up, along with a full wardrobe of woman's clothing.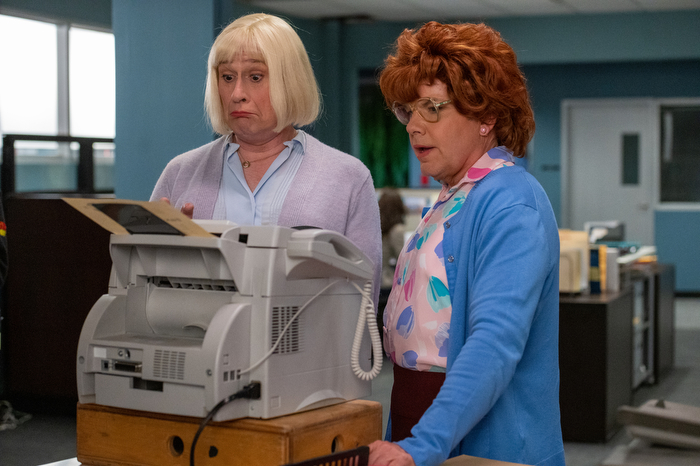 There, one might think, the Kids could have a problem. Gender appropriation in 2022? The players, however, were never looking for a "Bosom Buddies"-style cheap laugh with their dresses and wigs. They always committed to playing their female characters, and fans will find it just as silly and curious as they did back in the day, and surprisingly a little bit touching. Just as it is interesting to see them play older men, there is also a sweet joy in seeing them play women of a certain age.
Signature characters are back as well. Thompson is back on the prowl as gay icon Buddy Cole. There's a glory hole sketch which somehow involved Queen Elizabeth that will make all but the most ardent royalist howl.
You want full frontal male nudity? The Kids stick it out for another year. These are, as one character says, father figures with father figures.
Other sketches have a surprising poignancy. In the third episode, Foley plays aging DJ Mike "Motor Mouth" Mulcahy. Despite a DNA bomb dropping five years earlier, he still manages to transmit from an underground bunker. He keeps playing the part of the one 45 that doesn't skip anymore spinning over and over again. It is a song from October of 1971 and one I remember fondly from my youth, but horrifying in this context.
Mulcahy sticks with the DJ patter, delivering George Carlin-esque "hippie dippy" weather forecasts ("Weather today is mostly lethal, so stay indoors").
The sketch is beautifully shot, with lights flickering and water dripping and darkness all around. Coming on the heels of two-plus years of isolation it is sad as hell. We've all been stuck listening to K-ROC, and every day feels the same, and not even Melanie can cheer us up anymore.
Yet there is something triumphant in committing, even if it seems absurd.
The Kids in the Hall always had a great theme song, "Having an Average Weekend" by the band Shadowy Men on a Shadowy Planet. Hearing that twangy surf guitar sound again will transport fans of the original series back to their punk glory years. So does the grainy, hand-held, 16mm street visuals that accompany the theme.
I actually like these older Kids better. In the latest Brioux.tv podcast, I asked Kinney and Foley about writing and performing sketch comedy after a 27-year layoff. Isn't sketch comedy something you do when you're young and angry? All five are in their sixties now except for Foley, 59. Is it harder to stay relevant, I asked?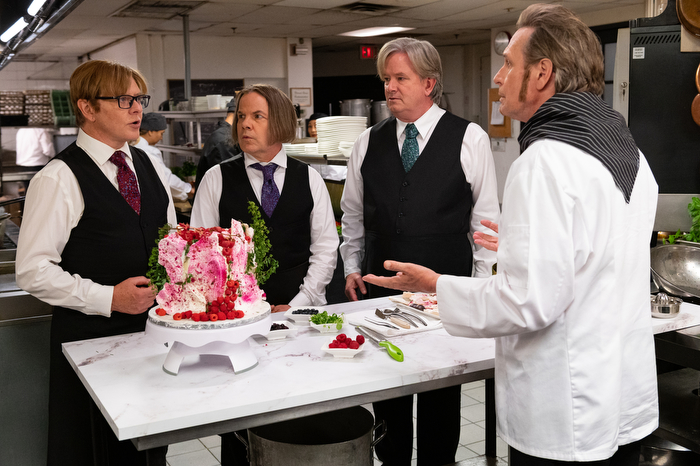 McKinney, 62, said trying to stay relevant would be the biggest mistake. Coming off six seasons of a sitcom (NBC's Superstore), he, for one, was pumped to tackle sketch again at this age. Foley agreed and added that the goal is the same now as it was then: to make the other guys laugh.
Mission accomplished. There are plenty of laughs in this new eight-episode series, but also much to ponder and celebrate. So much so, in fact, that adding short shout outs from today's comedy stars, such as current Saturday Night Live cast members Pete Davidson and Keenan Thompson, seems like a reach for relevancy. Catherine O'Hara, Brandon Ash-Mohammed, Will Forte, Catherine Reitman, Samantha Bee, Fred Armisen, Paul Sun-Hyung Lee, Jay Baruchel, Eddie Izzard, Tracee Ellis Ross, Mark Hamill, and Colin Mochrie also appear in "Friends of the Kids" segments.
The following week, on May 20, Amazon Prime Video will also premiere a new, two-part documentary titled, "Kids in the Hall: Comedy Punks." Older fans will love it and new ones can marvel at how these five suburban lads from all across Canada came together and discovered their original mojo.
You don't have to, however, know the back story to enjoy the new story. These Kids are alright just the way they are.