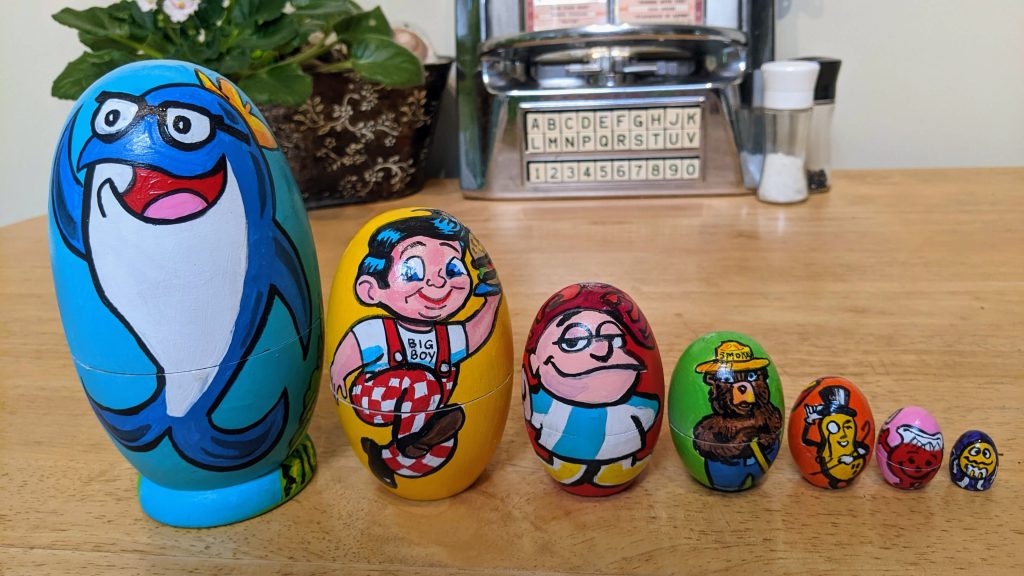 This week, right after my birthday, I received an extraordinary gift: a collection of one-of-a-kind Russian nesting or tea dolls depicting the iconic animated ad mascots of mid-20th century television.
Hand-painted on seven wooden doll forms were 14 figures: the largest had renderings of the Star-Kist tuna mascot "Charley," the Jolly Green Giant and Little Green Sprout, and the Pillsbury Dough-boy; next was The Big Boy restaurant mascot and Mr. Clean; followed by The Hawaiian Punch guy and the Speedy Alka-Seltzer dude; Smokey the Bear and the Michelin Tire Man; Mr. Peanut and Snap from Rice Krispies cereal; Elsie the Cow and the Kool-Aid pitcher; and finally Plain and Peanut from M&Ms.
The artist is Gary Pearson, TV showrunner and writer (Sunnyside, Mad-TV, This Hour Has 22 Minutes). His renderings perfectly capture every gesture and nuance from the original campaigns. No surprise, really – Gary studied animation at Sheridan College and worked in cartooning before launching his writing and producing career.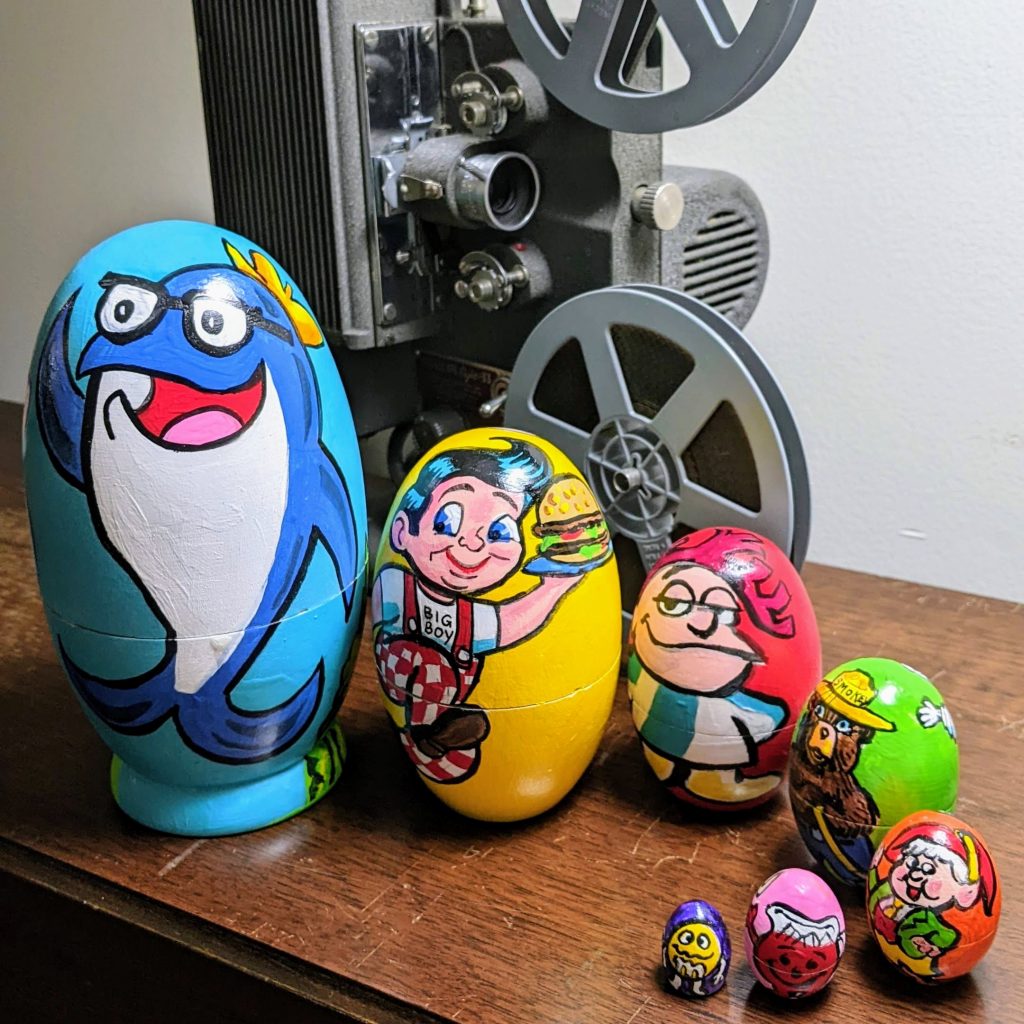 For me, these statues are more special than seven Canadian Screen Awards. I can't imagine how many hours it took to draw, paint, glaze and complete these dolls. They all have meaning for me. I grew up watching hundreds of hours of these memorable 'toon mascots on Saturday morning cartoons and other kid-oriented ad pitches in the '60s and '70s.
I recently picked up a 16mm print of King Leonardo and His Short Subjects, a best forgotten animated half-hour series from the early '60s. The reel came, however, with three or four "Cheerio Kid" and Trix the rabbit ("Trix are for kids!") commercials that redeemed the purchase. Often the animated ads were more clever than the shows that surrounded them.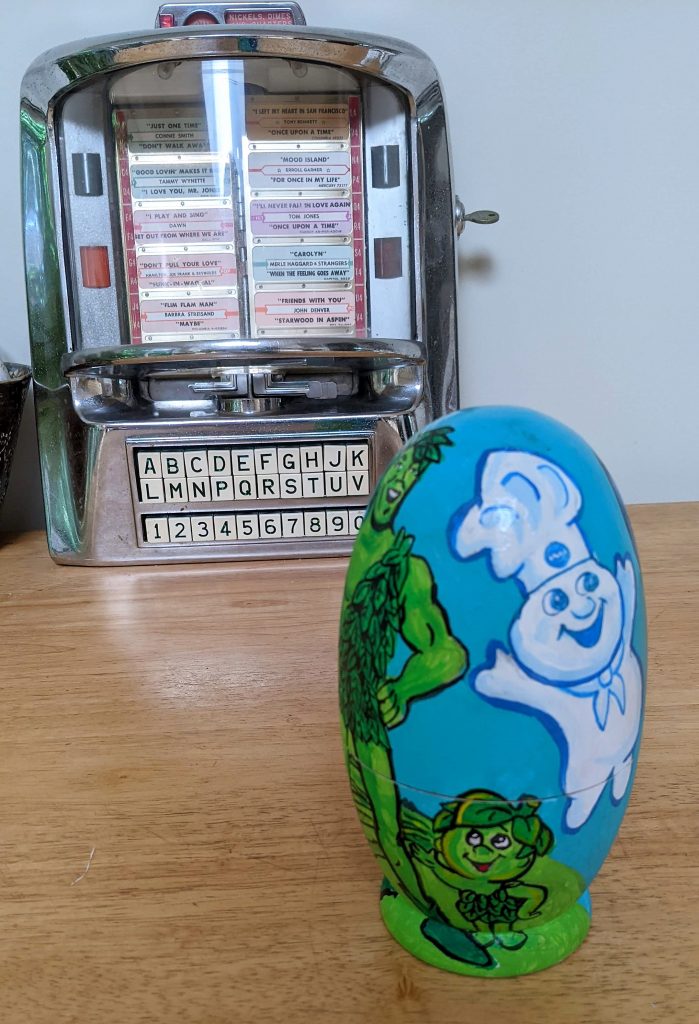 Each of Gary's doll forms has at least two ad icons painted on them. The largest has four: The Star-Kist tuna (he was always trying to get hooked; remember the catch line, "Sorry, Charley"), plus the Jolly Green Giant and the Little Green Sprout from Green Giant vegetables and "Poppin' Fresh, a.k.a. the Pillsbury Doughboy. The latter was originally voiced by Paul Frees (Boris Badenov on Rocky and Bullwinkle) and first appeared in ad campaigns in 1965.
The Big Boy mascot in particular has always been a favourite. There was, briefly, a Big Boy restaurant at the south end of Cloverdale Mall in Etobicoke, Ont., when I was a child. Bob's Big Boy in Burbank was a favourite haunt when I lived in the valley in the mid-'80s. Classic car collectors, including Jay Leno, would gather at that food chain parking lot to show off their wheels. The ham slices inside were artery-choking, the size of briefcases.
I don't know where Gary found the time to complete these ad icons given his current focus: a cross-Canada tour of the live stage show he co-wrote and performs with ex-22 Minutes favourite Geri Hall. Middle Raged is hilarious. Geri and Gary rocked a sold out performance at The Westdale in Hamilton where we saw it pre-pandemic. Now the show is back and headed to The Oakville Centre in September and other venues on the East Coast and throughout Ontario.
If you want to laugh out loud with friends, see this show. In the meantime Gary, thank you for a truly treasured gift.