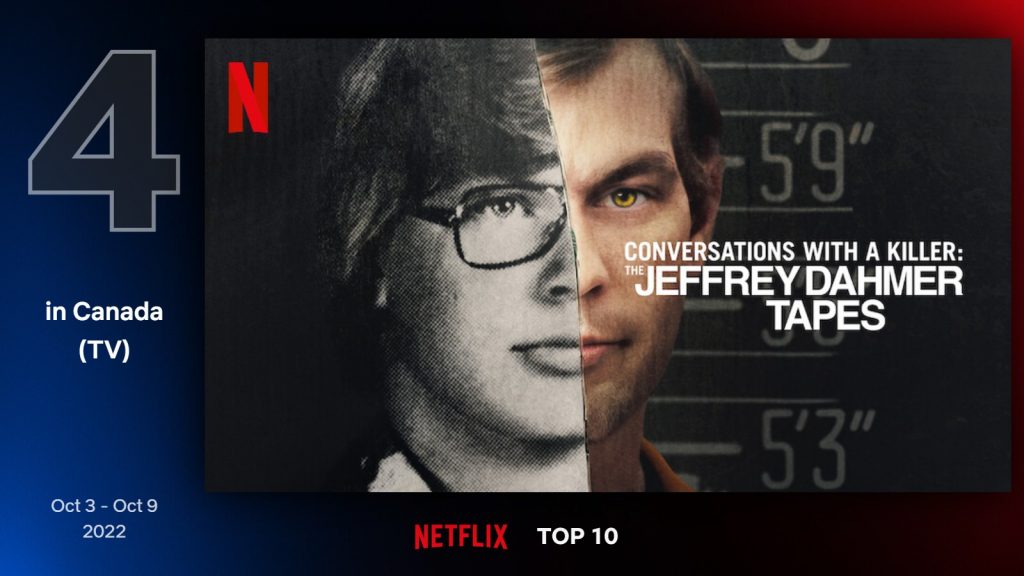 Look, I sort of get why there's a fascination with serial killers, so I guess I shouldn't be so surprised that, for the third week in a row, Ryan Murphy's miniseries DAHMER: Monster: The Jeffrey Dahmer Story has been the most-streamed show in Canada on Netflix.
Maybe it is the double colon thing in the title that bugs me the most. I just feel mounting big budget episodes around psychopaths just leads to more sensationalism and violence. I do not want to see another "He Who Must Not Be Named" get any more attention, or possibly inspire some copy cat killer.
Just to make matters worse, the companion offering, Conversations with a Killer: The Jeffrey Dahmer Tapes: Limited Series, ranks as the week's fourth most-watched program. What's next, Netflix: The Dahmer: After Show: with Chris: Harrison?
More telling, perhaps, is what ranks further down the top-10: broadcast network reruns of Grey's Anatomy (Season 18), Dynasty (Season Five of the reboot) and The Blacklist (Season Nine). Has the Netflix brand slip so much that their own originals are unable to compete with reruns of network fare that, in the case of Dynasty and The Blacklist, weren't exactly red hot shows to begin with? I mean, there are nine seasons of The Blacklist??
OCTOBER 3 – OCTOBER 9, 2022
| # | TVIN CANADA | WEEKS IN TOP 10 |
| --- | --- | --- |
| 1 | DAHMER: Monster: The Jeffrey Dahmer Story | 3 |
| 2 | The Empress: Season 1 | 2 |
| 3 | Bling Empire: Season 3 | 1 |
| 4 | Conversations with a Killer: The Jeffrey Dahmer Tapes: Limited Series | 1 |
| 5 | Grey's Anatomy: Season 18 | 1 |
| 6 | Dynasty: Season 5 | 2 |
| 7 | The Blacklist: Season 9 | 3 |
| 8 | High Water: Season 1 | 1 |
| 9 | The Midnight Club: Season 1 | 1 |
| 10 | Cobra Kai: Season 5 | 5 |