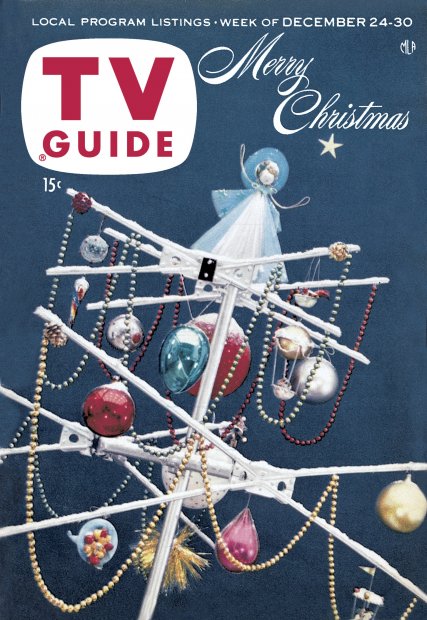 This festive Larry Fritz illustration graced the cover of TV Guide for the week of December 24, 1955–exactly 67 years ago today. That was back when television was something you watched for free as long as you were willing to put up with the occasional commercial – sort of like FAST channels such as Pluto-TV or Tubi today.
This Christmas Eve, there are holiday favourites on TV even older than the above illustration, including 1946's "It's a Wonderful Life" (NBC and CTV) and 1954's "White Christmas" (CBC).
On the 24th, TCM is in the middle of an all-Christmas-themed movie marathon. If you believe that Christmas Eve should be in black and white, this is the place to be.
Starting at noon ET on TCM, there's "The Shop Around the Corner " (1940) followed by "It Happened on 5th Avenue" (1947),and then the great Barbara Stanwyck in "Christmas in Connecticut" (1945). TCM breaks the colour barrier at 6 p.m. ET with "Meet Me in St. Louis" (1944) and then it's back to black and white at 8 p.m. with "The Bishop's Wife" (1947).
Only a charming devil such as Cary Grant could have gotten away with playing an angel who is basically constantly hitting on the wife of a bishop! Loretta Young plays the lady in question with Monty Woolley — who made "The Man Who Came to Dinner" the same year — splendid in support. Look for another Christmas movie immortal — Bobby Anderson (he plays young George Bailey in "It's a Wonderful Life") — as a snowball thrower.
Things continue on TCM with the early version of the Dicken's classic "A Christmas Carol" (1938) starring Reginald Owen. At 11:30, TCM takes a dark turn with the 1941 Frank Capra film "Meet John Doe" starring Gary Cooper.
Looking for holiday-themed films both old and new? Please check out the many festive flicks offered this month on our sponsors Hollywood Suite and Super Channel. Both feature a mix of films both naughty and nice, including that meny recent Hallmark and Lifetime productions shot throughout Canada. Bonus: Hollywood Suite is in free preview mode until the beginning of January.
Looking for Christmas-themed classic Christmas episodes while you wrap? Rogers Ignite customers are a click away from a banner full of goodies. Just say, "Holiday Cheer" into your Rogers Ignite remote stick to access all manner of festive movies, shows and music.
The Christmas-themed TV shows include several episodes of Modern Family, The Office, Friends, Seinfeld, The Golden Girls, The Big Bang Theory and even that cool Claymation-style episode of Community, titled, "Abed's Uncontrollable Christmas."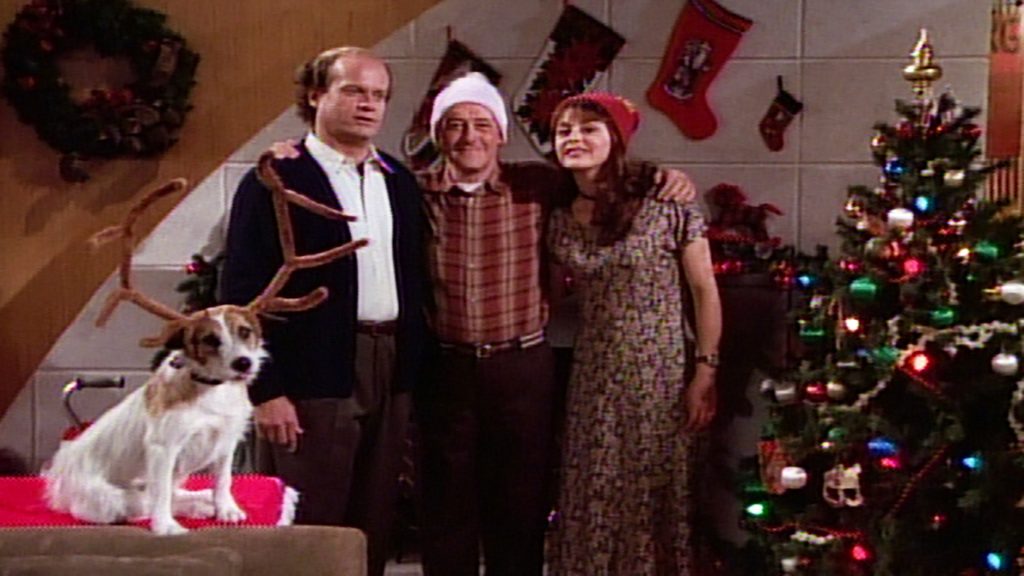 My favourite, however, is this first season episode of Frasier, also available on Rogers: "Miracle on Third or Fourth Street," (1993). Crushed by the last-minute news that son Frederick will no longer be visiting for the holidays, Dr. Frasier Crane (Kelsey Grammer) volunteers to take Bulldog's place Dec. 25th at the radio station. Features a stellar script by series co-creator Christopher Lloyd, the episode is funny, sad and moving and aggressively unsentimental. Listen for celebrity voices Mel Brooks, Ben Stiller and Rosemary Clooney among the depressed radio station callers who call the good doctor.
Over the past few years, I've made a list of my 12 favourite classic Christmas episodes. You can find one of those postings here. Meanwhile, don't Monkee around. Go here for the best blast of Christmas cheer from the pre-Fab Four.
One last note: I have to agree with a reader who commented on this site earlier that it is a shame CBS/Paramount have some 'splainin' to do about no longer colourizing and programming at Christmas classic episodes of both I Love Lucy and The Dick Van Dyke Show. Unlike the horrible, technologically impaired attempts 40 years ago to tart up movies such as Alastair Sim's "A Christmas Carol," the CBS TV episodes were stellar. Design experts were brought in to make sure that the colour schemes matched the aesthetic of the '50s and '60s.
While about a dozen of the Lucy's and less than 10 Dick Van Dyke's were colourized, the most glaring omission to me is "The Alan Brady Show Presents," the 1963 episode where the staff writers of Brady's variety show perform a Christmas special. It was an excuse to let Mary Tyler Moore as Laura Petrie join Rob, Buddy and Sally (and even little Richie) in a song and dance romp. Van Dyke recently turned 97. What are we waiting for? Hurry up and colourize this already!
To all who visit here now and throughout the year, Merry Christmas and all best in 2023.