Say kids, what time is it? It is time to celebrate Howdy Doody's 75th anniversary.
Broadcast network television's first Monday to Friday series and first regularly scheduled colour series launched during a winter snowstorm in New York on December 27, 1947. There were approximately 15,000 to 20,000 television sets within reach of NBC's signals along their eastern seaboard network at the time. Many of those were in New York and, at 5:30 p.m. ET, while moms were making dinner, the storm kept kids inside.
Television was so new there were no soap operas or game shows on afternoon schedules. Only a test pattern was on prior to the series' start. So many watched this strange new marionette show, hosted by Buffalo Bob Smith and disrupted by a seltzer-squirting clown named Clarabell, that it made an impression lasting 13 seasons.
I've written about the history of The Howdy Doody Show for Everything Zoomer; you can find that article here. For that story, I relied mainly on the memory of good friend Father John Croal, who shares some terrific stories of watching the series back in the day on his family's four by five-inch TV screen in Fort Erie, Ontario. [If that screen size seems ridiculously small, consider how much time one spends now staring at video on a Google Pixel or iPhone.]
Fort Erie stands directly across the Niagara River from Buffalo's WBEN, which went on the air in 1948. While there were no Canadian TV stations until September, 1952, the Croals and others in border cities could point their antennas to the south to get in on the TV craze.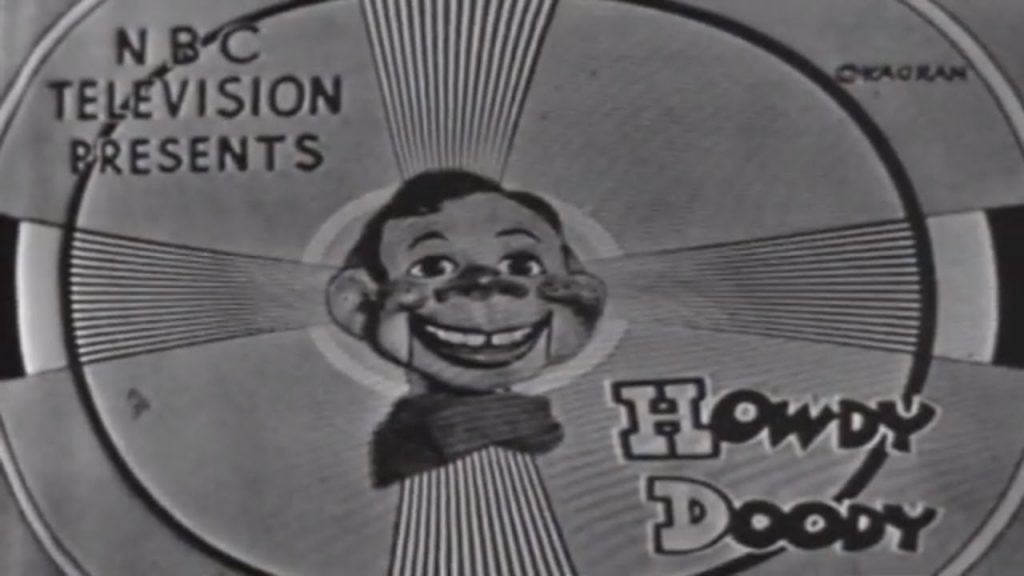 I was born too late to catch the series, which had been cut back to a Saturdays-only by the time I came along. I have some memory of the less elaborate puppet series that took the Howdy Doody timeslot the week after Howdy left the air in the fall of 1960: Shari Lewis and Lambchop.
Missed by me also was the Canadian edition of the Howdy Doody (1954-59). Shot in Toronto, it was hosted by Timber Tom (played by Peter Mews) instead of Buffalo Bob.
Someone who was watching intently in America was Jack Roth, a Howdy Doody expert and fellow 16mm film collector who has over 80 kinescopes of the series. It is thanks to kinnie collectors such as Roth as well as Cinecon president Stan Taffel (who I've written about previously) and other collectors that many "lost" moving images from TV's first few years exist today.
In the late '40s, early '50s, before videotape became the norm, shows were broadcast live and often never seen again. Copies of those early shows only exist because they were shot off a studio screen and recorded onto 16mm film.
Roth even has two kinescopes of the Canadian version of Howdy Doody. He confirms that Robert Goulet — a singer who joined Elizabeth Taylor and Richard Burton on stage in the original. 1960 Toronto cast of "Camelot" — briefly played a temporary fill-in for Mews' Timber Tom named "Lucky Pierre."
Howdy Doody was essentially a cowboy and circus-themed puppet show, with Smith doing double duty as the voice of marionette Howdy Doody. Puppets were everywhere in those early TV days, especially on Kukla, Fran and Ollie. That series, created by puppeteer Burr Tillstrom, originating a few months earlier out of Chicago's WBKB. Paul Winchell, a ventriloquist and radio comedian, brought his famous puppets Jerry Mahoney and Knucklehead Smith to Chicago's WNBQ-TV in 1948.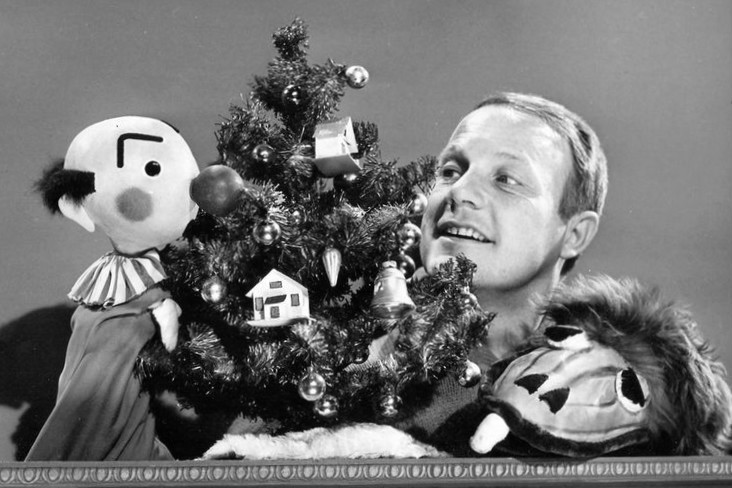 The Howdy Doody Show featured a large puppet ensemble and there is some debate as to where all the puppets went after the series left the air in 1960. The first Howdy Doody Marionette, made by Frank Paris, was so grotesque it was nicknamed "Ugly Doody." Roth says there was a rumour that Ugly Doody was destroyed "in a waste paper basket fire in the offices of NBC." Maybe not; Roth was told by Paris' co-operator, Rhoda Mann, that another puppet was burned instead and that there is a possibility that Ugly Doody still exists, ready to terrify another generation of preschoolers.
Paris was bitter when the series became an enormous hit and felt he deserved more money for crafting TV's first star. A tug-of-war over rights surfaced early in the series run, with Smith owning rights to the character and Paris to the likeness. Paris even took his puppet and went home just before a broadcast, forcing Smith and cast to vamp and make up excuses for Howdy's disappearance. Some of these turned out to be pretty strong stories, including the suggestion that Howdy was busy campaigning to be "president of all the boys and girls" during the 1948 U.S. federal election.
The show needed puppets, however, and others stepped in to craft them. Disney animator Mel Shaw re-designed the character and Velma Wayne Dawson built and operated the new freckle-faced and handsome Howdy. Other marionettes were built by Dawson and the show's prop man, Scott Brinker as well as puppetmaster Rufus Rose.
After the show ended, Rose stored several of the marionettes in a barrel at his studio in Connecticut. In 1961, a fire scorched some of the show's cast, says Roth, including The Bloop, Tizzy the Dinosaur and another small Dino puppet. Also lost were Ruff and Reddy puppets used to introduce the animated Hanna-Barbera series, one of TV's first made-for-TV cartoon shows.
Others survived, however, and Roth today owns several of them, including bear puppets Hyde and Zeke. Also somewhat surviving the fire were "slightly toasted "kangaroo puppets Hop, Skip and Jump and Mambo the elephant (Roth has the NBC version).
Rumours that the Bluster brothers, Don Jose and Hector, were lost in the fire are not true says Roth. "Hector was turned into Penelope Bluster, their sister," which is also in the Roth collection. "Don Jose," he adds, "was changed into Petey Bluster, his whiney nephew."
Other puppets were damaged or shopworn over the years but survive in various states of repair. Flub-a-dub, a strange puppet made up of eight different animal parts, "is somewhat of a mess," says Roth. "There are holes in his neck and sleeve and the spring in his mouth needs replacement.
"Dilly Dally," Roth continues, "lives with a dear friend of mine in California and he also owns Captain Windy Scuttlebutt and Sandra Witch. There was a puppet version of Princess Summerfallwinterspring, but she was scavenged and parts used for other things. The head and body survived and a friend of mine put her together, repainted her, and she looks brand new."
Spared entirely, fortunately, was Howdy himself, who resided at the home of Bob Smith at the time of the fire. Rufus had Double Duty, the on-the-air spare. "Photo" Doody, used for stills, stayed with producer Roger Muir.
The fate of the Howdy Doody puppet cast is significant given today's value to collectors. A February 12, 2000 story in The New York Times details how the various puppets became embroiled in a custody battle. The family of Rufus Rose argued that they are the rightful heirs. The Detroit Institute of the Arts, which displays one of America's largest puppet collections, argued that they had a claim on Howdy. A judge sided with the Detroit museum and that is where you can say howdy to Howdy today.
Double Doody, meanwhile, is on display in the entertainment collection at the Smithsonian National Museum of American History. As for Photo Doody, he sold at Leland's auction house in 1997 for US$113,432 to New Orleans author TJ Fisher.
NBC has no special salute scheduled this week to mark the 75th anniversary of their first TV star.
"Funny how NBC has pretty much ignored the same puppet show that made them millions," says Roth, who blames the thirty-something "suits" who today "could care less about a low tech puppet show."
Thanks to Roth and other fans, however, Howdy Doody time keeps right on ticking.