Barbara Walters was a one-person powerhouse on network television for so many decades, dating back to the 1950s. Then, in 2014, after steering The View to impressive daytime ratings for over a dozen years, she retired and completely stepped out of the spotlight.
The reports of her death Friday in New York at 93, therefore, seems a bit surprising. Many thought she had died already.
Over her 65-year-career in television, she was nominated for 19 Emmy Awards. She won three times, beginning in 1975, as the Outstanding Talk Show Host of Today. Later she picked up two more Emmys for her work hosting and creating The View.
The Boston native started out as a writer/producer in local New York television in the late 1950s. After a brief stint at CBS, she joined NBC and Today in 1961, staying 15 years. During that time, she shared the morning desk with Hugh Downs, the likeable TV ironman she would reunite with in 1979 for two decades of the ABC newsmagazine, 20/20.
"We're in touch, so you stay in touch," she would say. Walters was so well known she was often the subject of parody, especially from two Saturday Night Live alumni, Gilda Radner and Cheri Oteri. On CNN's New Year's Eve broadcast, as the clock ticked down to 2020, Oteri, as Walters, kept lisping, "twenty-twenty…"
The kidding began years earlier when Walters was best known as TV's foremost celebrity interviewer. Known for her blunt questions, she asked Katharine Hepburn, "If you were a tree, what kind would you be?" Hepburn answered, "An Oak, because they don't get Dutch Elm disease."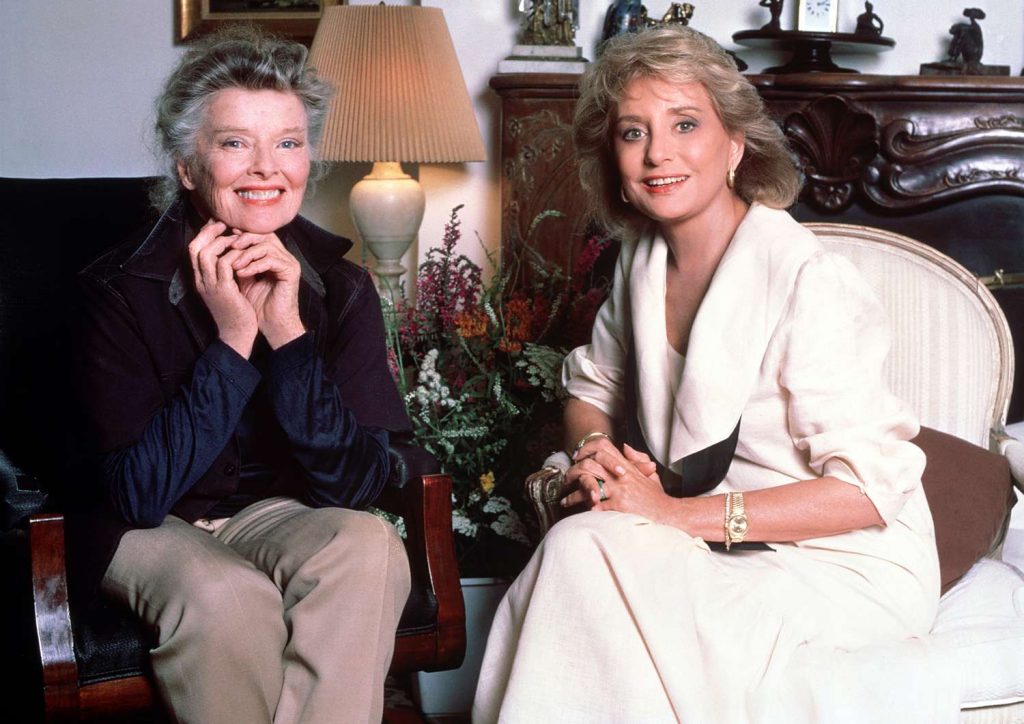 Her list of high-powered celebrity interviews is unmatched, even by Oprah. She spoke with every U.S. president from Nixon through Obama. She interviewed Cuba's Fidel Castro and India's Indira Gandhi. She spoke with Margaret Thatcher, Vaclav Havel, King Hussein of Jordan, Hugo Chavez, Vladimir Putin and many other leaders. Her pop icons ranged from Hepburn to John Wayne, from Richard Pryor to Barbra Streisand; from Mike Tyson to Michael Jackson.
Her 1999 interview with Monica Lewinsky set a news program ratings record never broken in network television — over 70 million viewers.
Often there would be tears on a Walters interview. She knew how to press buttons. Ringo Starr, while talking about the death of George Harrison on an Anthology interview, started to get emotional. "It's like f-ing Barbara Walters in here," he quipped.
She earned her news anchor cred the hard way. She co-anchored ABC Evening News with Harry Reasoner from 1976 to 1978, a teaming that did not particularly please Reasoner, used to be the sole anchor of the day. This made Walters, however, the first female to anchor a news broadcast on a major US network and the first co-anchor to earn $1 million a year.
She premiered with four co-hosts when The View was launched in 1997: Meredith Vieira as moderator, Star Jones and Debbie Matenopoulos. Joy Behar, who originally just filled in when Walters was unavailable, soon became a regular, with Star Jones joining later.
I'm pretty sure most of them were at the Television Critics Association press tour the year The View launched, and if the TCA board ever lives up to their promise to digitize all the transcripts, I could prove it with a few quotes.