This special Thursday premiere on brioux.tv: the podcast features a hilarious and enlightening conversation with Chuck Tatham, one of the executive producers of this Sunday's CBC documentary, "Offside: The Harold Ballard Story."
Tathan hails from Listowel, Ont., in southwestern Ontario — a remote farm town that is pretty much acknowledged as the blueprint for Letterkenny. He was more of a Detroit Tigers fan growing up in Listowel and London, Ont., but suffered through enough of the Toronto Maple Leafs' Ballard years as a lad to know that the oddball owner would make a great documentary subject.
Tatham began his writing career at a Toronto ad agency before heading to Hollywood, where he wound up in the writer's room of Full House. He moved on to Ellen DeGeneres' short-lived The Ellen Show where he met showrunner Mitch Hurwitz. The two hit it off and Tatham eventually found himself part of the exhausted gang of talented scribes cranking out those famously dense and brilliant episode of Arrested Development.
One day the writers were brainstorming a character to replace the incompetent lawyer played by Henry Winkler (Scott Baio eventually got the role). Tatham, the Canadian in the room, comes out with "Bob Loblaw." That led to Bob Loblaw's law blog" and the rest is history.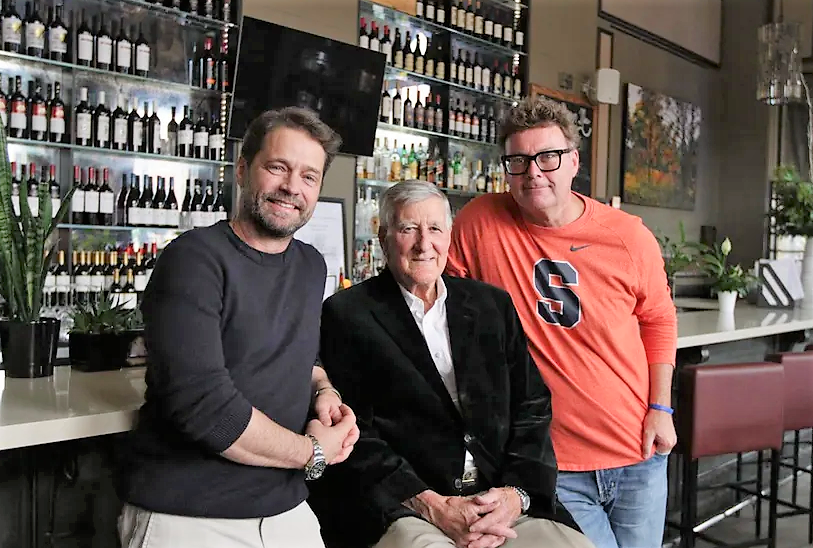 This episode is filled with tales like that, including memories of skating with other Canucks in Hollywood on various hockey leagues, including Keanu Reeves, Kiefer Sutherland and pseudo-Canuck Matthew Perry. Richard Dean Anderson, a very good junior player, finally told Tatham, "I'll pass it to you if you stop calling me MacGyver."
Tatham's other writing/executive producing credits include Modern Family, How I Met Your Mother, Less Than Kind and, currently, CTV's Children Ruin Everything. Besides the Ballard doc, he has also written and hopes to produce, along with Michael Geddes and Jason Priestley, a scripted series based on the irascible Leaf's owner often blamed for the Leafs' 55 -year Stanley Cup drought.
Watch, "Offside: The Harold Ballard Story" Sunday at 8 p.m. ET on CBC. Listen now to Chuck Tatham by clicking on the blue and white arrow above.