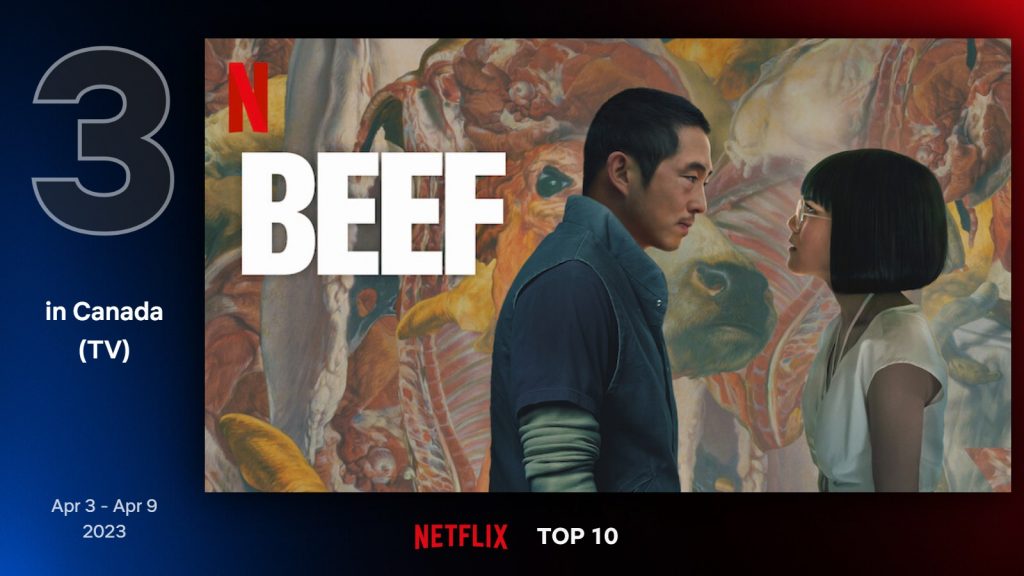 The fourth season of the relationship reality show Love is Blind was still the most-watched TV series this past week on Netflix in Canada, with The Night Agent close behind. Viewers here, however, also seem to be sinking their teeth into Beef, which ranked third during April 3 to 9.
The dark action-comedy, which stars Ali Wong and Steven Yeun, was also a Top-10 draw in its first week in 60 other countries, including the United States, The UK, Germany and Ukraine and registered a Certified Fresh score of 99 per cent on Rotten Tomatoes.
Meanwhile, the Adam Sandler-Jennifer Aniston feature "Murder Mystery 2" remained the top movie draw on Netflix Canada for the second week in a row. Two Tom Cruise "Mission: Impossible" movies — "Fallout" from 2018 and "Rogue Nation" from 2015 — also made the list as fans gear up for the seventh in the series, "Dead Reckoning Part 1," due in July.
Below is the list of the Top-10 TV draws on Netflix in Canada April 3 to 9:
APRIL 3 – APRIL 9, 2023
| # | TVIN CANADA | WEEKS IN TOP 10 |
| --- | --- | --- |
| 1 | Love Is Blind: Season 4 | 3 |
| 2 | The Night Agent: Season 1 | 3 |
| 3 | BEEF: Season 1 | 1 |
| 4 | Unstable: Season 1 | 2 |
| 5 | Wellmania: Season 1 | 2 |
| 6 | Emergency: NYC: Season 1 | 2 |
| 7 | Shadow and Bone: Season 2 | 4 |
| 8 | Transatlantic: Limited Series | 1 |
| 9 | War Sailor: Limited Series | 1 |
| 10 | You: Season 4 | 8 |