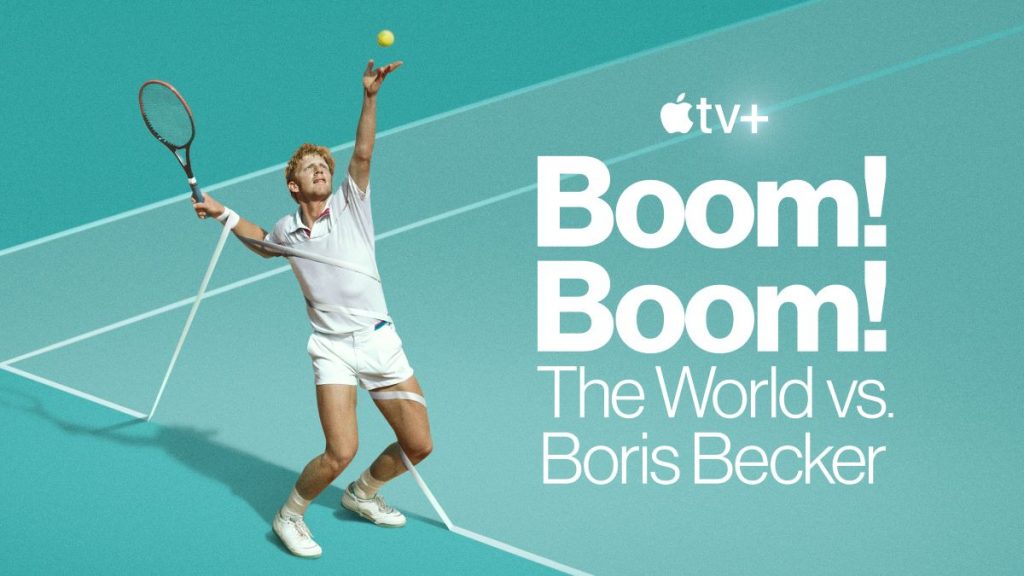 Listen up, sports fans. The NHL playoffs have started, and Leafs fans have already begun mapping out the parade route now that their opening round series against Tampa Bay is all tied up at one game apiece.
If hockey or basketball playoffs are not your thing, you might want to catch the Toronto Blue Jays tonight on TV. Not on Sportsnet you say? Relax – those devils over at AppleTV+ are launching another season of Friday Night Baseball. Existing subscribers can watch the Jays in New York battling The Yankees tonight starting at 7 p.m. ET/PT. Others can take advantage of a two-month free trial of Apple's subscription service by following this link.
Otherwise, there are a couple of very engaging sports documentaries that premiered in the last month I heartily recommend:
Boom! Boom! The World vs. Boris Becker launched two weeks ago on the aforementioned AppleTV+. Even if Becker's exploits on the tennis courts have faded from memory, this winner of six majors, including three Wimbledon titles, has had a rise and a fall that would make Bill Cosby blush.
As the two-part documentary begins, we meet Becker in 2022 just as he is about to be hauled away after being sentenced to two-and-a-half years in prison for all manner of tax dodging and fraud. The film then bounces back and forth in time like a tennis ball. We see Becker come from nowhere to win at his beloved center court at Wimbledon at the tender age of 17.
Germany's first tennis ace was right there battling with John McEnroe (himself a very good documentary subject and as great here as he is as a narrator in Never Have I Ever). Other star players who take part are Bjorn Borg, Novak Djokovic, Mats Wilander and Michael Stich. All appear in Boom! Boom! and yes, they make backhanded compliments. Tennis players, it seems, are very candid commentators when it comes to their own strengths and weaknesses.
Including Becker himself, who was hounded by demons both on and off the court. Three failed relationships, a foolish liaison leading to a child custody case, some horrendous business deals and a flurry of even more punishing lawsuits had Becker fouling out of everything. He wound up selling all his gilded tennis trophies to creditors. Living like a zillionaire long after he stopped earning zillions did not help.
Becker tells his own story, starting with flashback interviewers you'd swear were shot decades ago just for this documentary. He's a fascinating, complex character, charming, vain, cocky and disintegrating. The profile is shot and edited with the same precision and imagination as Becker displayed on the court. The ending borders on a Shakespearean tragedy. Boom! Boom! indeed.
Reggie (Prime Video) is much less critical look at Reggie Jackson. Some saw "Mister October" as a prima donna, including one former teammate who was quoted back in the day saying that there wasn't enough mustard in the whole world for this hot dog named Jackson. Others loved No. 44 for his cockiness – including, as is clear in this documentary – Reggie Jackson.
The Yankee, Baltimore Oriole, Oakland A's and California Angels slugger was part of five World Series titles and was often embroiled in controversy both on- and off-the field. Reggie is a much more linear tale than Boom! Boom! and the triumphs are more emphasized than the tragedies.
Jackson himself is seen in conversation with his home run hero Hank Aaron (who passed away in 2021). We also see him hanging with former Yankee teammates, although only the ones he got along with back in the day. Missing is the ghost of Billy Martin, the Yankee manager who never wanted this hot dog on his club – even after he helped the Yankees win two World Series championships in-a-row in the late '70s.
Reggie does touch on the racism Jackson faced entering the major leagues in the late '60s. His tale, however, has a far happier ending than Becker's. His knack for grabbing headlines with his mouth as well as his bat is impressive to a point. There is some candor from Jackson, as well as one shining moment of humility that helps this doc swing for the fences. How did Jackson feel hitting three home runs in three consecutive at bats in the final game of the '77 World Series? It made him feel for one day, he said, the way Babe Ruth and other Hall of Famers must have felt like for their entire careers.