On the latest episode of Canada's Got Talent, host Lindsay Ell demonstrating a new work skill – roadie.
Ell came to the aid of singer-guitarist and initial auditioner Mattia Pironti who was having technical difficulties. To be specific, he was having feedback issues with the loop station connected to his guitar.
Ell, a country-pop singer-songwriter from Alberta, has seen her share of on-stage snafus. She worked some wiring magic and Pironti was able to perform.
Unfortunately, his issues were not all technical.
"Everybody has two minutes to change their lives," declared judge Howie Mandel after joining the others in X-ing the act. "There was no oomph to it."
What Howie was looking for came next in the person of Jack Thomas. The singer-musician from Burnaby, BC, earned a standing ovation from the Fallsview Casino crowd after playing guitar and rockin' "All the Small Things" on the drums despite the loss of a limb.
Thomas explained that he suffered an on-the-job accident at 17 which cost him his right arm.
Mandel called Thomas' mom back home in Burnaby to let her hear that all four judges gave Jack a resounding yes. Then he asked the lady to do a throw to a commercial. Nailed it.
Later in Episode 5, the aerial acrobatic duo Woody and Fenton took the stage. Up until now, they had performed mainly before gay audiences. Lilly assured them that she considers the OLG Stage "a queer space."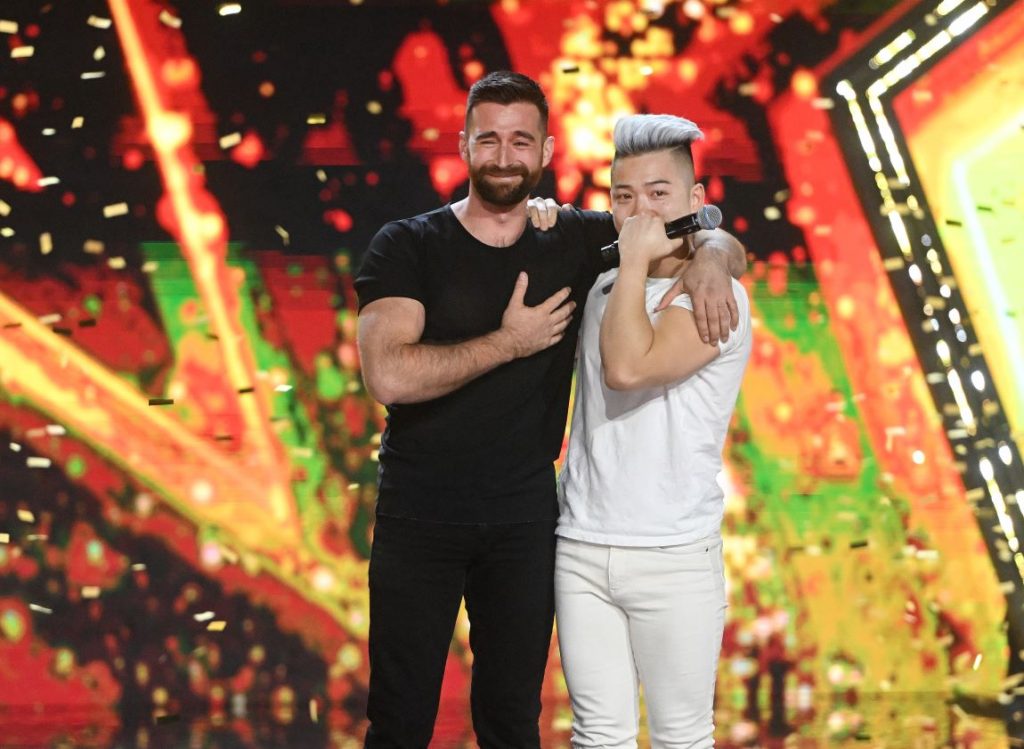 The taller of the duo said that their number was dedicated to his former partner Daniel, who took his own life. "This is my goodbye letter to him," he said.
They them performed a powerfully emotional routine, most of it high above the stage while suspended by ropes. The act earned a standing ovation, and, from Lilly, a Golden Buzzer.
For more highlights from Episode 5, please follow this link to the rest of my recap posted over at about.Rogers.com. Episode 6 of Canada's Got Talent premieres next Tuesday night, April 25, on Citytv.