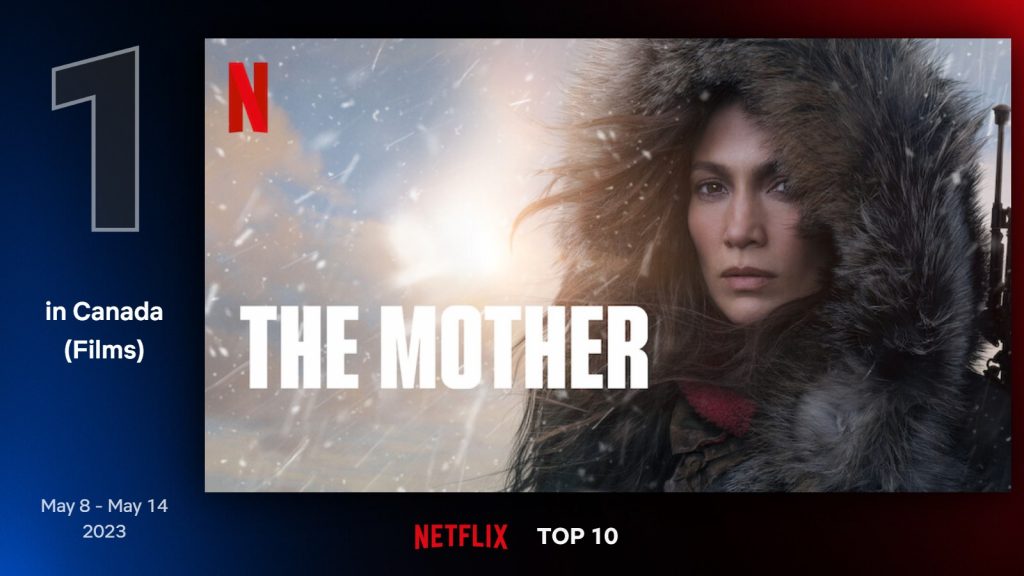 On the TV side, not much changed week to week on the Netflix Top-10. Queen Charlotte: A Bridgerton Story remains No. 1 in Canada and the United States and in many other countries, reigning as the streamers most-watched series worldwide with 158.68 million hours viewed. Firefly Lane and The Night Agent remain in the Top-10 after eight weeks on the chart. The Diplomat, starring Keri Russell as a British ambassador and possible VP candidate, ranks No. 4 in Canada but No. 1 in our house.
On the Film side, Jennifer Lopez's latest, "The Mother" went straight to the top of the charts. Smart scheduling, launching this on Mother's Day weekend. The movie posted the best opening weekend of 2023 for Netflix with 83.71 hours viewed and was No. 1 in 82 countries.
No. 5 in Canada in its first week on Netflix was the 2009 comedy "The Invention of Lying" starring Ricky Gervais with Jennifer Garner, Tina Fey, Jonah Hill and Louis CK in support. Odd that a 14-year-old film could make such an impact, but fascinating in light of Gervais' recent series After Life. The earlier movie is like a first draft, in terms of themes at least, for the latter series.
Here is how the Top-10 TV shows on Netflix played out May 8-14 in Canada:
MAY 8 – MAY 14, 2023
| # | TVIN CANADA | WEEKS IN TOP 10 |
| --- | --- | --- |
| 1 | Queen Charlotte: A Bridgerton Story: Series | 2 |
| 2 | Firefly Lane: Season 2 | 8 |
| 3 | Missing: Dead or Alive?: Season 1 | 1 |
| 4 | The Diplomat: Season 1 | 4 |
| 5 | Queen Cleopatra: Season 1 | 1 |
| 6 | Queer Eye: Season 7 | 1 |
| 7 | Sweet Tooth: Season 2 | 3 |
| 8 | The Night Agent: Season 1 | 8 |
| 9 | Better Call Saul: Season 6 | 4 |
| 10 | Bridgerton: Season 1 | 5 |