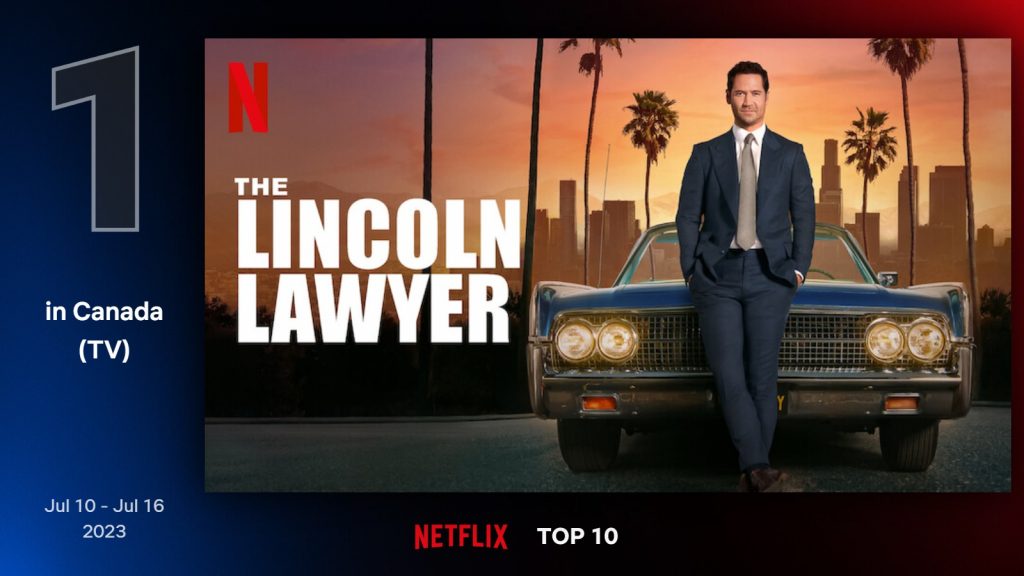 In its second week, Season 2 of The Lincoln Lawyer, starring Manuel Garcia-Rulfo and Neve Campbell, drove to the No. 1 spot on the weekly Netflix Canada TV list of most-watched shows. In the US, The Lincoln Lawyer also ranked first, edging out Quarterback, That new docuseries features in-season profiles of NFL pivots Patrick Mahomes from the Kansas City Chiefs, Minnesota's Kirk Cousins and Atlanta's Marcus Mariota, Quarterback ranked 5th in Canada.
The reality dating series Too Hot to Handle (Season 5) opened big in Canada in 2nd spot with the 3rd season of The Witcher right behind in third.
In feature films, the heist film "The Out-laws" with Pierce Brosnan, Adam Devine, Ellen Barkin and Canadian Nina Dobrev stole the No. 1 spot in both the US and Canada.
Here is how the Top-10 in TV played out on Netflix Canada July 10-16:
JULY 10 – JULY 16, 2023
| # | TVIN CANADA | WEEKS IN TOP 10 |
| --- | --- | --- |
| 1 | The Lincoln Lawyer: Season 2 | 2 |
| 2 | Too Hot to Handle: Season 5 | 1 |
| 3 | The Witcher: Season 3 | 3 |
| 4 | Tom Segura: Sledgehammer | 2 |
| 5 | Quarterback: Season 1 | 1 |
| 6 | The Lincoln Lawyer: Season 1 | 9 |
| 7 | Survival of the Thickest: Season 1 | 1 |
| 8 | Hack My Home: Season 1 | 2 |
| 9 | Is It Cake?: Is It Cake, Too? | 3 |
| 10 | Alone: Season 6 | 2 |