It doesn't take long for Emma Hunter's frisky DJ Nora to jump back into action on Moonshine (CBC; The CW). As Season Three begins, she's having sex in a car with her police officer boyfriend (played by James Gilbert).
Sorry, America. You won't see that scene in the U.S. Hunter's auto erotic antics, as well as the occasional obscenity, will be cut on The CW. It seems that the Canadian brew of Moonshine is a little too strong for The CW's standards and practices.
"I love playing her," says the Toronto native. "One of the big reasons is that its so different from my own life." Hunter and her husband have three small children at home. "My life is very much mom, and Nora Findley-Cullen lived the life of choosing the other path, so it's almost like I get to go to work and see what that life would have been like, and I tell ya, it's not bad."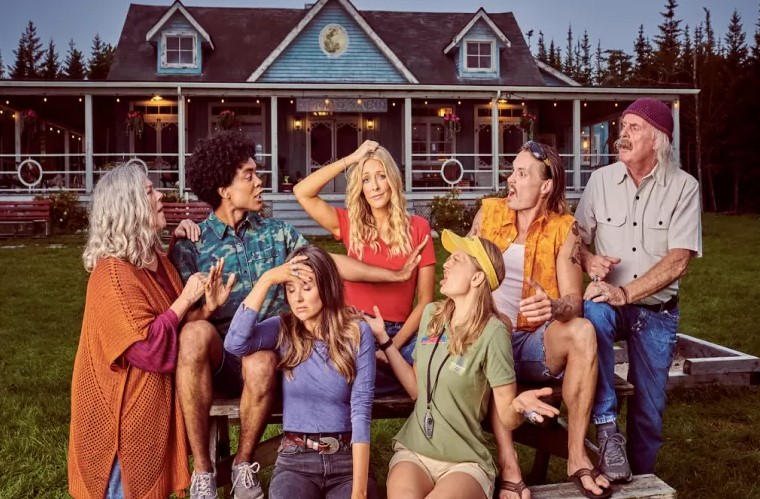 The raunchy dramedy, from writer/producer Sheri Elwood, focuses on a dysfunctional clan of half siblings battling for control of a ramshackle lodge on the south shore of Nova Scotia. Hunter, previous podcast guest Jennifer Finnigan as Lydia, and Anastasia Phillips as Rhian play the three feisty sisters on the series.
As she says on this podcast, Hunter is thrilled to be flexing more than just her funny bone with Moonshine. Previous credits includes sending up Canadian news headlines on The Beaverton, playing a zany teacher on Mr. d and sharpening her sketch comedy skills on Air Farce.
When did the Toronto native first realize she had this gift to make people laugh? Find out on this episode of brioux.tv: the podcast.  To link directly to the episode, simply click on the white arrow in the blue dot above.