For many young Canadians growing up in southern Ontario and western New York in the early days of television he was simply known as "Uncle Bill."
Bill Lawrence, the original host of CHCH's Tiny Talent Time, suffered a heart attack and passed away Friday, July 14. He was 91.
For decades, Lawrence was a very familiar face to both kids and grown ups across Ontario. He was a CHCH original, hired when the Hamilton, Ont., station opened in 1954. Lawrence began his career there as a technician and soon was also busy as a director and announcer. A Ryerson grad, his talents and smooth personality eventually took him in front of the camera.
From 1957 to 1992 he was the host of Tiny Talent Time. At the time of its cancellation, the show's 35 year run was second only to quiz show Front Page Challenge as Canada's longest-running series.
Spun off from a radio format, Tiny Talent Time featured a parade of kiddies demonstrating their accordion or tap dancing skills and other entertainment abilities. The fun was really in watching the brief interchanges between Lawrence, who had a knack for putting children and viewers at ease, and his young charges. If you're of the right vintage, you can still sing the closing theme: "This is the end of our show/we are sorry, but we have to go…"
Many, many kids from across Southern Ontario performed on the show and Lawrence was always a kind, reassuring presence. I had the good fortune of meeting him in August of 2014 when the station held a press conference to announce the launch of a reboot of the series. Then into his eighties, Lawrence still had that calm, familiar voice that always sounded like a neighbour coming over to borrow a rake or wish you well.
He confirmed that, despite it's long run, no original tape of Tiny Talent Time exists. The series went live to air in its early years and later was recorded on two-inch tape, which was bulk erased and used over and over again. That wiped out images of kids who went on to become famous, including future stars such as politician Sheila Copps (who recited a poem), National Ballet of Canada principal dancer Frank Augustine and singer Deborah Cox.
Lawrence told me that he kept a few old VHS tapes from the series. As home VHS use spread, parents in the '80s undoubtedly saved scenes with their precious darlings. Former Hamilton-based TV editor Eric Kohanik was on Tiny Talent Time along with one or two other friends. In a rare show of restraint, my parents never dragged me down to the 'CH studios.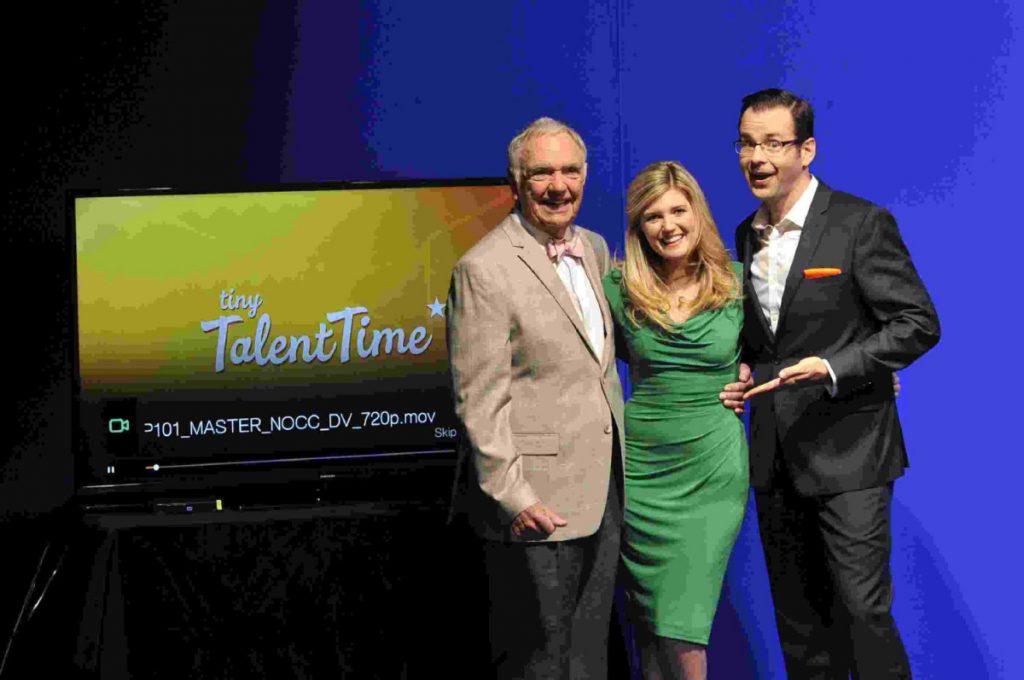 CHCH is closing in on its 70th anniversary. It started as a CBC affiliate but quickly went independent and made a ton of money in the '60s and '70s as a savvy superstation with a reputation for stealing blockbuster movie premieres away from network rivals such as CTV.
The 2014 revival featured new hosts Jason Agnew and Jaclyn Colville. By then, however, TV's era of innocence had long passed. According sales plummeted and Uncle Bill had been replaced by Super Mario.
Lawrence also enjoyed a long run as a TV weatherman at Toronto's CBLT and did other announcing and Lotto work for Global in Toronto.
His passing comes as two separate museum tributes to the early days of Canadian children's television are on-going in Ontario. One, "From Mr. Dressup tp Degrassi," looks at Toronto-based shows and can be found at the Myseum in Toronto. The other, a 70-year, national retrospective, runs through September at the Canadian Museum of History in Ottawa.