Together with my son Dan, I finally had a chance to visit "Mr. Dressup to Degrassi: 42 Years of Legendary Toronto Kids TV." The colourful, multi-media exhibit is scheduled to run through mid-August at Myseum of Toronto at 401 Richmond Street West (eastern entrance).
This is a great place for kids of all ages to meet and catch up with childhood heroes from TV's Golden Age. There are video stations set up in different corners playing clips from such CBC classics as The Friendly Giant (which ran from 1958 into the mid-'80s) and Mr. Dressup.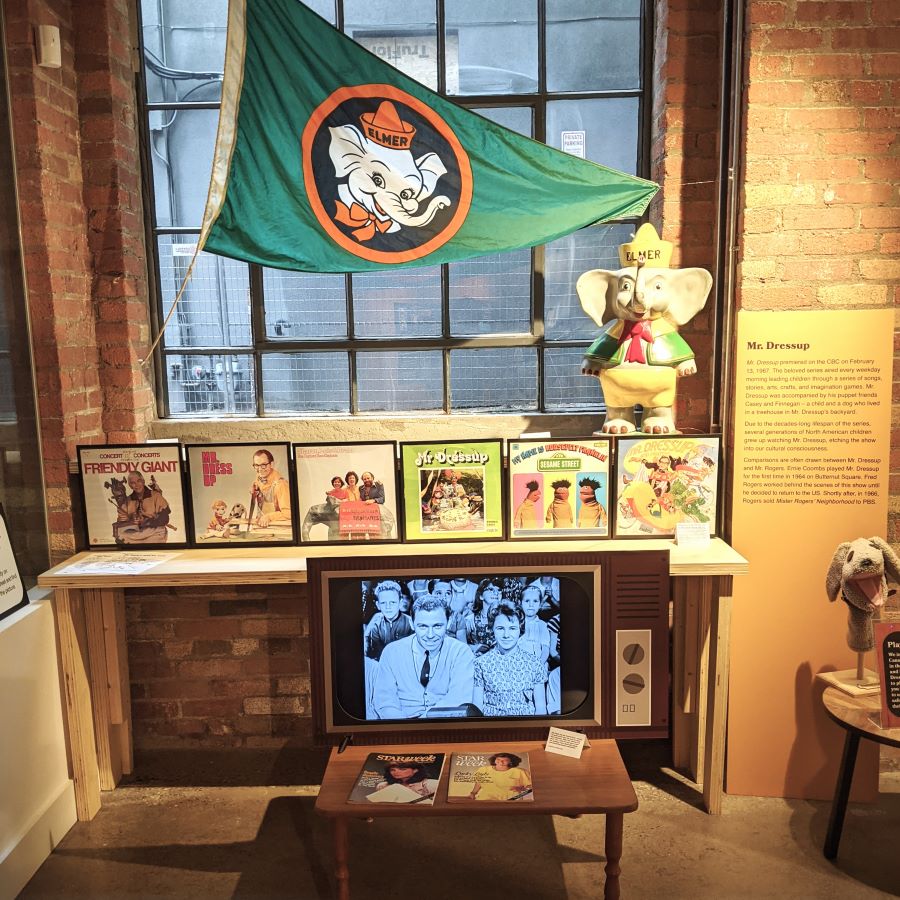 In the opposite corner of the exhibition space, another TV screen showcased another afternoon kiddie favourite from the mid-'60s, Razzle Dazzle. This series featured Howard the Turtle along with human hosts Alan Hamel and Michelle Finney. Hamel later hosted his own daytime talk show for adults and married Suzanne Somers; Finney was a teen correspondent who welcomed The Beatles when they played their first concert in 1964 at Toronto's Maple Leaf Gardens.
There is a large wall of vintage portable TV's where Myseum goers can watch various iterations of the Degrassi franchise. A Sharon, Lois and Bram LP sits on a portable record player from the '70s. There are even puppet recreations of Mr. Dressup's puppet pals Casey and Finnigan that kids (or people who were once kids) can try on and bring to life.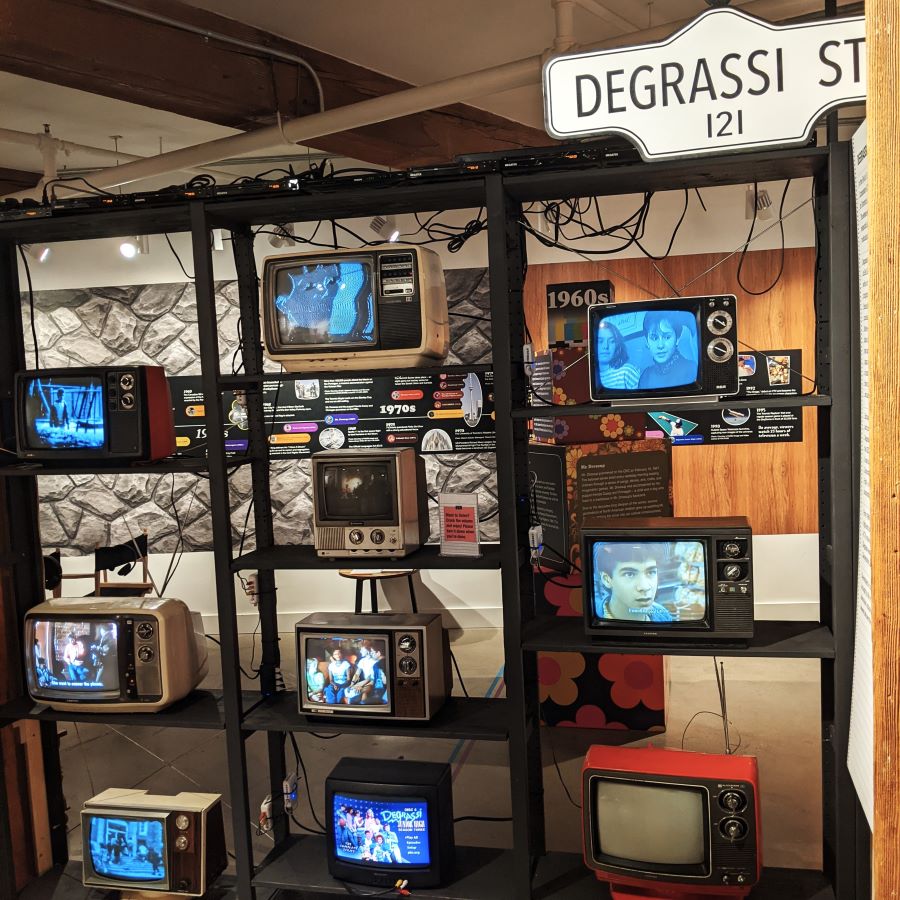 I got a kick out of seeing a bust of Elmer the Safety Elephant along with an Elmer flag, which used to fly under the Canadian Red Ensign or later the Maple Leaf back in Etobicoke when I was a lad at Our Lady of Peace elementary school. Schools earned the right back then to fly the Elmer colours if a certain number of days elapsed without any accidents. This was rarely awarded at Peace, where students either grew up to become lawyers or people who needed them.
Some of the folks who were involved in the production of these cherished children's shows have been popping into the exhibit. On my visit Friday, I just missed puppeteer Nina Keogh, who brought several of the puppet players on TVO's Today's Special to life in the 1980s. Her father, John Keogh, operated Howard the Turtle on Razzle Dazzle.
Tomorrow, Saturday, video curator Ed Conroy, who sources all those cool clips you see on social media for RetrOntario, will be at the Myseum. He'll be sharing stories about preserving Toronto's television heritage. You can reserve tickets here. Admission is free; donations are welcome. The Myseum is open Wednesdays through Saturdays from noon to 6 p.m.
Many thanks to Myseum Marketing Specialist Rosemary Snell for providing Friday's tour of the exhibit.