Was he born in California or Canada? Even Hart Hanson is not 100% sure but here is what we do know: he has created hit TV shows in both countries, including the longest-running drama ever at Fox, Bones.
Pt. 1 of this two-part conversation looks at his start in Canada as a writer on the final seasons of The Beachcombers through his work as a writer and producer on Neon Ryder, North of 60 and finally as the creator of Traders. Hart talks about earning degrees at The University of Toronto and The University of British Columbia, the summer he rode his bicycle clear across Canada and how he was able to get on Beachcombers star Bruno Gerussi's good side. 
Hanson also takes a playful shot at the Television Critics Association's semi-annual press tour. He would warn his casts before every panel that we're an odd group that never applauds and just sit stone-faced, trying to hit nerves with barbed questions. It's a far cry from the adoring masses who fawn over every actor and producer attending ComicCon and other industry conventions.
I suggest a phrase to sum up the behaviour of my fellow critics. Hanson just laughs.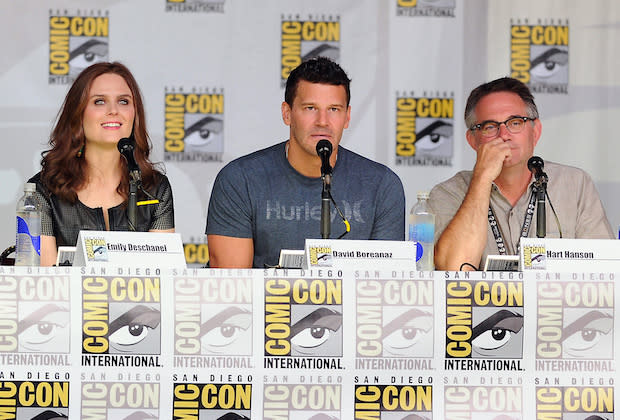 The thing is, Hanson is one of the nicest, friendliest showrunners I've ever encountered at a press tour. Maybe it is the Canadian connection, but this is the word back from many I've spoken with in the industry. He also generously gives back and encourages others trying to make it in TV. My son Dan, as a Ryerson TV and Radio Arts student at the time (no longer the name of the school or the program!) benefitted from Hanson's knowledge as well as his interest in the next generation. A few years back, the executive producer spoke to a Ryerson group on a class trip to LA and even arranged for them to attend a Hollywood party.
Anyone interested in pursuing a career in the crazy business of television, on either side of the border, should listen to this gifted storyteller. Also strongly recommended if you're just interested in pursuing your dream.
NEXT WEEK: They laughed when, at 38, Hanson tried his luck as a US network showrunner. That story, from Judging Amy and Joan of Arcadia through Bones. Plus: just how chummy was it on the set of Bones? And how it came to pass that Hanson offered his SCTV pal Dave Thomas a job as a writer on his TV drama.
To listen to this episode, simply click on the white arrow in the blue dot, above.