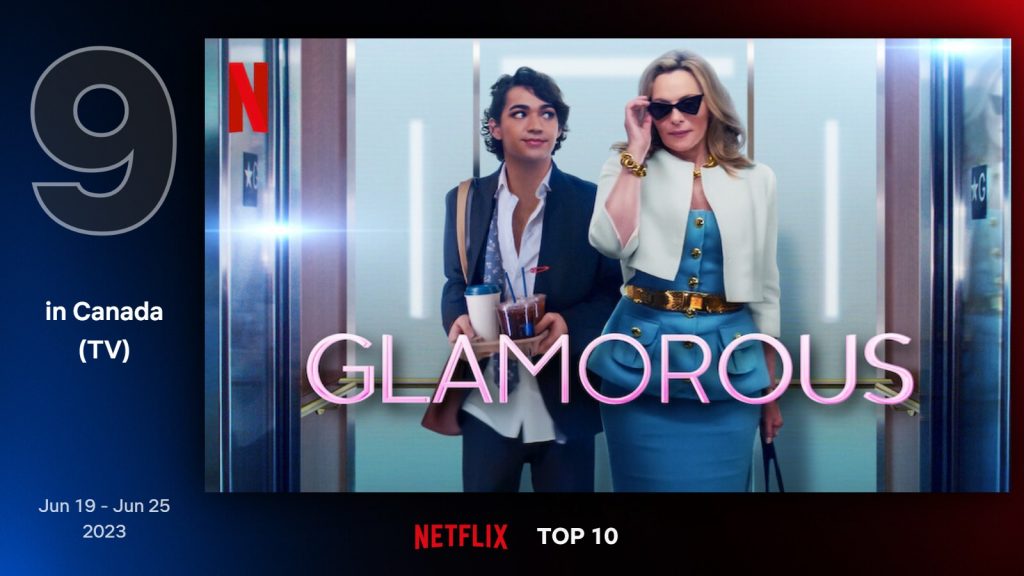 There is very little change week-to-week on the Top-10 list of most-watched shows in Canada on Netflix. The sixth season of Black Mirror claims the No. 1 spot with 11.6 million views worldwide on the streaming service. The fourth and final season of Never Have I Ever was No. 4 in Canada and No. 2 among all English-speaking countries with five million views. The two Schwarzenegger projects, the three-part documentary Arnold (6th) and the action series FUBAR (10) both made the Canadian Top-10. Netflix has already announced a second season order for FURBAR, so yes, It will BE BACK.
One new entry in Canada was the debut season of Glamorous, which stars Kim Cattrall as an ex-model-turned fashion business diva. Look for Nicole Power from Strays and Kim's Convenience in a supporting role. The series took 9th place among all Netflix TV offerings in Canada.
Top Netflix movie for the week is "Extraction 2," or, as it is known in Canada, "Extraction 2, Leafs Nothing." Despite its title, the action-packed sequel has nothing to do with dentistry. Instead it stars Chris Hemsworth as a mercenary out to rescue a kidnapped youth. The film has drawn 85 million views worldwide on Netflix in its first 10 days.
The streaming service also indicated that it will discontinue the basic $9.99 platform it was offering, leaving new Canadian customers to choose between an ad supported tier priced at $5.99 and its more robust, 4K, commercial-free brands starting at $16.49.
Here is how the Top-10 fared in Canada on Netflix June 19-25:
JUNE 19 – JUNE 25, 2023
| # | TVIN CANADA | WEEKS IN TOP 10 |
| --- | --- | --- |
| 1 | Black Mirror: Season 6 | 2 |
| 2 | Animal Kingdom: Season 6 | 1 |
| 3 | Catching Killers: Season 3 | 1 |
| 4 | Never Have I Ever: Season 4 | 3 |
| 5 | Our Planet: II | 2 |
| 6 | Arnold: Limited Series | 3 |
| 7 | Sleeping Dog: Limited Series | 1 |
| 8 | Amy Schumer: Emergency Contact | 2 |
| 9 | Glamorous: Season 1 | 1 |
| 10 | FUBAR: Season 1 | 5 |