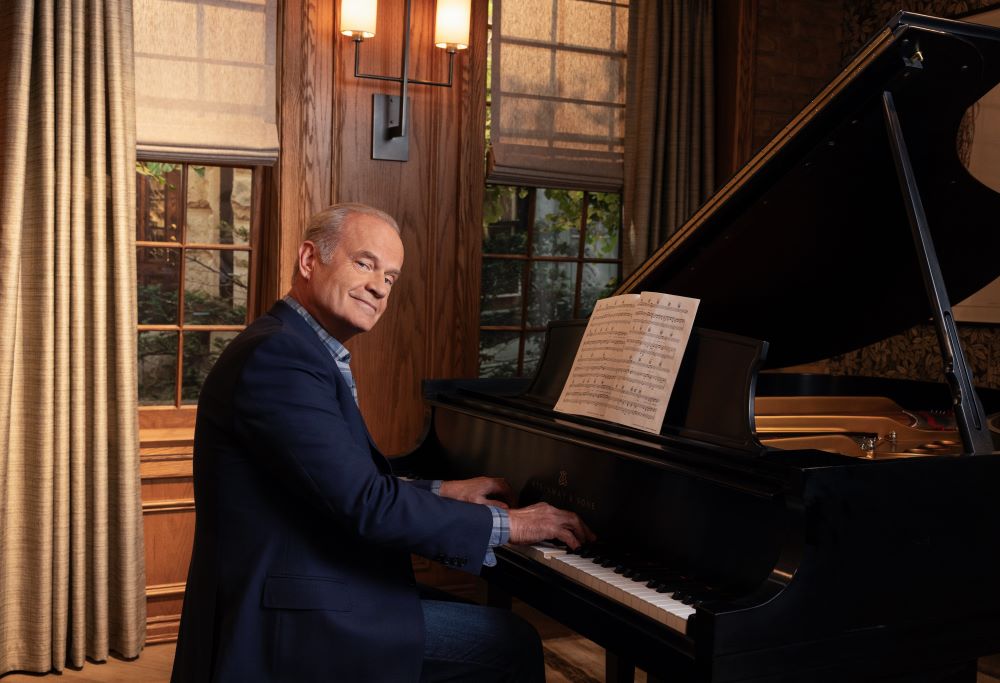 One of the comfort food shows re-watched start-to-finish in the Brampton bunker during the pandemic was Frasier. The series, which ended an 11-season run in May of 2004, seemed even funnier the second time around.
Why did it hold up so well? The usual reasons: great writing, excellent cast. It was of its time but that helped as well, especially if you long for what life was like before we all surrendered to our cell phones.
When it was announced that Frasier would be rebooted on Paramount+ (starting this Thursday) with only Kelsey Grammer returning from the original cast, I did not have high hopes. Grammer was absolutely the one to build a show around when the original writer/producers migrated the character to Seattle and away from the Boston bar in Cheers, where he had spent nine seasons in support. Still, Frasier without Niles? Grammer without David Hyde Pierce? It sounded like Laurel without Hardy.
Factor in that Grammer, at 68, is now five years older than the late, great John Mahoney, who played Frasier's dad Martin Crane when the original premiered. Was it going to work with Frasier the senior citizen in the house? Many episodes of the original featured Dr. Crane scrambling to resuscitate his somewhat cursed and self-sabotaged dating life. More of the same seemed icky.
The conventional wisdom is that many of these classic shows are being rebooted in order to cut through the clutter and get sampled. Sure, it's crowded out there, but how's that been going? For every successful reboot such as The Conners, there are eleven Murphy Browns limping off to obscurity.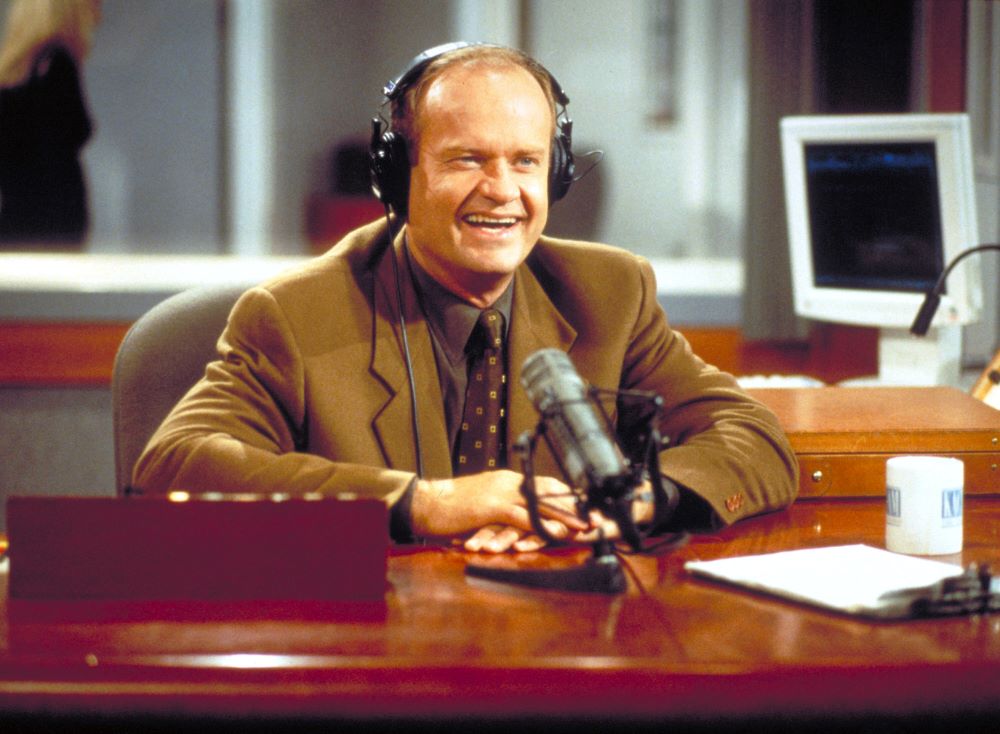 Then there is the three hit comedies in a row curse. Not even Bob Newhart could break that spell. Nor could Grammer, who, post-Frasier, flopped with Back to You (where he was teamed as newscasters with Patricia Heaton, who also has two sitcom hits but so far, no No. 3). His next attempt, Hank, lasted five episodes.
Don't get me started on such earlier reboot klunkers as AfterMASH and The New WKRP in Cincinnati. Even TV's best can wear out their welcome.
Here's the shocker: the new Frasier absolutely works. It just takes 30 minutes. This is only true, however, if you stick with it through the second episode. That one, remarkably, is Frasier good.
One big reason to get past the first new episode: pilots are notoriously weak. Rebooting Frasier is crazy hard, like trying to win The Amazing Race in 30 minutes. Expectations are very high. Plus, you've got to explain why Dr. Crane moved from Seattle back to Boston; quickly sneak in what happened to all his old friends (Martin Crane's funeral was still fresh, we are told) and introduce the new characters who are now going to be part of Crane's world. Plus make it funny!
While it seems hard to imagine Frasier without Niles or Daphne (Jane Leeves) or Roz (Peri Gilpin) or especially Martin, consider that Grammar brought nobody with him when he left Cheers. Sometimes fresh blood is an essential part of new surroundings. Plus, one new character is basically Niles 2.0 – Niles' and Daphne's quirky son David (Anders Keith), a chip off the old germophobic block.
The key relationship in the new show is still father and son, with Frasier now the disapproving dad opposite his now 30-year-old, fireman son Freddy (played by Jack Cutmore-Scott). This time Frasier doesn't want his son's gross sneakers and sports memorabilia near his Steinway or custom-made couch. It is the same energy in reverse, with the designer shoe now on the other foot.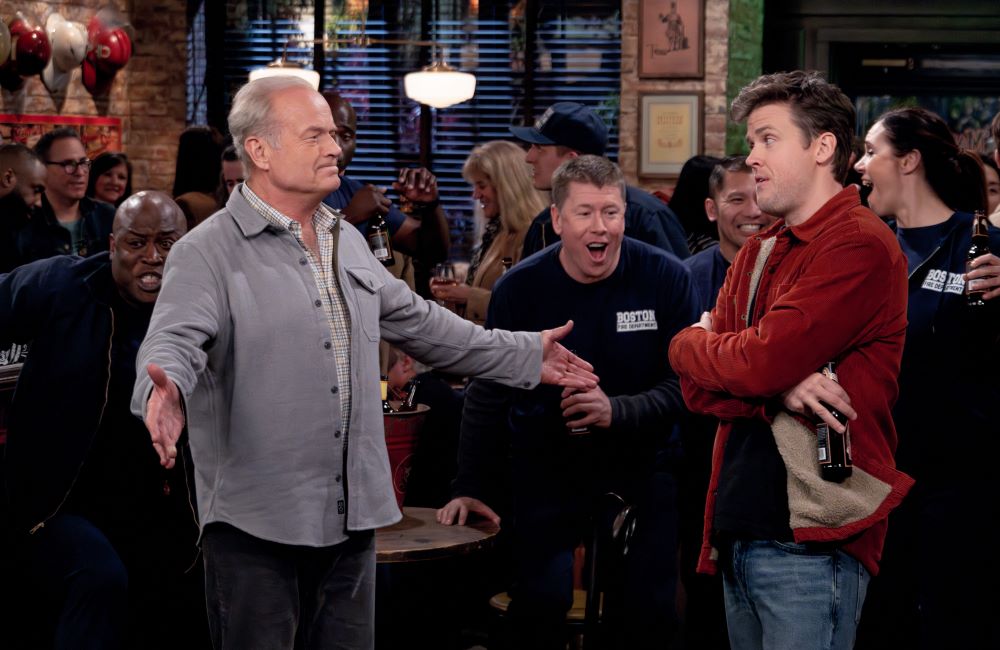 Less convincing as a sustainable character is Jess Salgueiro as Eve, Freddy's roommate. She's a new mom, but Freddy's not the dad, just a guy who invited her to crash at his place temporarily. The baby? Kinda the new Eddie. Dock three more marks.
On the work front, Frasier is speedily recruited as a psychology professor at his old alma mater, Harvard. There he is reunited with his old school chum Alan Cornwall, played by Nicholas Lyndhurst. Cornwall is brazenly coasting in his tenured position, and I wish John Cleese was younger and killing it in this role. The head of the psychology department is played by Toks Olagundoye, who Toks a lot and can tone it down a tad.
The second episode works especially well thanks to a seasoned hand on the set – director Jim Burrows. He is the sitcom Yoda, guiding actors through shows such as Cheers, Friends, Will & Grace and original Frasier. Further into the new season two other old friends make cameos, including Peri Gilpin as Roz, Frasier's old Seattle radio station producer.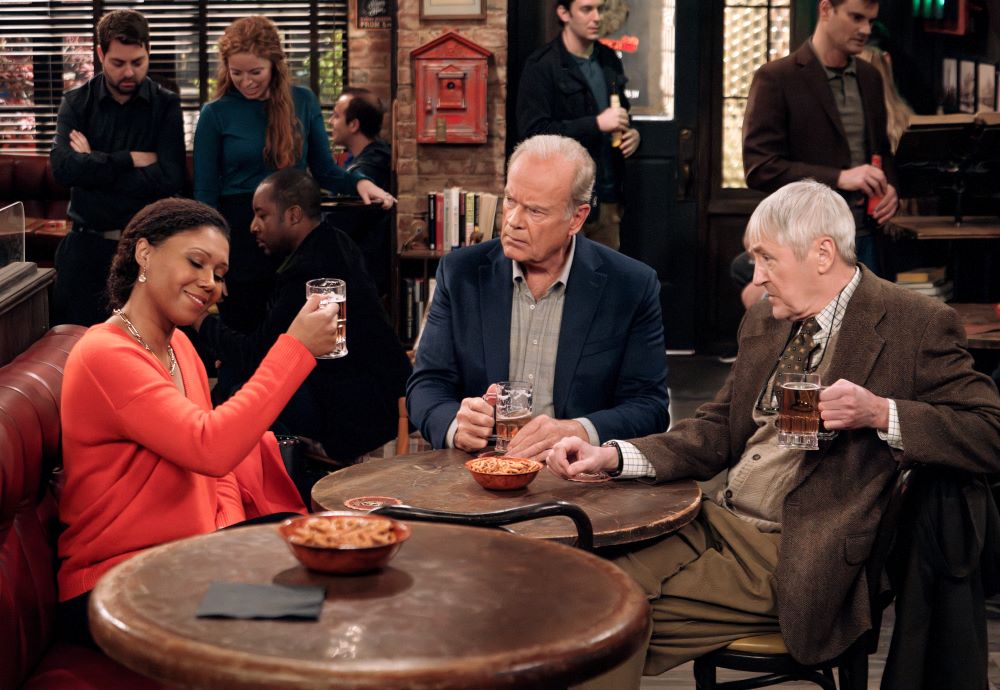 What is remarkable is that none of the original writers are involved in this reboot. The old series boasted contributions from the same creative folks behind Cheers, including the writing-producing team of Ken Levine and David Issacs. The new showrunners are Chris Harris (How I Met Your Mother) and Joe Cristalli (Life in Pieces). Television is constantly evolving, and you need today's storytellers. For good or bad, the rhythms on The Big Bang Theory, for example, are not the same as they were on Frasier. Which brings me to my next point.
It takes at least one full episode for the actors and viewers to feel comfortable in that new rhythm. For years now, the old, multi-camera, live in front of a studio audience format seems played out. Frasier was a network sitcom, with commercial breaks every six or seven minutes and live audience reactions. Viewers under 30 sitting through that today think something is wrong with their iPad, iPhone or 5K flatscreen.
The reboot sticks to the old studio ways, bringing back the clever black and white intertitles between scenes, along with Grammer singing a new version of the "Tossed Salad" theme. There is even the familiar pantomine scene at the end.
The audience, however, sounds more like the giddy ones who sat through tapings of Big Bang Theory. The ping-pong line-and-response rhythms seem more overheated than earned – until you get to episode two. That is where things slow down a bit, especially between father and son, Frasier and Freddy. This relationship is the whole reason for doing this show, and Grammer and Cutmore-Scott both seem up to walking this father-son tightrope. Then there is Anders Keith as David, a.k.a. Niles 2.0, to press the snappier comedy buttons.
Pulling it all together, and full credit to him, is Grammer. This Frasier is older, wiser and richer. Seems he was a Dr. Phil-like TV star in the between-shows interim. He is still, however, a big baby and just as vain and snobbish. He slips back into character as easily as one of his designer wool jackets.
That is important, a tone set by The Conners, post-Roseanne. Older viewers who watched the original shows need to recognize the characters. Some viewers spend more time with Lucy or Spock or Hawkeye and Hotlips or Sam and Diane or Sheldon and Leonard or the Friends than their own family and friends. You want to first know that they are okay and you have to want to follow them now.
The new series isn't perfect and sitcoms need time to grow, even re-booted ones. The scene in a bar in episode Two, however, where Frasier meets Freddy's rowdy firehouse friends, harkens back to Cheers in terms of farce and energy. That's a high bar and reaching it so early in this new series deserves some cheers all its own.
Frasier premieres Thursday, October 12, with back-to-back episodes streaming on Paramount+ (which – full disclosure – is a sponsor here at brioux.tv). Non-subscribers can sample a one-time-only network peek airing Oct. 17 on CBS.
For more on the remount of Frasier, check out my feature for EverythingZoomer on the six challenges the series will have to surmount in order for Grammer to capture the elusive sitcom 3-peat.