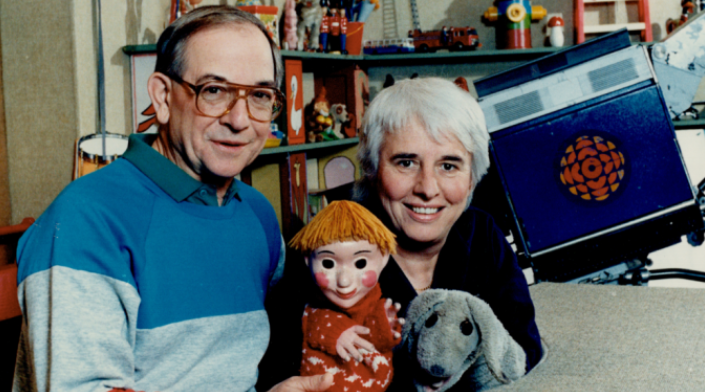 If you' know who've heard of Casey and Finnegan, you likely are over 30 and grew up in Canada watching Mr. Dressup. The gentle children's series, hosted by Ernie Coombs, ran on CBC from 1967 to 1996.
The documentary "Mr. Dressup: The Magic of Make-Believe" won the People's Choice award at last month's Toronto International Film Festival and has been charming audiences at other fests in Sudbury, Atlantic Canada and Vancouver. Starting today, Monday, Oct. 10, it comes to home screens exclusively om Prime Video.
Director Robert McCallum has crafted a heartfelt tribute to Coombs and company, including Casey and Finnegan puppeteer Judith Lawrence. The Australian-born Lawrence added an essential burst of playfulness and sass to Mr. Dressup's daily shenanigans. Her efforts were a big reason why the series enjoyed a 30 year run.
After the series ended in 1996, Coombs continued to make many personal appearances as Mr. Dressup, a victory lap well documented in the feature. Heart issues cut his life short at 73 in 2011. Thanks to many archived clips, however, Coobs is a major presence in his own life story. The film was also made with the full cooperation of his family, including his two children, Chris Coombs and Catherine LeFort. Mark Bishop and Aeschylus Poulos are co-producers.
Many Canadians will be unaware that Coombs was originally from Maine. As the documentary shows, he became a Canadian citizen later in life. He came to Toronto with fellow children's TV Hall of Famer Fred Rogers in the early '60s at the invitation of the CBC. Canada's public broadcaster had a children's television wing at the time, an almost unheard of indulgence in North American television. Fred Rainsberry was the savvy CBC executive who invited Rogers, whose Pittsburgh-based children's show had just ended, and his puppeteer/assistant, Coombs, north to spread their whimsy and good cheer in Canada.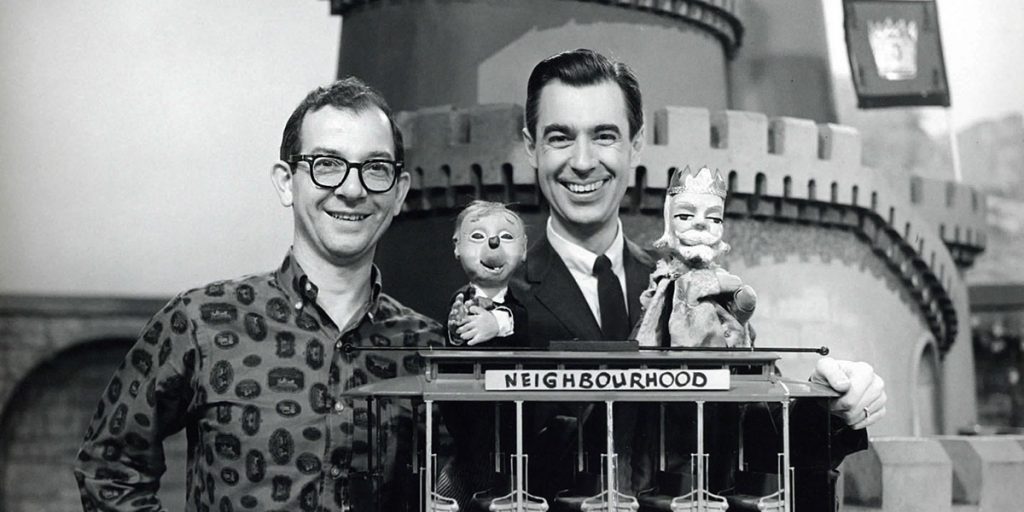 For the next two years, the black and white series MisterRogers ran on CBC. Rainsberry was thus responsible for bringing three American-born titans of children's television to Canada: Rogers, Coombs and, even earlier, Friendly Giant Bob Homme.
Rainsbury's savvy recruitments are recorded in "The Magic of Make-Believe," which also includes heartfelt testimonials from many Canadians charmed by Coombs. Michael J. Fox, Eric McCormack, Bif Naked, Paul Sun-Hyung Lee, Andrew Phung, CBC head Catherine Tait, Fred Penner, the four current members of the Barenaked Ladies, Graham Greene, Kids in the Hall players Bruce McCulloch and Scott Thompson, Jonathan Torrens, Peter Mansbridge and Yannick Bisson all share memories.
McCormack, as he told me late last year on an episode of brioux.tv: the podcast, was greatly inspired by this man on TV who could pull a hat and a costume out of his Tickle Trunk and transform himself into a fireman or a spider. The future Will & Grace Emmy-winner thought that might be fun as a career. He and his wife also named their son Finnigan!
Filmmaker McCallum makes the point that Coombs' kind act appealed to all. As McCulloch mentions, you never really knew if Casey was a boy or a girl, and that genderless quality led boys and girls into each daily adventure. It also seems well ahead of its time today.
Speaking for my generation of TV critics is former Toronto Star scribe Rob Salem, who cements his reputation as the Mr. Dressup of commentary by appearing a a fluorescent green and black Batman villain hoodie covered in Riddler-style question marks. Also providing commentary are a couple of veteran Canadian television luminaries who make very impactful points. Trina McQueen and Peter Moss speak to Coombs' legacy like no other TV insiders could.
Among the points they make is that Coombs operated outside the general constraints of ad-supported, profit-driven television. Coombs was never trying to sell you something, other than anyone can do anything with a little imagination and perhaps scissors, tape and glue. There was no bottom line, and therefore no ceiling when it came to a child's creative reach.
The other grand and powerful message of "The Magic of Make-Believe" is that a show that is all about kindness and generosity of spirit and playfulness and fun can have a lot to do with the fabric and reputation of a nation. That we are, or were, a people who say, "Sorry," when somebody steps on our toe, perhaps is because a lot of us were given a metaphorical hug by fellows named Coombs and Homme Rogers and puppeteers such as Lawrence.
Surviving 30 years on TV for any show is remarkable. That Dressup spanned, in political terms, from Pearson to Chretien, wasn't easy, especially after puppeteer Lawrence retired in 1989, taking Casey and Finnigan with her. Despite the loss of such key characters, CBC budget cuts and the impact of slicker competition such as Sesame Street, the series rarely dipped below the half million viewers a day mark throughout its long run.
I don't want to spoil the many emotional moments in "The Magic of Make-Believe." McCallum goes for them, chronologically, without hesitation. This is a valentine to Coombs' family, but that family includes everyone who worked on the show, or watched.
The filmmakers were aided by the fact that Mr. Dressup aired at CBC and thus four thousand episodes exist in the CBC archives, where they are carefully curated and available for documentary salutes such as this. That is a one very full tickle trunk if you are making a documentary about a field where entire runs of children's TV shows were bulk erased or junked.
One of the many poignant clips is of the very last episode of the series, which aired in 1996. As the lights dim in Mr. Dressup's Toronto studio, the camera pans over to Donald Himes, who wrote the series' sprightly theme, which was performed live in the studio each episode. Himes, who died in 2011 at 80, plays it out with a grand, extended flourish. It is a fitting ending, both to Coombs and the series, as well as this sweet, nostalgic, documentary tribute to a golden era of children's television.
For more on Mr. Dressup, follow this link to my feature for EverythingZoomer on this outstanding documentary.