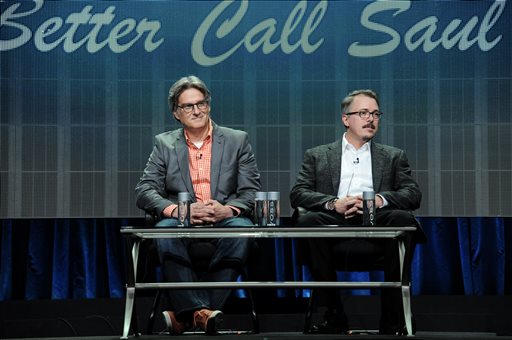 BEVERLY HILLS, Calif.–Vince Gilligan is one of the reigning heroes of press tour. The Breaking Bad EP and showrunner is still taking bows and picking up award nominations for one of the best series finales ever.
So why did he and fellow producer Peter Gould spend much of their TCA session Friday downplaying expectations on their follow-up series for AMC, Better Call Saul?
Gilligan kept repeating over and over again that the new series was "a challenge but we're having fun." Gilligan said they had broken eight out of the first season order of 10 scripts and described the series as "a rubix cube we're trying to solve."
Better Call Saul is a prequel to Breaking Bad, set in 2002, six years before small-time lawyer Saul Goodman (Bob Odenkirk) met Walter White (Bryan Cranston). AMC recently announced that the series start date would be pushed back to early 2015. Blame me, said Gilligan. "I'm slow as mud as a TV writer." He figures it took he and the other writers three weeks to break each script on his last series. Gilligan said that was the reason the last season of Breaking Bad was split into two eight episode half seasons: he needed more time to get the final season just right. "We had a pace thanks to AMC and Sony that was deliciously stately for television."
Gilligan made his name as a writer cranking out copy for The X-Files. He started talking about that show's spin-off, The Lone Gunman, and how Fox gave up on it too early. "I'm still proud of those 13 episodes," he said. "Fox missed a trick by not re-upping if for a second season." Left unspoken: "You hear that, AMC?"
Joining Odenkirk on the prequel is Michael McKean as his brother, Chuck. Gilligan sees this as "two comedy legends working together," which suggests the tone of the series could be much lighter than Breaking Bad. Jonathan Banks returns as Saul's "fixer," Mike Erhmantraut. A second, 13-episode season has already been ordered.
Still, Gilligan kept stressing how difficult it had been to nail down the tone and format of the show. He used the old animated comedy Dr. Katz as an example of a client-of-the-week format they had toyed with. The idea of stand alone episodes has been bandied about. "There are a lot of lawyers and crooks," added Gould.
Gilligan ended the formal session with how it's "hard to reinvent the wheel when there really is only one wheel." In the after-scrum, he left open the possibility that Walter White could make a surprise appearance, although he noted that Cranston seems to be a little busy these days.