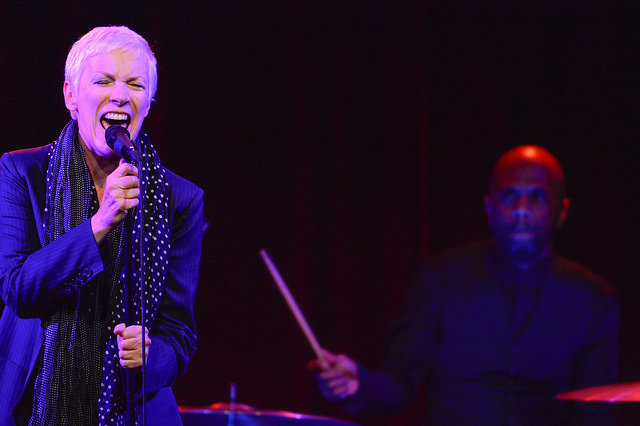 PASADENA, Calif.–Annie Lennox put on a private concert for critics Monday night at press tour. Would I lie to you?
PBS has spoiled critics rotten in recent years with private music shows featuring the B-52s, Tony Bennett (both on the same tour), Sting (albeit in his weirdo lute phase), Roseanne Cash and Harry Connick, Jr. It's not just that we get to hear these amazing musicians (for free, for Pete's sakes), we get to hear them, as colleague Alex Strachan tweeted after Lennox's set, from 25 feet away.
This wasn't the first blast of music on this press tour. A night or two earlier, John Corbett–who plays a has-been rock star in Denis Leary's new FX comedy Sex and Drugs and Rock and Roll–was belting them out down in the Langham's Tap Room. He could be heard, well into the night, from six storeys away.
The PBS party was much more of a scheduled event. The platinum-haired, Scotland-born singer will perform all 12 cuts from her latest recording, Nostalgia, on a Great Performances special slated for April. The concert is being recorded at the end of this month in Los Angeles.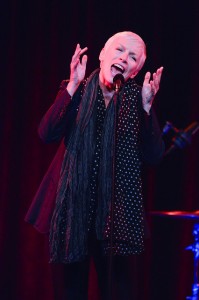 Lennox came on stage (really a riser set up at one end of a banquet room) and immediately belted out the Ray Charles standard Georgia on my Mind. The Gershwin classic Summertime followed. These are two tough songs to sing, and to open with them–cold–and hit every note–wow.
Two  songs later, mics were yanked off stands and Lennox and her three band mates took a bow. She then joined Great Performances EP David Horn on stage for questions.
Tour veteran Ivor Davis (buy his book on The Beatles here) asked Lennox how she maintained her energy and vigor "now that she's reached the ripe age of 40." Davis is a sly dog–Lennox actually turned 60 on Christmas Day.
Lennox said she didn't know. She'd just flown in from Europe and figures adrenaline had something to do with it. "There's been no drug taking," she swore.
No plastic surgery or Botox either. Lennox feels women have been hammered with images of physical perfection for years and she's decidedly "not ageist."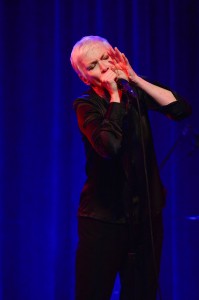 If this is what 60 looks like, bring it on. Lennox uses her whole body to express her songs and lets all the passion flow up through her fingertips. That her voice is in such fine shape is even more astonishing. Lennox was always a full volume singer and seems to hit notes at will. She also  has the lungs for those scat runs she throws into the back third of each song.
The former Eurythmics partner (with Dave Stewart) talked about how American rock and soul music reached her in Scotland as a child of the '50s and '60s. "I was so influenced by African American music," she told critics on Martin Luther King Day. Lennox says she's never understood racial bias based on skin colour or anything else. "Music is the connection," she said.
Lennox works tirelessly to help raise money to prevent the spread of AIDs in Africa, especially among women and children.
At one point in her set, Lennox cupped her hands as if she was clutching an invisible harmonica and "played" a mouth horn. Asked if this was a new innovation in her shows, she copped to the fact that she was basically just vamping through what would normally be a guitar solo. She missed her guitar player and wished she could have "afforded to bring him." Her show on the 28th, she added, will feature "the whole meshugganah"–an orchestra complete with a horn section.
Lennox said Celtic sounds from her homeland were also an influence and found a common thread between Celtic and African music, suggesting a shared "sombre, noble, melencholy" sound.
"I carry it in me," she says. "I love music."