Bob Odenkirk knows he has a tough act to follow. Odenkirk's Better Call Saul–a prequel to the acclaimed Breaking Bad, begins Sunday night at 10 p.m. ET on AMC. (Episode Two airs Monday).
The actor, who has credits on some of television's greatest comedies–including The Larry Sanders Show and The Simpsons--knows he'll be judged on a par with Bryan Cranston. Cranston made a sensational pivot from comedy (Malcolm in the Middle) to dark, intense drama, with Breaking Bad, winning three straight Emmy Awards along the way.
Odenkirk told critics at the January TCA press tour that he sought out Cranston and asked him how to be a series lead. Odenkirk wasn't asking how to be a great actor, he was more interested in the process of being No. 1 on the call sheet, the series lead. With great power comes great responsibility, that kind of thing.
He knew he would no longer be the guy who might duck into an episode and break the tension with a few comic turns. "I have a lot more to say in the show my character speaks a lot more and that's a job," Odenkirk said after the session in a crowded hallway scrum. "I sat with Bryan Cranston and said, 'How do you do it—how do you learn all those lines, how do you manage your day,' and he told me."
Cranston didn't sugarcoat it. He told Odenkirk, "You work all the time."
"And he was right," said Odenkirk, "but it helped me to understand it."
Odenkirk likened being a series lead to an athlete gearing up for a marathon. "You have to eat right, you have to get your sleep, you have to plan your rehearsal and your prep so you show up ready to go."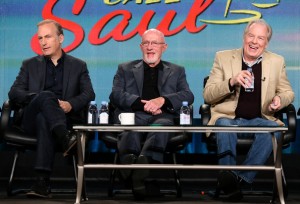 Odenkirk's typical day began with "a healthy breakfast, I looked at my lines for the day, I got to the set, had lunch."  Cranston told him to make sure he grabbed dinner on the set before he left for the day because he simply wouldn't have time to eat when he got home. He gave him tips on how to structure his weekends around the show. He'd have a dialogue coach or "acting partner" come over to the apartment he lived out of in Albuquerque and help him "put these scenes on their feet." If other actors were in town for a big scene "they would come over to my apartment in the afternoon and we would stand around and do these scenes–especially the hard, emotional scenes or conflict ones."
Cranston stressed that what executive producers Vince Gilligan and Peter Gould would deliver would be "scenes worthy of rehearsal, and they're worthy of questioning and learning and working them because as you do them, the more you do them, you start to find new emotions in them and textures that you don't see the first time you read them."
All of this was passed down from Cranston like tablets from the mountain.
The big difference, Odenkirk tried to tell critics, was that Cranston approached his craft, "like a dad and I was a pissy teenager."
Gilligan was having none of that. "No," he said, "you were a dad, too."