If you've been waiting for Season 2 of Transparent, wait no longer. All 10 new episodes dropped this weekend on Amazon Prime in the U.S. and UK and on shomi in Canada. The first new episode, "Kina Hora," is a beaut.
I wrote about what the series means to Jeffrey Tambor and Judith Light, the two cast veterans who are enjoying the best reviews of their lives at ages 71 and 66. Read more about that in the Saturday, Dec. 12 edition of The Toronto Star.
When I caught up with the cast in New York two weeks ago at a SoHo hotel, they were all relaxed and friendly and happy to be on such a critically acclaimed success. I really hit it off, however, when I met Amy Landecker, who plays older Pfefferman daughter Sarah, and Melora Hardin, combative this season as Sarah's other woman, Tammy.
I walked in wanting to ask Landecker if she was related to John Landecker, the radio morning man who came from Chicago to Toronto's CFTR in the '70s. "Landecker in the Morning" was the slogan on billboards all across Toronto in a big ballyhoo campaign.
"That was my dad!" said Amy, who could not believe I remembered the slogan. My memory was that Landecker, after all that build up, was gone in about a year. Amy says he hated being separated from his wife, her mom, and his kids, all in LA while he was in T.O. She is currently shopping a script about her relationship with her father, tentatively titled "Daddy's Girl."
I also spoke with Gaby Hoffmann, who plays youngest Pfefferman sibling, wild child Amy.
A former child star, Hoffmann was just 6-years-old when she played one of the children who needed a babysitter in her second film, "Uncle Buck" (1989).
The baby sitting uncle of last resort was played by John Candy, the SCTV star who passed away in 1994.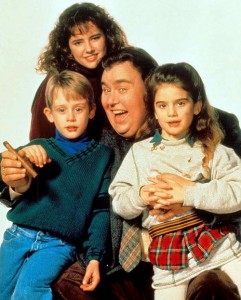 "He was such a sweetheart," recalls Hoffmann. "Everybody says that of him but it's true–he just had the biggest heart in the world."
Less of a sweetheart, Hoffmann recalls, was the writer, producer and director of "Uncle Buck," John Hughes.
"I had a simple question," says Hoffmann, "and John Hughes just totally ignored me."
Hoffmann never forgot what happened next. "John Candy came over and put his arm around me and whispered in my ear, 'What are we doing? Let's figure out what we're doing.' He just saw that I needed a little something," she says. "He was always right there and he was very affectionate and obviously he was really, really funny. We loved him, he was a real sweetheart."
For how things finished up last season on Transparent, check the recap I wrote which appeared in Saturday's Star.