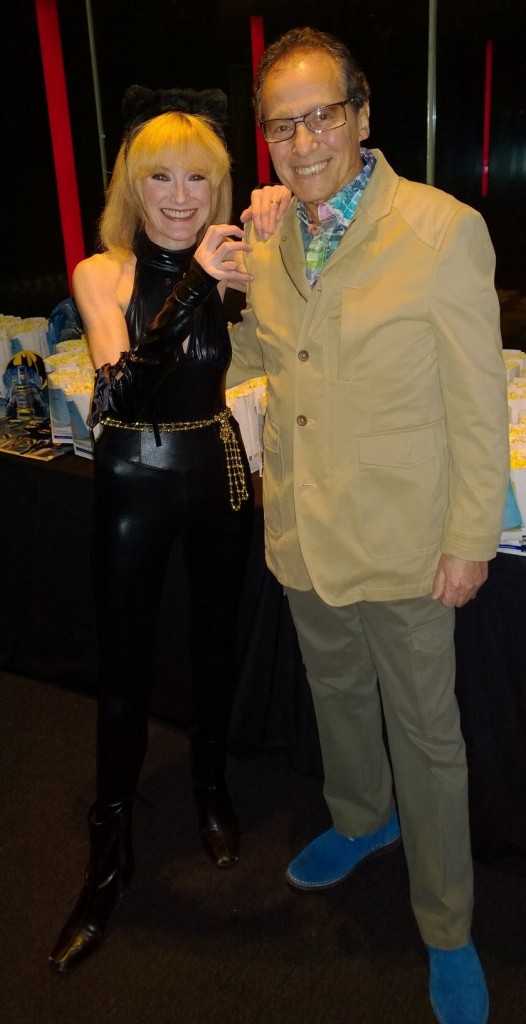 One of the wonderful surprises from Thursday night's TV on Film Project screening at the TIFF Bell Lightbox was discovering an audience member had a hand in bringing two classic gems to Canadian TV screens.
For many years, Pip Wedge was VP of programming at CTV.  In the fall of 1966, however, Wedge was creating shows for CTV out of Montreal and Toronto. He was also part of the programming team that imported two of the 15 ABC Fall '66 rookies showcased at Thursday's screening. Those shows were Batman and Love on a Rooftop. Both aired in Canada on CTV,
Wedge says CTV pre-released Batman a day or two early. That's a detail I had forgotten. Thanks to the double Canadian-American exposure, eight-year-olds like me probably watched the series four times a week instead of just the usual twice.
It was great to see Wedge at the screening. He is a CAB Hall of Famer and now Executive Director of the Canadian Communications Foundation. He was one of several industry players in the house, including showrunners Peter Mohan (The Listener) and Gary Pearson (Sunnyside) as well as my old grade school pal and casting ace Jon Comerford (Schitt's Creek).
Also on hand was Hilarious House of Frightenstein producer/star Mitch Markowitz, he of Superhippy fame. Good to have one legit superhero on the scene on Batman night. Hoping to call on him soon to share some Billy Van stories at a future TV on Film event.
Speaking of Billy Van, huge thanks to Air Farce producer Mark Selby who introduced two CBC Archives clips featuring scenes from the mid-'60s cult comedy favourite Nightcap. Selby, who sourced and curated the clips, shared his insights into this "lost" Canadian gem of a series that starred Van and Alan Hamel as well as Bonnie Brooks, Vanda King, June Sampson and band leader Guido Basso. Selby also snuck in a plug for a worthy cause–getting Billy Van a star on the Canadian Walk of Fame.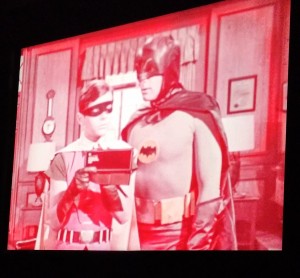 Many thanks to all who contributed to Thursday night's screening success, especially Vice-President, Communications Scott Henderson and all at Bell Media for their generosity and support. On very little notice, Scott and his CTV communications team booked us into the Tiff Bell Lightbox, a superior venue which comes with a tremendous support team. Among then, Event Productions Manager Ginessa Dortonio and Senior Booth Manager James King went above and beyond, patiently allowing extra time to get the rare materials together for the screening.
Along those lines, I have to especially thank Geoffrey Hopkinson at the CBC Archives for his 11th hour heroics in providing rare footage from the vaults, including the Wayne & Shuster Batman sketch from 1966. CBC did a great job preserving this bit of TV history. The picture and sound were clear and sharp and held up 50 years later on the big screen.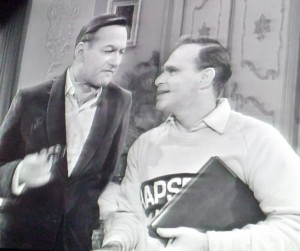 I also want to thank my old pal Jeff Keay in the corporate offices at CBC for his generosity in helping to share cherished moments of TV history with the appreciative Film Project crowd. The audience loved seeing Canada's dynamic comedy duo, Wayne & Shuster, in all their black and white glory. The discussion afterwards lasted until the TIFF clean up crew gently nudged us all out of Cinema 4.
Speaking of which: what a joy to see all the elements Thursday night–a colourful power-point intro presentation (crisply executed by my graphic designer daughter, Katie Brioux, who killed it once again), the 16mm "Batman '66" film and the digital CBC archive shorts all seamlessly filling the same screen. All were also masked in the same classic 4:3 ratio. Hats off the the Lightbox for keeping their film projection equipment operational long after almost everybody else in Toronto has abandoned this medium.
All this and the folks at Bell/CTV also sprung for popcorn and soft drinks. Again, many thanks.
Above all, thanks to 16mm film collector Mitchell Dakelman for loaning out the gem of the night, ABC's 1966 Fall Preview reel featuring Adam West and Burt Ward. Holy generosity, Batman!
The plan is to present another TV on Film Project screening later in 2016–including a Bat-tacular 1966 episode of the CBC series Telescope with host Fletcher Markle. The super rare, all-access peek behind the scenes of the original Batman series–with CBC cameras allowed right on the 20th Century Fox lot–has to be seen to be believed. Credit the CBC Archive once again for preserving and sharing this 50-year-old gem.
Look to Brioux.TV for future announcements.