Overnight estimates — a measure that means less and less these days — are in and the numbers for Kim's Convenience so far are right where I expected.
Tuesday's back-to-back opener measured 835,000 and 805,000 viewers on the overnight scale. That was good enough for third in the timeslot in Canada behind Global's strong rookie Bull (1,627,000) and just behind CTV's well-reviewed import This Is Us (949,000).
Kim's lead-in hour at 8 p.m., was not as robust as in past years with 672,000 tuning in for Rick Mercer and 715,000 for 22 Minutes. Both shows had their season premieres blunted last week as all eyeballs were on the Blue Jays' Wild Card triumph.
There was no Jays playoff game opposite Kim's or anything else this Tuesday. The big draw on the night was Global's rock-steady import NCIS at 8 p.m. (1,838,000). Chicago Fire did 1,162,000 at 10 to sweep the night for Global.
CTV saw 874,000 tune in at 8 p.m. for The Flash and 734,000 at 10 for SHIELD. Hard to tell if the superhero era has already peaked or if these shows just aren't as much fun as they were in earlier seasons.
Everything else on the night was also-ran, except Cubs vs. Giants on Sportsnet (679,000), The Voice on CTV Two at 643,000 and Washington vs. LA on Sportsnet (557,000). The best City had was Brooklyn Nine-Nine with 353,000.
Once the Live+7 totals are in by the middle of next week, look for Kim's to settle over a million, possibly 1.1M. For a show with no stars (albeit enjoying a massive CBC marketing campaign), that's pretty good. Sitcoms are a hard sell and often take a while to connect, especially against the clutter of Peak TV.
The gains come from word of mouth — as do the losses. That's likely what is slowing down Kevin Can Wait over on Global. Monday's third outing drew an overnight, estimated 819,000, off almost 50% from it's 1.6M opening.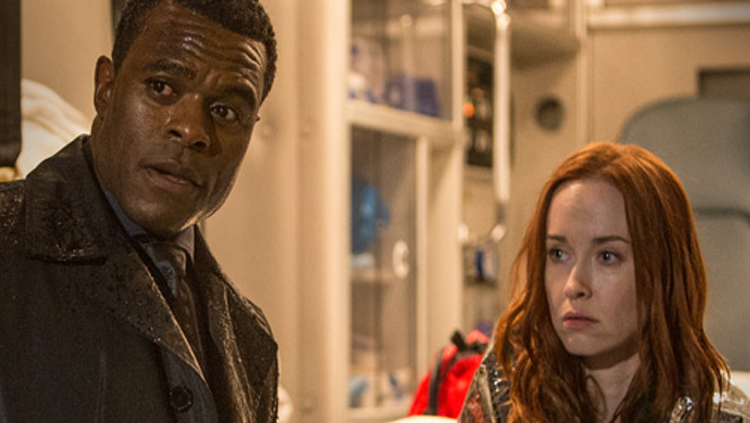 Monday also saw the opening of CBC's sexy new drama Shoot the Messenger. Viewers may have been confused and thought this series was a fantasy or a period piece because it showed a busy newsroom full of reporters. Also I never once had to zip up an editor, although there were times I was tempted.
Only 318,000 caught Monday's opener despite it being tucked behind another strong return — creatively and numerically — from CBC's 10-year-old wonder Murdoch Mysteries (1,148,000). Look for Murdoch to grow closer to 1.4M once all the numbers are in. Messenger could not have asked for a stronger CBC lead-in, although the two shows appeal to very different audiences.
Messenger benefits from strong performances from Elyse Levesque (Stargate Universe) as the wide-eyed rookie news reporter and Lyriq Bent (Book of Negroes) as her personal cop connection. Lucas Bryant (Haven), as a newsroom mentor, will hopefully get more to do past the pilot. Alex Kingston (ER) is a hoot as the kurt, clothes-changing editor.
The shot-in-Toronto series, once pegged as a mid-season replacement, was on its own once CBC seemingly shifted all of its mighty ad push behind Kim's. Sudz Sutherland directed a handsome opener and if you missed it and are looking to be entertained Mondays at 9 p.m., the series deserves a look.
Other Monday stats: a new episode of The Big Bang Theory drew 1,831,000 at 7:30 p.m. on CTV to take show of the night honors. Baseball came next with Boston-Cleveland in the ALDS drawing 1,269,000 on Sportsnet. TSN had a couple of CFL tilts: EDM/MON drew 580,000 with CAL/TOR doing 598,000.
CTV's night went Gotham 809,000, Lucifer 1,106,000 (not a reference to Trump; that was Sunday night), Conviction 896,000. Beyond the 8 p.m., comedies, Global pulled 724,000 at 9 with NCIS New Orleans and 911,000 in the overnights with the new drama Timeless. CTV Two saw 666,000 return for The Voice.