CANNES, France — If you think TV is already peaking in North America, brace yourselves for a world of content spilling over from the rest of the world.
That's my view on my third visit to MIPCOM, the international television marketplace. Here literally thousands of TV shows are shopped to content seekers from around the world.
Sure, U.S. network fare gets showcased at the market. Sunday I spoke with Kiefer Sutherland, who jetted over to promote Designated Survivor. While in the hall outside his hotel room waiting my turn to go in I chatted with Haley Atwell, busy promoting her new series Conviction.
CBS has their usual pavilion corner where large posters proclaim Bull, Kevin Can Wait and MacGyver as the new hits of the fall season; all three received full-season pick-ups on Monday.
Sunday saw the world premiere screening of Mata Hari. This year's big budget saga features an international cast including Christopher Lambert, Rutger Hauer and Gerard Depardieu. French actress Vahina Giocante plays the infamous WWII double agent.
These costume epics don't always fly; last year you couldn't move for bumping into signage for The Shannara Chronicles and this year you really have to look for the Season Two hype.
The first thing you notice when you enter the Palais des Festivals this year is the upgraded security. Once you walk past soldiers carrying automatic weapons you are scanned, inspected and searched before you are permitted to enter.
The deadly flood which wiped out power, communications and even lives last fall also seems to have washed some of the excess outof MIPCOM.
I haven't seen any really ridiculous singing talent search shows such as "The Shower" from previous visits to MIPCOM. Part of that is a big swing away from reality and toward more scripted fare as countries try to feed the insatiable beast that is "Peak TV."
Not that there aren't some doozies. DogTV — the network that is aimed at dogs — is back at the top of the stairs and bragging about 1000 new shows. Woof! The venture is in many countries, including Korea, Ireland, Portugal, Israel, Luxenburg and the Cayman Islands.
Then there's this show that premiered on Comedy Central Israel this March: Babe Magnet (Keshet). Here's how it is described in the flyer (and try to imagine the pitch meeting): "…four single guys vie for the hand of one hot babe that will need to choose who she is most attracted to and that person will eventually be crowned the Babe Magnet." How it works: the guys are hung on giant fridges and pinned down using magnetic devices "never before seen on TV." They answer a series of questions causing some to lose their magnetism. Rejected dudes are repelled away magnetically. For some, there is "a shocking and action-filled exit in store."
The tag line: "We've all seen guys playing the field — but this time it's magnetic!"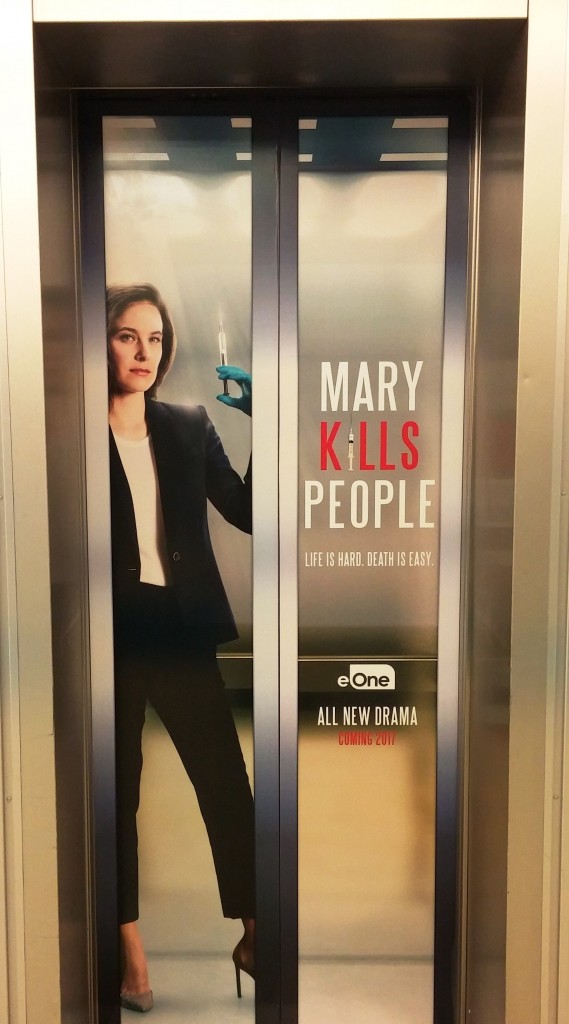 Canada is a major player at Cannes with a large pavilion filled with booths on the bottom level of the palais. Outlaw In-Laws is one of the Canadian shows being promoted for international sale by Distribution 360, a marblemedia company. The Toronto Star's Ellie Tesher is featured as the expert who can tame your "neat freak mother-in-law" or "mooching sister-in-law."
Other Canadian shows are among the wares sold internationally at other booths at MIPCOM. Tricon Films & Television has Kim Catrall's Sensitive Skin among its wares, along with another series directed by Don McKellar, Michael Tuesdays & Thursdays. The series, set to return to CBC in the near future, just goes under the title Michael for international sales or perhaps that's how it will be re-launched back home.
Shaftesbury sells Murdoch Mysteries all around the world, especially now that they have 10 seasons to offer. I turned my hotel TV to France's Channel 3 Sunday night and there were three Murdoch's on back-to-back-to-back; it's a hit in The UK and Germany, too. There are other surprises at the Shaftesbury booth, with one poster on the wall suggesting a remake of David Cronenberg's early horror feature "Rabid" is in development as a series.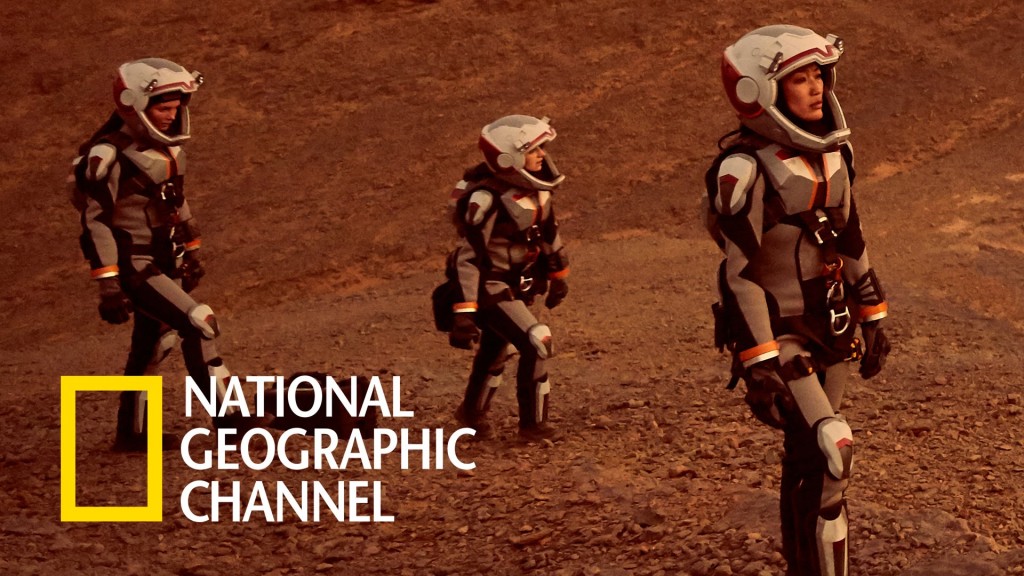 I managed to sneak in one screening Monday: Mars, a new series from Brian Grazer and Ron Howard premiering in November on National Geographic. Over the six hour-long episodes viewers will watch a drama set in 2033. Six astronauts attempt to become the first humans to land on and begin colonizing the Red Planet. Each time things get a little sticky, we jump back to 2016 and scientists and others, including Neil de Grasse Tyson and author Andy Weir (The Martian), explain the science behind the scenario. I thought it was pretty cool and not obtrusive — like having Wikipedia open and providing commentary on the same screen as you're watching a movie.
I worked in an interview at noon with the star of the upcoming CBS/Global drama Ransom, Luke Roberts (Game of Thrones) as well as executive producer Frank Spotnitz (The X-Files, The Man in the High Castle). The series, based on the life of an actual high-level hostage negotiator, began production in Toronto and has now shifted to France. Spotnitz, who figures he's worked 21 years in Canada between Vancouver and Toronto, also has production centers in France and The UK. The man gets that today's TV is a borderless business.
Monday night saw the opening MIPCOM party showcasing this year's "country of honour," Japan. Much raw fish was digested, a barrel of Saki was bust open with mallets and Japanese officials urged party-goers to catch all the Pokemon they could find.
There was also a red carpet with several Canadians making the scene. Karine Vanesse joined her Cardinal co-star Billy Campbell; their shot-in-Sudbury detective series comes to CTV in the new year. Tygh Runyan was there repping Versailles and Macha Limonchik promoted her upcoming Quebec series Fatale-Station.
Kiefer Sutherland also did the carpet before disappearing like Jack Bauer.