Has Man Seeking Woman found its Mary Tyler Moore?
The FXX network comedy has shaken things up in this its third season. Gone are the series of disastrous dates inflicted upon Josh Greenberg (Jay Baruchel). Instead, lovable loser Josh finds himself matched up in a steady, season-long relationship with Lucy — played with pluck and panache by Windsor, Ont., native Katie Findlay.
Findlay's ability to step on board this very kinetic comedy with almost no previous comedy experience (her previous TV  credits include dramatic work on The Killing and How to Get Away with Murder) reminds me of Mary Tyler Moore's baptism of fire on The Dick Van Dyke Show. Moore was the comedy rookie thrown into a veteran show business mix on that classic '60s series. At 24, she took everything creator/writer Carl Reiner could throw at her and later emerged as one of the top comedy stars on the '70s.
Young Findlay, 26, kept trying to dismiss herself as "just a weird person" when I spoke with her last week following the "Man Seeking Woman" session at the TCA press tour. Her boss, series creator/executive producer Simon Rich, was having none of that. He raved about her versatility and comedy chops.
"Jay really set the gold standard in terms of what it takes to pull this show off. I really believe that Katie has fallen in those footsteps and accomplished something amazing with this show. She carries it on her back half the year and she pulls it off."
Baruchel was equally generous in his praise: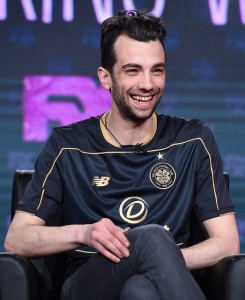 "It's no small task to be a new lead on a show that's been going for two years already," he says. "She fit in so seamlessly." Baruchel explains that the series has gone from strictly Josh's point of view as a "single dude to going back and forth between the two of us in a relationship. She's doing the yeoman's work like me. There's never a moment of finding her sea legs."
"I am running to keep up and that's the way that it should be," says Findlay, who grew up in first Edmonton and later Vancouver.
She's quick to credit comedy veterans such as Baruchel and co-stars Mark McKinney and Robin Duke (who play Josh's parents) for helping her get up to speed on the series.
"They're unbelievable," she says. "I look past Jay and Mark occasionally to ask if they're still talking about the war of 1812. They're into Canadian history big time, big time. Jay has a fearlessness, a self deprecation to him, sort of frees me up when I'm working with him. Its really lovely to work with someone where anything you do, they're going to grab it and lob it back to you and they're not going to laugh at you and they're not going to derail if for their own thing."
Man Seeking Woman airs Wednesdays  at 10:30 p.m. ET/PT on FXX and FXX Canada. Read more about Findlay and Season Three of the series here at this feature I wrote for The Canadian Press.