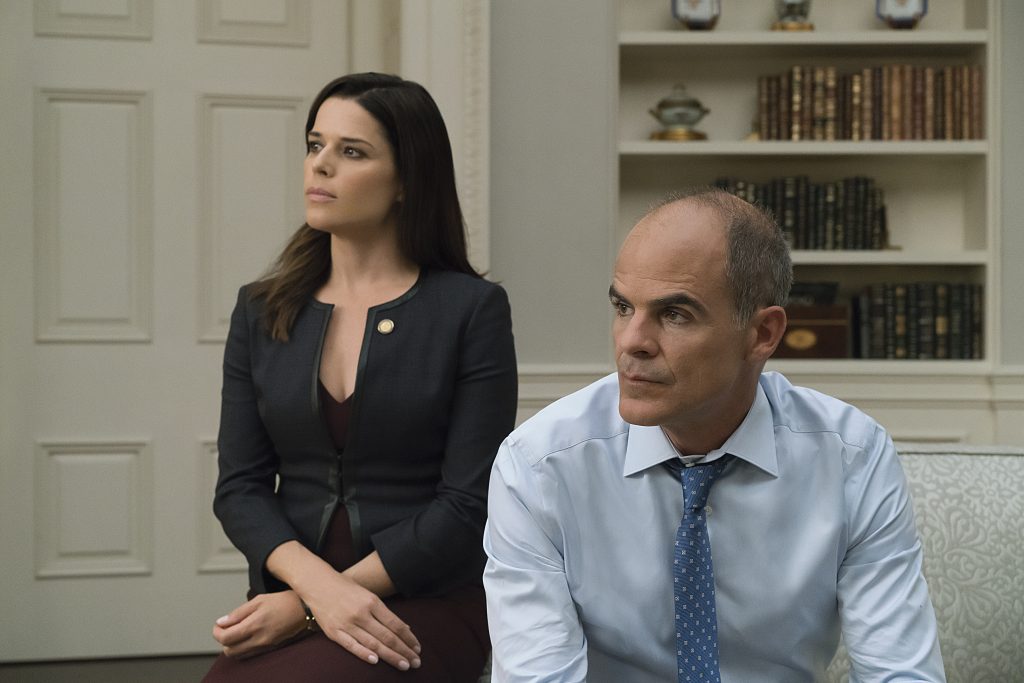 House of Cards is the series that put Netflix on the map. As the savvy political drama marks a fifth season (new episodes premiere Tuesday), Netflix has passed the 100 million mark in terms of worldwide subscriptions.
The streaming revolution isn't the only thing that has happened in the last few years. Season Five will be the first season to air after the election of Donald Trump as president of the United States. Some are asking if House of Cards will be hurt by the fact that it now must compete with BBC, CNN, Fox News and other news outlets for outrageous political drama.
I spoke with two of the many stars of this ensemble drama, Neve Campbell and Michael Kelly, two weeks ago in Manhattan.  Ontario-born Campbell joined the series last season as Texas-based political consultant Leann Harvey.
"I haven't met a fan yet who has said, 'Aww, I don't think I'm going to bother to watch this year,'"says Campbell. "If anything, it'll be a nice escape."
The success of the series as well as the awards and attention lavished on leads Kevin Spacey and Robin Wright has seen many actors join the swelling ensemble. Ellen Burstyn, Joanna Going, Gerald McRaney and Molly Parker have joined in recent years. Patricia Clarkson and Campbell Scott are new this year.
"I've said it before, but the fact is that if House of Cards came along today, there's no way I'm getting the role of Doug Stamper," says Kelly, who plays the fictional White House's Chief of Staff. "It would go to a big name, somebody would jump on that. So I feel so grateful I got it when I did."
Season 5 will also be the first season not under the supervision of creator and original showrunner Beau Willimon.
"The man's a genius, you know?" says Campbell. She's confident that viewers will find that Melissa James Gibson and Frank Pugliese, who joined the writing staff in Season 3, have stepped in quite seamlessly as showrunners. "They already knew the voices of the characters and knew where Beau was going with it," says Campbell.
Read more about Season 5 of House of Cards here at this feature I wrote for The Canadian Press.
I'll also post, once it becomes available, my take on the new season shot Tuesday for CTV News Channel with Todd van der Heyden.