Every Holiday season, Bing and Rudolph and The Grinch and Charlie Brown and all those wonderful people in Bedford Falls return as part of a month-long TV tradition.
Missing again this year, however, will be one of the funniest Christmas specials ever made – and it was made right here in Canada.
Dave Foley's The True Meaning of Christmas Specials aired exactly once, on CBC, 15 years ago this month. The only place you can see it this Christmas is at the TV on Film Project's annual holiday screening, taking place Wednesday, Dec. 13 at the CBC's Broadcast Centre on Wellington St. in Toronto.
Admission is free. Please use the 25 John St. entrance. Show starts at 6:30 p.m.
Many thanks to CBC Archives for providing access to this 44-minute special. In addition, a 1964 Bewitched Christmas episode, featuring Billy Mumy (Lost in Space) as an unbelieving orphan, will also be screened, along with several vintage "Fall Preview" clips promoting shows from the '60s and '70s such as That Girl, Room 222, The Mod Squad and The Partridge Family. Time permitting, a holiday-themed episode of Laverne & Shirley will also be screened.
Foley's special should be shown every year as part of CBC's 25 days of Christmas, but there is an unfortunate legal reason it remains locked in the vault. The Etobicoke-born Kids in the Hall player assembled a Pee-wee's Playhouse full of guests, including two Elvis's (Elvi?): Stoyko, the three-time World Figure Skating champion, and El Vez, a Mexican-American singer-songwriter who adapted The King's sneer.
A sleigh full of Canadian comedy greats were also on the scene, including Foley's Kids in the Hall buddy Kevin MacDonald, Dave Thomas and his American-born SCTV mate Joe Flaherty, Jason Priestley (as "Santa Dude"), Tom Green and Mike Myers.
The special was all about Foley searching for the true meaning of Christmas, something he could not find on the beaches of Los Angeles. He goes to see Mike Myers, who is sitting in his mansion in a bathtub full of money. Tom Green, who plays Myers' butler, can be seen filling it up with money drawn from large barrels marked "Austin Powers" and "Wayne's World."
They suggest he go back and look for the spirit of Christmas in Canada. Jann Arden, Andy Richter and surf guitar king Dick Dale were also showcased.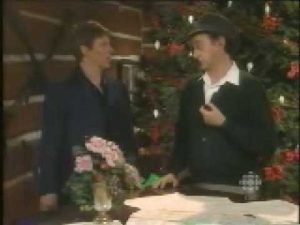 The hour-long special was originally supposed to also air that same season Stateside on ABC Family, but the Disney-owned network balked when Foley refused to make changes to the script.
What really rankled Disney was Foley's on-air suggestion near the end that Christmas isn't about acquiring consumer goods or selling ad time. Echoes of the Grinch, who once observed that, "Christmas doesn't come from a store."
"They said it would discourage shopping and be offensive to their corporate sponsors," Foley told me at the time. "What kind of a network gives their ad sales department veto power over what they buy or script approval? I've actually never been angrier in my professional life."
Foley refused to make the cut, turned his back on the ABC Family deal–and perhaps future re-run revenues.
Then, after it aired that December in Canada, it was locked away in the  CBC archives. Foley's producers made one critical mistake: they failed to secure music rights for any broadcasts past the first season.
That dumb move has so far limited viewers to grainy glimpses of clips of the special on YouTube. It's still worth searching for if just to see Foley, as David Bowie, doing a side-splitting parody of that Little Drummer Boy duet with jumbo-eared Flaherty as Bing Crosby. (See a sparkling new, digital version at tonight's screening in Toronto.)
The writers slightly altered the words and music to the famous duet Bowie and der Bingle performed in the '70s. Still, they didn't alter them enough – another reason the special remains in the vault. Ho-ho-no!
Foley, 54, will be seen in a feature film coming out next year. He'll join Jennifer Lopez and Leah Remini in the romantic comedy "Second Act," now shooting in New York.
Portions of this article appear this month in Forever Young Magazine