Every spring, just as the swallows return to Capistrano, I request an interview with Rogers' President of Sportsnet & NHL Scott Moore. Every Spring, to my surprise, he takes my call.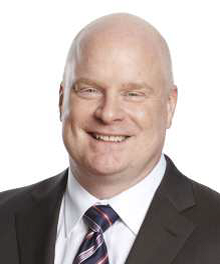 This is when I speak with the broadcasting executive at the start of the annual Stanley Cup playoffs. Mr. Moore is always friendly and insightful on the phone, whether there are five Canadian teams in the hunt for the Cup, or, as was the case two spring's ago, none.
This year there are two. The Winnipeg Jets got their playoff run off to a great start Wednesday night by defeating the Minnesota Wild 3-2. Tonight, The Toronto Maple Leafs try to exorcise the ghost of historic playoff collapses past by taking on the Boston Bruins.
Moore needs at least one of these teams, preferably the team in Canada's biggest TV market, to get past at least the first round in order to avoid a huge hike in cable fees for Rogers cable subscribers next season. He didn't say that, but I've seen how this works in the past.
I asked him if he was in favour of the current playoff format. Instead of first vs. eighth as in past years, a team like The Leafs, coming off their best regular season in the 100+- year history, lose home ice advantage and have to play a team just ahead of them in the standings.
"Every playoff format's got it's challenges," says Moore, who grows more diplomatic each spring. "If I were the team, and I was finishing in the top four at the conference, I might want to be able to play a bottom four team. But I try not to judge the league and how they do it, beause there's always going be good and bad. I heard a great one a while ago. Somebody suggested that if you finish the top four in the conference, the first place team in the conference should choose, who from the bottom four they get to play. I think that would be cool. It would never happen, but it'd be cool."
As Moore points out, sometimes it is a bad thing to cruise to first and face off against a team that fought like hell the last month or so just to make the post-season. "You could be playing the team that just squeaked in, like Edmonton back in 2006," says Moore.
The Oilers made it all the way to the seventh game of the finals that year before losing to the Carolina Hurricanes.
Fair or not, Moore likes the storyline in the Bruins-Leafs series. "Quick!" he says, "Cue the flashback!"
Read more here at this story I wrote for The Canadian Press.