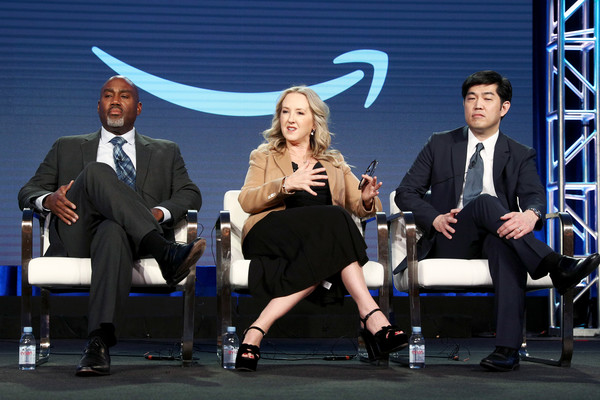 Spotting network executives at TCA press tour sessions is getting so rare, especially in winter, they may soon wind up on the side of milk cartons. There was speculation at the Langham this week that the person inside the full body gila monster suit who stood silently (and briefly) besides the panel members for the upcoming Gregg Araki comedy Now Apocalypse was really a) soon-to-depart CEO Chris Albrecht, b) an Uber driver or c) Les Moonves.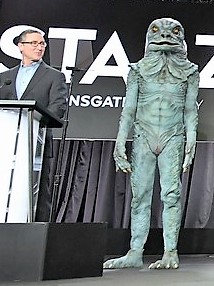 The execs who did show their faces, however, were the ones with a big stake in the SVOD slugfest poised to push the old broadcast network system even further down stream. Among these folks were Amazon Studios head Jennifer Salke — until recently a top NBC programmer — and co-heads Albert Cheng and Vernon Sanders. All three sat before reporters Wednesday, underneath that grinning Amazon logo.
"We're aware that we are in a race for content globally," said Salke, who, among other announcements, told critics that Amazon Prime has just signed deals to make 20 European shows part of the offer on her SVOD service. It will work the other way, too. Chimed in Cheng, "We're going to be making shows for all around the world."

"The next five years in this space will clearly not look like the last five years."

Turner Entertainment CCO Kevin Reilly
The Global strategy was also part of the outlook shared by Turner Entertainment's CCO and another former broadcast exec, Kevin Reilly. The former Fox and NBC programmer is driving Warner Bros. plans to launch a streaming service to rival Netflix, Disney, Amazon and others.
"The next five years in this space," says Reilly, "will clearly not look like the last five years."
He pointed out that HBO's SVOD is now in 50 million homes and counting. His team is pulling back Warner content from Netflix and others, hoarding what he calls a brand "content treasure trove" for his studio's budding streaming service as it bulks up to battle new streaming services from Disney and others. With everything from Game of Thrones to "Goodfellas," "Casablanca" to The Sopranos in his inventory, Reilly believes the WB offering will be a "much broader service" than the Disney brand.
The Warners SVOD still does not have a name, prompting one press wag to suggest one: WTMPTW, or Way Too Much Programming To Watch. Executives at Warners, Amazon, Disney, CBS All Access, Netflix and Crave in Canada will all be challenged to put their shows in the hands of consumers already overwhelmed by "Peak TV."
Having the right brands will help, insists Reilly, whose SVOD service will be able to draw from over 42,000 hours of Warners content. Among their properties are cool brands such as adult swim fare — very clickable, apparently — and new comedy development from Conan O'Brien's Team Cocco.
"The media landscape is re-constituting," says Reilly, who believes TBS and TNT will be among the cable networks still standing after the streamers take over. He also mentioned the fact that Netflix's deal for Friends ends later this year and that it won't be extended. He's out to consolidate "destination assets," declaring Friends is one "crown jewel that will wind up on the WB service."
The Amazon team is more outfront on the international game and intends to be aggressive across all platforms. Salke says some of their creative deals follow a direct to service strategy; others will launch with a theatrical release, similar to how Netflix has started to roll. Deals with big name stars such as Julia Roberts (not returning for the next season of Homecoming) and Nicole Kidman will likely involve both theatrical and streaming strategies. A Transparent movie, just directed by series creator Jill Soloway, will put a bow on that franchise.
Amazon glossed over a few bumps in their business. Salke said on-going legal matters prevents her from commenting on reports Woody Allen is suing the service for US$68 million for breaking a four picture deal and mothballing his film "A Rainy Day in New York." A TCA member's suggestion that there was pushback on The Marvelous Ms Maisel for being anti semitic was quickly dismissed by the Amazon trio. Said Salke, "We don't accept that it is offensive in any way. This show is a love letter to Jews."
As for how Canada fits into the coming SVOD apocalypse, Amazon pretty much still sees us as an inexpensive and proven production base for American created content. Cheng praised Canadian crews, especially the Vancouver team that has worked Man in the High Tower these past four seasons. He pointed out that the new Seth Rogan-Evan Goldberg superhero comedy The Boys is being produced in Toronto.
Reilly cautioned reporters to not declare "Game Over" for broadcast and cable networks just yet. The year he arrived at at Fox, in 1997, was the first year broadcasters ever saw a decline in overall viewership. "Dinosaur" headlines popped up almost immediately, he recalls. Meanwhile, twenty-two years later, U.S. broadcasters still carve up around eight billion in ad revenue each year.
Still, especially at TCA, one can't help notice that sharp former broadcast execs like Reilly and Salke now have both feet firmly in the stream.