In January of 2015, Television Critics Association members were shuttled to Warner Bros. studios for what was billed as "An Evening with Chuck Lorre Productions." The prolific writer/executive producer/showrunner had four shows shooting at four neighbouring stages on the Warners lot at the time (including Two and a Half Men, Mike & Molly and Mom), a physical footprint unlike any other in Hollywood.
Before being allowed to roam stages 20, 22, 24 and 25, reporters were herded into a large and luxurious screening room. Before us sat talent and producers from the Lorre shows, including Jim Parsons, Johnny Galecki, Kaley Cuoco, Kunal Nayyar, Simon Helberg, Mayim Bialik and Melissa Rauch from Big Bang, Ashton Kutcher, Jon Cryer, Conchata Ferrell and Holland Taylor from Two and a Half Men, Billy Gardell and Melissa McCarthy (standing above, right) from Mike & Molly and Anna Faris and Allison Janney from Mom.
If a bomb had gone off in the theatre that night, CBS would have become the 5th ranked network.
Lorre opened by saying he really didn't want this to be billed an "Evening with Chuck Lorre Productions" because there was so much credit to go around. Then everybody started giving all the credit to Lorre.
"Clarity" is a key element of a Lorre comedy," said Parsons, who repeated the notion that Lorre's shows all follow a musical pattern. That's why they repeat well, said Parsons. They're like songs you can listen to over and over.
"Early on they discovered it was funny for me to be naked," said Cryer.
Lorre told a story about how his life had turned around. At one time, a $50 U-turn ticket wiped him out and he just sat weeping in his car. Now he can buy Canada.
Over the years, I've been fortunate to encounter Lorre on several occasions. Once was up in Banff during the 2007 International Media Festival — the year Big Bang was set to launch. Lorre was one of the TV powerbrokers in the Banff Springs Hotel theatre as the final episode of The Sopranos was projected on the big screen. The packed screening was thrown together once the festival folks learned that I had been given an advance screener of the final episode from the Canadian rights holder (Astral at the time). Good thing too — the Banff Springs did not offer HBO as a channel at the time.
As we all sat in the dark, watching Meadow Soprano try to park and then the whole thing fade to black, a fierce debate erupted in the room. Was that the great ending this landmark drama deserved? Or had David Chase just been screwing with up for 60 minutes?
There were many writers at the screening who were loudly crying foul. I looked over at Lorre, who was smiling and shaking his head. "Imagine," he said, "writers being miserable and disgruntled."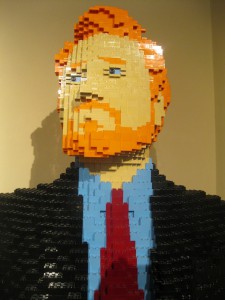 A few years later, in 2012, Lorre was among the guests at the Paley Centre in Los Angeles the night press attended the opening of an exhibit of props, sets and wardrobe pieces from over 50 years of Warners TV productions. The booth from Friends, hospital scrubs from ER and a life size statue of Conan O'Brien made out of Lego were all on display.
Lorre was taking it all in like a tourist. I asked him what artifacts from his shows he had kept and displayed. "Almost nothing," he told me. "Just pictures of each cast in my office." He was surprised to see TV props and costumes wind up on display in a museum. "When you're making it," he dryly noted, "you're just trying to not get cancelled."
Lorre's career includes surviving such diva comedies as Cybill, Roseanne and Brett Butler's Grace Under Fire. Some work experiences you just don't want to remember.