The late great Canadian comedian Dave Broadfoot titled his 2002 autobiography, "Old Enough to Say What I Want."
That philosophy is shared — and exploded to bits — in Hey Lady!, an edgy and hilarious new digital series premiering Friday on CBC Gem.
Lady, played by Jayne Eastwood, is a 75-year-old senior who tells us right away that she hates old people. She's not too fond of young people either, or even middle-aged people. People in general simply bug the hell out of her.
She's a terror in the park, insulting everyone, cops, new moms, even dogs and babies. She and her best friend, Rosie (Jackie Richardson), trash and punk everyone without remorse or hesitation. They're like really old Millennials.
It's shocking, even in an age when presidents act this way. She's particularly vicious with her grown children, whom she named after dogs.
We know all this because she told us so. Lady's inner voice is directed right at us, out loud, at all times. With side-eye glances into the camera, she's tells us and others that she is starring in her own TV series, although nobody (including Lady) knows who's behind it. If she's fed up or confronted with anything she's not into, she simply yells "change scene" and the scene changes. Who wouldn't want that super power?
She's like the heroine in Fleabag forty years into the future, a sassy and hilariously unpleasant senior who has no F's left to give and let's everybody know it.
Every episode (they're only five or six minutes long), somebody has enough and yells, "Hey Lady!" — like the time she puts lipstick on a baby in a stroller in the park. "Just a light application," she assures her son "Rover."
Why is this funny? In the first place, Lady is just the rest of us unleashed. In the second place, Eastwood just f'in' aces the part. This is Canada's secret weapon of comedy on crack. Starting with the landmark Can-con feature "Goin' Down the Road" (1970), Eastwood has amassed 250 acting credits on IMDb. She's Canada's Betty White, except she's never been the star or main character — until now.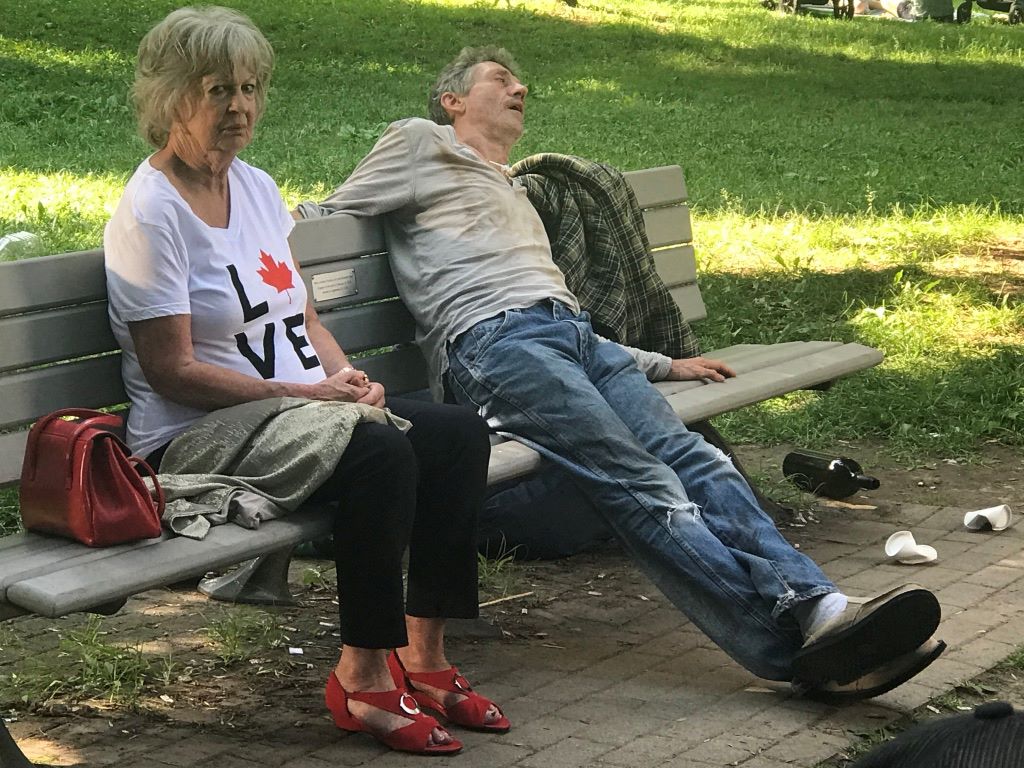 With this role, it's like all that stored up comedy energy — from the original Toronto stage production of "Godspell" through The King of Kensington, SCTV, Little House on the Prairie and countless others — has suddenly burst forth and gone rogue.
Lighting the fuse is playwright Morris Panych ("The Waiting Room"), who provides ammunition for this disruptive senior venting spree. The directors include Sarah Polley and the supporting cast includes Don McKellar (Lady's outmatched shrink Dr. Wolfe), Peter Keleghan (two characters, both with accents), Scott Thompson (a judge) and Matt Watts (damaged son "Sparky"). Tara Ellis (Bellevue, Schitt's Creek) and John Buchan (Northern Rescue, Killjoys) are among the producers.
It's a deep bench of talent and it shows. Richardson in particular is giddy good as evil sidekick Robin to Lady's belligerent Batman. Having characters double up is the ultimate Canadian TV joke — you've seen that guy on, say, Murdoch Mysteries, before, but wasn't he playing somebody else last time? (Hell, even I've played two different characters on Murdoch Mysteries).
What is also happening here is something other CBC comedies have started to back away from lately — edge. Workin' Mom's occasionally has it, but Kim's Convenience seems to steer clear of it lately. There's an independent spirit of edginess, a damn the torpedoes and go-for-it approach, that makes Hey Lady! more akin to a streaming series less shackled by broadcast standards.
CBC should give us more of that. Why the F not? "Hey Lady!" is exactly what needs to be heard today in every CBC pitch meeting. Kudos to whoever said yes to this gem.