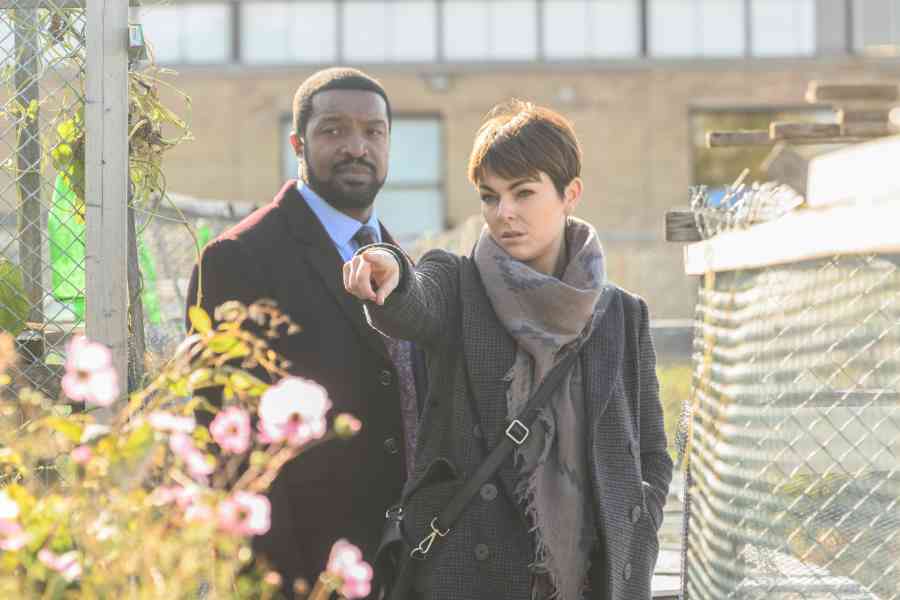 These eight-episode seasons come and go in a flash. Case in point: the second season finale of Coroner airs Monday night on CBC. In real coroner terms, it seems like the body is still warm!
The series stars Serinda Swan as Jenny Cooper, a coroner dedicated to speaking for the dead in order to protect the living. Assisting her is savvy and seasoned detective Donovan McAvoy, played by Roger Cross.
I spoke with Cross in his trailer during production on the series late last fall in the west end of Toronto. Coroner shoots in what was once a pencil factory; not too long ago it was home to Lost Girl. Right before our talk, a crew member brought him a box of doughnuts to sample for an upcoming scene — just like he was a real cop!
Cross was working on episodes five and six at the time (like many shows now, Coroner works on two episodes at once), but the subject of this week's finale came up. How, I asked, do shows manage to tie up a full season's worth of story in just eight episodes?
"Exactly," said Cross. "Honestly, this season could have used ten at least. We tackle so many things." He asked creator, executive producer and showrunner Morwyn Brebner (Saving Hope, Rookie Blue) about the finale at the start of the season. "I have no clue how you're going to wrap all this up," he said to her. The original outline for Monday's finale, she told him, was 24 pages long. "We got it all in there," says Cross, "but I don't know how."
Cross learned to work fast on seasons four, five and part of six on 24. There, Ottawa-raised showrunner Jon Cassar (currently showrunner on The Orville) pretty much invented the run-and-gun, two-shows-in-one style that keeps many TV dramas moving (and on budget) today.
That long-running Fox series was also shot in what was once a factory, deep in the San Fernando Valley section of Los Angeles. "It was beside a porn factory — I think they made 'special toys' there," says Cross. "One of our guys totally found out by accident. We went sure buddy – by accident!!"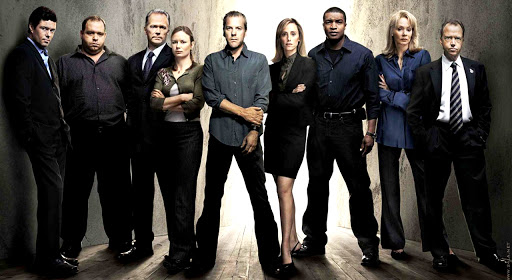 Born in Jamaica, Cross's family moved to BC when he was 11 years old. He has steadily built an impressive resume of acting credits in productions across Canada and in the US., including stops on The Guard, The L Word, Orphan Black and Arrow and, besides 24, main roles on Continuum, Dark Matter and Motive.
He loves the reverse Mulder and Scully relationship his character has on the show with Swan's Cooper. "Last season, she was the young person coming in, breaking down guys," he says. "I was the old, jaded guy going, 'I've been there before and chill out.' She inspires me, and I calm her down a bit."
"I think that's the fun balance that I'm having with the McAvoy character," he adds. "He is this rigid police officer whose gotten there by doing things his own way and now here is this person who's come into his life and made him second guess some things. McAvoy can't help thinking, 'Maybe you're not in as much control as you thought you are.'"
Cross has played military/police characters before, and is always happy to hear from real detectives who tell him he's doing it right. At one point he got some genuine military training at the famed US academy Quantico. There he got an up close look at a real hostage rescue team in action. His main takeaway was that "the deadliest man out there, you'd never know it. They don't look like it. They look like the most ordinary guys, but when you see them go into action — look out."
This was heartening news to this reporter, who happily accepted Cross's offer to share his doughnut.