If you've ever been to Manhattan's Central Park, especially at this time of year, you know it is a very lush and magical place. How such a stunning rural landscape came to be preserved in the middle of the ultimate urban jungle is a miracle.
Executive producer Loren Bouchard – co-creator of Bob's Burgers – wanted to pay homage to the Park by using it as the setting for an animated musical comedy series. He teamed with actor/writer Josh Gad on the venture and the result is the stylish original Central Park. The first two episodes start streaming Friday night on AppleTV+.
While the characters have that same, simple, dot-in-a-circle eyeball look as they do on Bob's Burgers, the backgrounds are detailed and beautifully rendered. They're also accurate and carefully researched depictions of the actual park settings.
Last January in Pasadena, Calif., Bouchard attended the AppleTV+ sessions during the semi-annual Television Critics Association press tour. He was joined on stage by Gad as well as voice actors Kristen Bell and Daveed Diggs. Stanley Tucci, Kathryn Hahn, Leslie Odom, Jr., and Tituss Burgess are other main cast members.
The series is about the Tillerman family who live in a little castle right in the park and take care of the entire property. The villain of the story is a Leona Helmsley-like hotel heiress named Bitsy Brandenham who covets the park and plots to turn it all into a gigantic real estate development.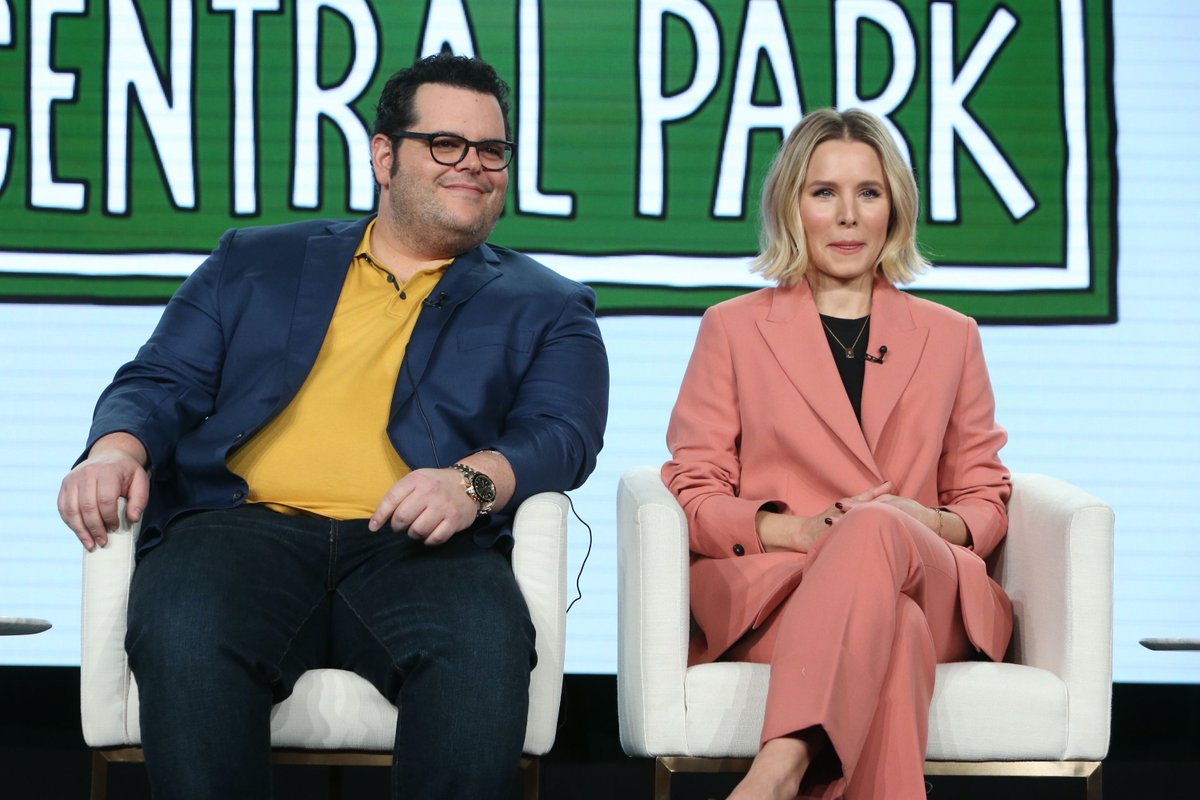 Bitsy, described by Bouchard as "like Margaret Thatcher glued onto a little dog," looks a bit like a tiny Dame Edna. Appropriate then, in a way, that she is voiced by a man, Mr. Tucci.
Bouchard has long had a gender-fluid policy when it comes to casting voices on Bob's Burgers. He was challenged on this at TCA, but tried to explain that "animation just makes you want to take this voice and have it come out of this face." Kristen Bell, he pointed out, "needed to be Molly," the Tillerman's biracial teenage daughter. "We couldn't make Molly white, and we couldn't make Kristen mixed race, so we just had to go forward."
One only has to look at The Simpsons, where Nancy Cartwright has voiced Bart Simpson for 30 years, to know that casting cartoon voices is simply all about the best voice. Going further back, producer Walter Lantz' wife Grace provided the voice of Woody Woodpecker — not that Woody's gender was ever 100 per cent clear.
Bell was cast because she can sing. This is a real musical, full of theatrical production numbers. Bouchard says he was inspired by the great animated Disney musicals, even what he called "lesser ones" such as "Robin Hood" and "The Jungle Book." Bouchard feels they are part of our culture and far enough under our skin that they help viewers suspend belief when characters suddenly break into song. That's important to him as a producer; "I always think about whether a medium has any power to kinda get past people's defenses."
Bell added that "brains have been proven to connect things when you're hearing music. You're more emotionally available, you're ready to go on a ride, you're just there. That's proven."
Besides writing and producing, Gad provides the voice of Birdie, a park regular and the show's chubby narrator. He feels Broadway hit such as "The Book of Mormon" and, certainly, "Hamilton," have "made musicals cool again." The songs in Central Park were written not as parodies, he says, but simply as "a show that uses music to tell a story."
Viewers looking for something daring and different can start singing along Friday.