The Elephant is in the room: Monday is the start of the Republican National Convention in the United States.
It sort of takes place in Charlotte, NC, although this year it is mainly a virtual, on-line event spread over four days. President Donald Trump accepted his party's nomnation first thing Monday morning and threatens to speak on all four nights. Also featured will be V.P. Mike Pence and a cast of characters likely headed straight to the next Sharknado TV-movie, include First Lady Milannia, Eric Trump, Rand Paul, Mitch McConnell, Rudy Giuliani and, of course, Ernst Stavro Blofeld.
CNN will stick with the RNC from 8 p.m. ET till 2 a.m. all four nights. The other cable news nets will also go big with their coverage, and C-Span will go farther. Deadline has a pretty thorough run down here of all the various network coverage plans.
I just want to make clear now that, even though I interviewed Trump in his large (and messy) corner office on the 25th floor of Trump Tower in Manhattan a decade ago, I will not be introducing him at the convention. I've written about this interview in the past; it happened back while the president was simply a relatively harmless reality show host/Comedy Central roastee/real estate scam artist, and I was a naivee journalist in an ill-fitting sportscoat.
I watched some of the Democratic National Convention this past week and agree with everything my American colleague David Bianculli says about it in his daily "Best TV Tomorrow" YouTube video (spun off from his TV Worth Watching web site). It was smart to show all the delegate roll call shout outs from landmarks at the various states. The young lad who stuttered, Brayden Harrington, did steal the show. And yes, the trend toward a second profile shot of somebody being interviewed on camera is pointless and dumb (although I get it; it gives editors an out with pre-taped segments).
Lost in all the American political ballyhoo this month was the Canadian Conservative leadership coverage. It wasn't so much lost as hidden, with a winner finally announced in the wee hours of a Monday morning.
This contest was originally scheduled for June but was postponed due to COVID. Sunday night, a three hour block of CBC coverage stretched into eight-plus due to a protracted ballot munching kafuffle. I switched away from a west coast hockey game around midnight to see CBC's Rosemary Barton vamping like crazy. "Andrew Coyne helpfully warns us on Twitter," she said after midnight Toronto time, "that it's been 45 minutes since the 15 minute (till a winner is declared) warning."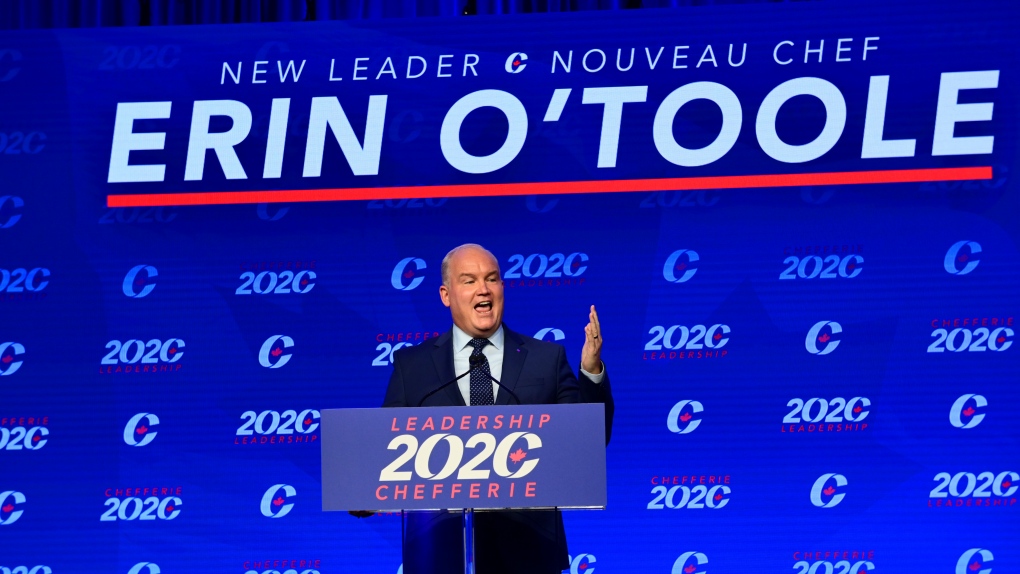 Things went on for another hour or so. Quebec came out big for the most right wing candidate, Erin O'Toole, who emerged victorious on the third ballot. Jokes about Peter Mackay missing a goal with an empty net are already piling up on Twitter.
As a TV event, this dull marathon was like slowly watching a party go bad. After the first ballot was announced, cameras cut to darkly-lit rooms where small gatherings of candidates and/or supporters sat masked and motionless. The McKay masks did not hide their disappointment after the first ballot.
The whole thing is available to re-stream on YouTube or CBC Gem if you have eight houts to kill, but be warned: it is longer than watching "The Irishman" twice and the ending is just as sad.