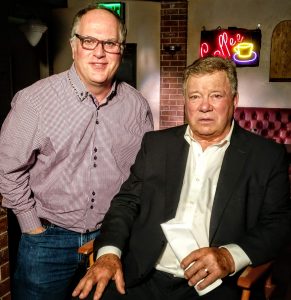 Birthdays — the final frontier. William Shatner turns 90 today, Monday March 22. Time to drag out this horribly awkward shot I ducked into with the actor on the set of Private Eyes in Toronto three seasons ago. He looks like he wants to swat me with the script he is clutching in his hand. He looks like he already had judging by my tilted eyewear.
Shatner, who was seated in a darkened pub set on the series' Toronto soundstage, can be a prickly interview but also an instructive fellow — often simultaneously. "Is what you're asking, 'What do you look for in a role?'" he Shat-splained on that occasion.
To be fair, I had it coming. Listening back to the audio file later, my question was a tad messy. Even I get nervous chatting up The Shat.
"The character has to function in the story," he explained, answering his own question. "If there's emotion involved, which is really the thing an audience looks to… if it isn't there you try to make it there one way or the other, and I find ways of doing that."
Sheila McCarthy, a veteran Canadian actress skilled in both comedy and drama, played his ex-wife on the episode. Colin Mochrie and his actress wife Debra McGrath — both better known for comedy than drama — also had key roles.
"Comic actors seek the inherent comedy in a situation and subtly emphasizes that. It's mystical," said Shatner. "I don't know quite how to explain it to you other than the feeling of it." Shatner tried anyway, suggesting the comic actor helps "the actor who is moving around in the egg shell of the plot, trying to imbibe some of the yoke."
Even he broke himself up at that one. Still, he kept his sunny side up.
"There's a freedom that comic actors might have playing with the words or the staging or saying to the director why don't I try this…if they're not afraid of getting fired. Especially in television where time is existence."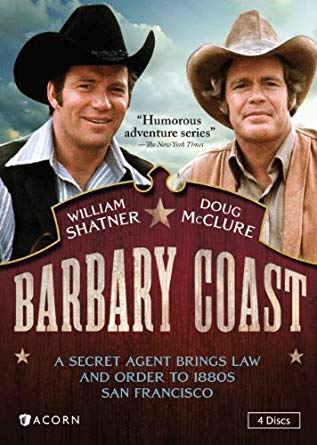 Shatner has existed in TV time longer than most. I thought I'd throw him a curve and ask about a series few remember today: Barbary Coast. The gimmicky western co-starred Doug McClure and aired from 1975 to '76. Set in San Francisco, the series starred Shatner as a master of disguise, with he and McClure sort of cowboy spies.
It was Shatner's first regular series since Star Trek went off the air in 1969. The only reason I know anything about it is because I collect 16mm film, and happen to own a print of ABC's Fall Preview reel for 1975 — featuring a clip from Barbary Coast.
"Are you serious? By God," said Shatner, laughing at the memory.
"It was three extensive makeups a day." After each scene was shot, Shatner said he would "run up to the makeup room and rip off the rubber that was on my face. By the end of my week my skin was raw. Three different characters a day!"
I've had several encounters with the actor over the years and have enjoyed them all. In 2015, he was back in Toronto making a guest appearance on Murdoch Mysteries. He was playing Mark Twain, which was indicated on the script but not so much on the set. He waved off the tosseled grey hairpiece that would have made him look more like the Huck Finn author, settling instead for a simple moustache. Even that was an irritation he could have done without.
"I stay away from moustaches because they're irritating," he said. "They make you short-tempered. They're prickly. It gives me no insight at all into why somebody would wear facial hair."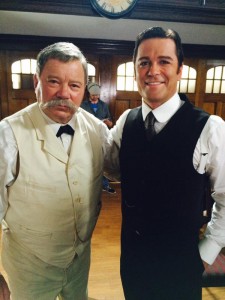 He acknowledges he looks nothing like Twain. "He was tall and thin, and I am not." He's content to suggest Twain through the moustache and a Southern accent, drawing the line at wearing a white curly wig. "Everything is an impression, right? What's necessary is to hold to the truth in a scene."
Born in Montreal, Shatner spent many years in Toronto as a young actor, working with the likes of his old friend Christopher Plummer, who passed away in February. Shatner understudied the role of Henry V at the 1956 Stratford Festival and had to step in when Plummer fell ill. It was a career-making break for Shatner, and he and Plummer remained life-long friends.
Shatner told me on that Toronto visit that he still has friends and family in the city. He's shocked, however, at how much the downtown core has changed. He was particularly alarmed at the condos and hotels flanking the Gardiner Expressway.
"It's become cavernous," he said. "When I got off the freeway to come downtown, seeing the number of hotels that are being erected in this one downtown area — with the same road system that was horrible before the buildings were built — we're looking at a social disaster."
He didn't hold back. "The infrastructure is rotting," he said. "Cement is coming off of posts that are supposed to be holding up a freeway that's inadequate before the buildings went up. I don't know who planned anything but, whoever did, it's a disaster."
Shatner says Toronto is a beautiful city and he gets the need for plenty of hotel rooms, but he won't be boldly staying downtown anymore. "I will come from the north and move around the city by the 401."
In 2017, in another visit to the set of Private Eyes, Shatner told me about a movie he was shooting on California. He was excited about it because it was more than just another character part. "At my age," the then 86-year-old said, "you don't get asked to play the leading man anymore."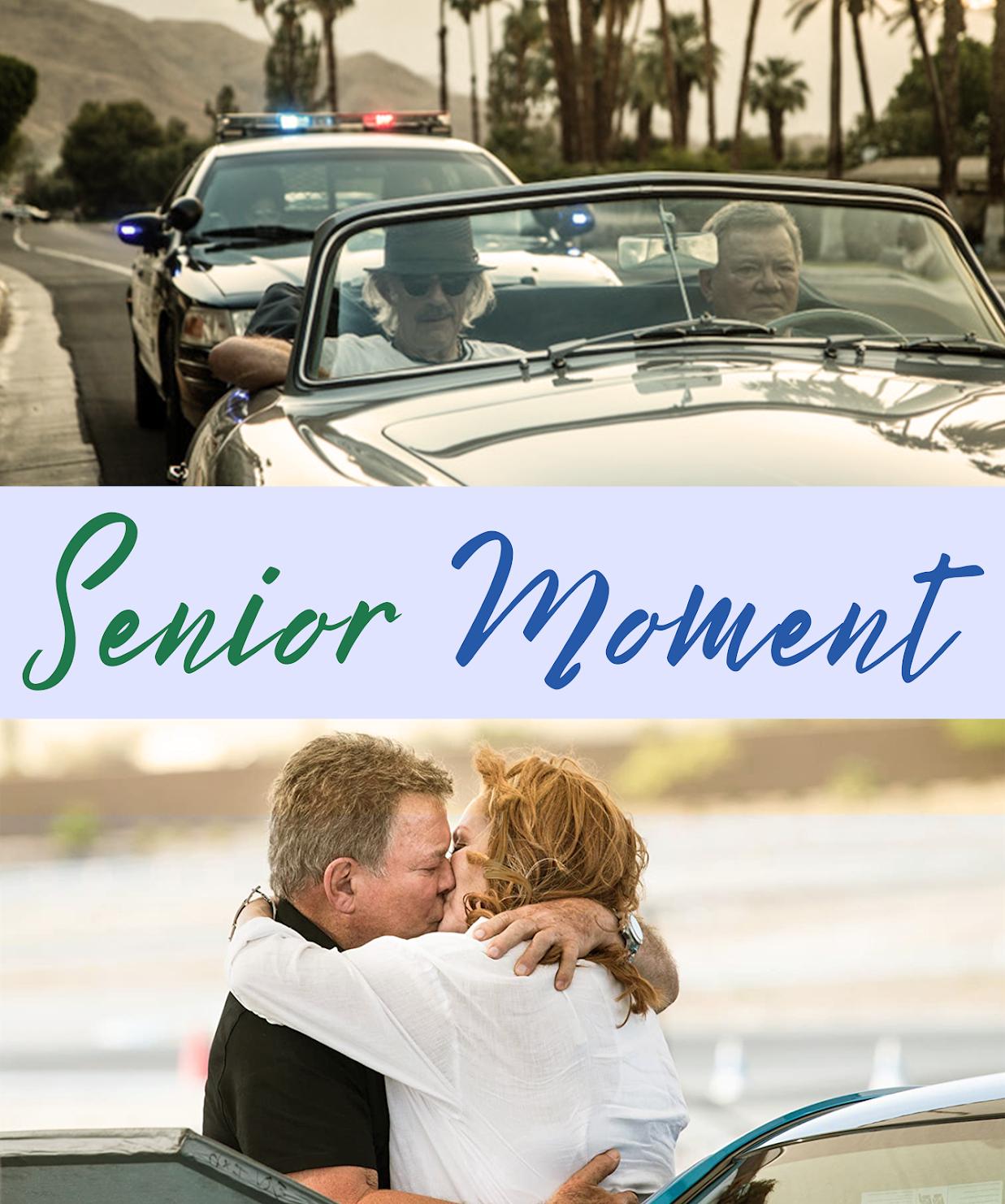 The part was that of a retired NASA pilot who has his driver's licence snatched away, pulling him out of the seat of his beloved Porsche. The movie, "Senior Moment," co-stars Jean Smart and Christopher Lloyd and finally opens in theatres and on demand in the US this Friday.
UPDATE: In Canada, the feature will be available on VOD starting on April 6th (no theatrical).
I mentioned that my dad had a similar thing happen to him when he turned 90 and that he felt he had lost his freedom. Shatner demanded a pencil or pen; he wanted to write down exactly what I remembered hearing my dad say.
And that's been my experience with the man. You can boldly go in any direction on an interview, and while he can attach himself to any subject, he has little time for small talk. He listens and if doesn't like what he hears it's next question and if he does he might run off to grab a pencil to write down something you said.
Another plus: he always listens. Another time I did a phone interview with him about the release of his surprisingly wonderful 2004 CD Has Been. I told him at the time the title track was the greatest F-you to entertainment reporter types like me ever concocted.
Said Shatner, "Everybody but you, Bill."