The Kominsky Method returns for a third and final season Friday on Netflix. Michael Douglas is back as aging and raging acting teacher Sandy Kominsky. No longer by his side is his best friend and agent Norman, played by Alan Arkin.
Now, I'd still watch a film with just Stan Laurel and not Oliver Hardy, and vice versa. But I'd miss the other one the whole time, and that's pretty much the feeling here.
Things start back in a remarkably unsentimental return episode, written and directed by series creator Chuck Lorre and titled "In all the old familiar places." We see Sandy eulogizing his old friend in a bland, non-denominational chapel. Sandy tells the assembled mourners that Norman really wanted a Viking funeral, but Sandy couldn't get a permit in Los Angeles.
Others add their two cents, including Norman's Scientology-addled grandson Robby (Haley Joel Osment) and his rehab-addicted daughter Phoebe (Lisa Edelstein) as well as his well-preserved girlfriend Madelyn (Jane Seymour). She stirs things up with vivid tales of passion (go Norman). It ends with the obligatory grieving secretary who throws herself on the casket.
There is snark from the pews, primarily from Paul Reiser as Martin, the much-older boyfriend of Sandy's daughter Mindy (Sarah Baker). They are not Norman worthy and just make you miss Arkin more and care for these others less. That's especially true this season of Edelstein and Osment's characters, reduced to cheap laffs status after promising starts in year's past.
The exception, of course, is Douglas. He bitches that Norman was a pain in the ass, but he is cut in half without his lifelong friend. We briefly see the two of them in flashbacks on park benches and in supermarkets and it just makes Arkin's absence that much worse.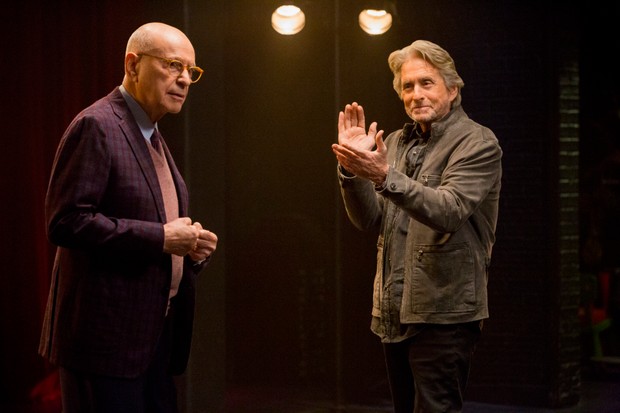 There's no official word as to why Arkin has left the series, but he is after all 87. Shooting through COVID is risky for anyone, but especially for an octogenarian who would have had to work last fall and winter in the red zone known as of Hollywood.
The most poignant scene in the season opener found Sandy at his usual leather booth at Musso & Frank's Grill on Hollywood Boulevard. There, ancient Alex the waiter brings the usual Jack and Diet Pepper for Sandy and has the good grace to have the bar prepare a martini for missing Norman. It is a sweet gesture, and Sandy clinks glasses and offers a toast.
Later Sandy crosses path's with a dog named Irving – Norman's middle name. Is it a sign? Sandy is taking no chances, so he sleeps with Irving's minder, a Russian hooker.
The second episode back reveals that Norman left Sandy in charge of his estate, meaning millions for daughter Phoebe and grandson Robby and headaches for Sandy. He also left $10 million to Sandy and his daughter Mindy with a catch – don't tell Martin. Complications and lawyers ensue.
Sandy still teaches his acting class, but even those scenes seemed to lack the power of previous years, at least in the first three episodes. There's a scene where Sandy is extolling his charges to reach inside and use pain and grief to inform their acting. Mindy suggests her father might want to heal himself with the same advice. Instead of building to that catharsis, the energy dissipates into a fairly cheap joke.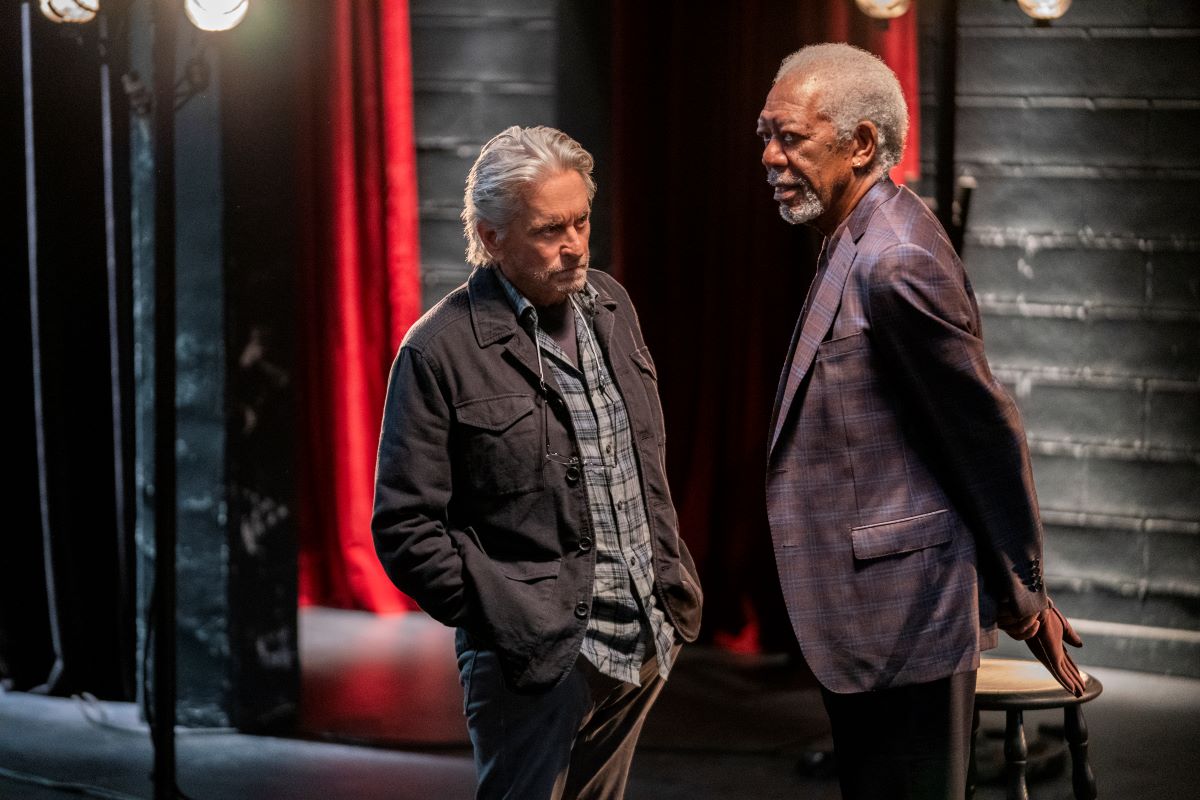 Things pick up in Episode Four when Morgan Freeman comes to guest lecture at Kominsky's class. Always exuding presence, Freeman and Douglas team up for a surprising and an effective scene. Director Barry Levinson also plays a role (as himself) in one of this season's key storylines.
Wading into it all is Kathleen Turner as Ruth, Sandy's ex-wife. When she phones Sandy to let him know she is LA bound, the name that comes up on his phone screen is "Queen of Pain."
Back in the '80s, Turner and Douglas teamed up for some memorable movies, including "Romancing the Stone." She is welcome here in that she brings some fresh energy as well as old chemistry to her scenes with Douglas, along with plenty of sass.
More is quickly learned about Ruth, and a sense of family and foreboding starts to build. The series gets interesting again as it branches off in some new directions.
Bottom line: Arkin is impossible to replace, but The Kominsky Method is, like Sandy's well-worn, 40-year-old Mercedes, worth riding through to the very end, if just to see where it finally takes you.