What, exactly, is "Schmigadoon"?
Well, it is a parody of iconic Broadway musicals from the '40s and '50s — big shows such as "Brigadoon" and "Oklahoma" — updated and diversified for 21st century audiences. Think of it as more of a deconstruct than a parody suggests Keegan-Michael Key, who is paired with Saturday Night Live's Cecily Strong as an unmarried and at times unhappy couple who, while backpacking, stumble into a town where everybody breaks into song and dance.
Key and Strong spoke with reporters about the six-episode series last February on a zoom call. Key, who plays the less musically-inclined hiker Josh, says it's less a parody, more of a "deconstruction of the musical while we're also respecting the musical."
Besides Strong and Key there are many other talented people involved. Lorne Michaels is executive producer. Cinco Paul and Ken Daurio (the animated "Despicable Me" films) are the writers. Barry Sonnenfeld is the director. Alan Cumming, Kristin Chenoweth, Aaron Tveit, Dove Cameron, Ariana DeBose, Fred Armisen, Jaime Camil, Jane Krakowski, Ann Harada and always welcome Martin Short are among the singing and dancing stars. Bowen Yang, also with SNL, is a consulting producer.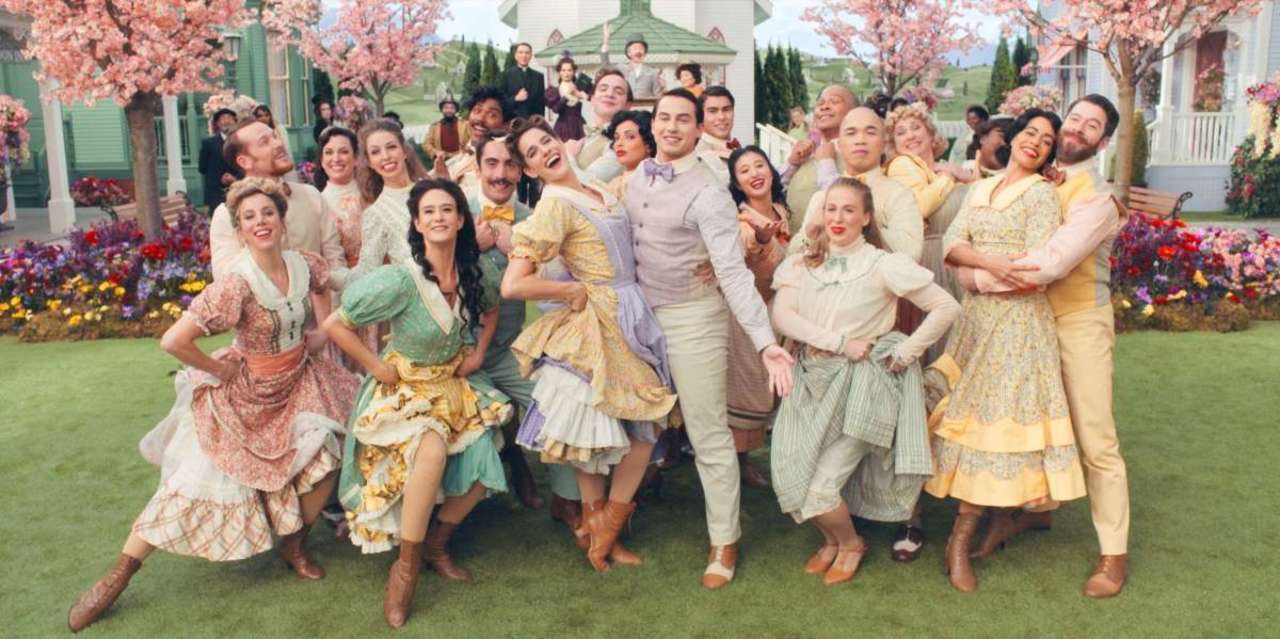 The idea, percolating for about 20 years, began with writers Paul and Daurio, who were both also on that same February press call. Paul says the series was originally about two guys who stumble into a musical, "and then when I said, 'Let's make it a couple, and they're stuck there until they can find true love,' and that's when it really clicked for me." 
Where it was shot, over a tricky, safety protocol-controlled winter, was Vancouver. And while some genuine Broadway talent — idle for a year as stages remained dark — came West for the shoot, there was plenty of talent to fill out the ensemble in the Canadian city.
"We were able to get all these great singing, dancing, tap dancing kids in Vancouver.  And that was very impressive," said Paul.
The first two episodes premiere Friday, July 16 on AppleTV+. They arrive in the nick of time for fans of live theatre and musicals in particular, but also for anybody who could use a ray of sunshine or a jolt of joy and optimism in their life.
Schmigadoon! is also a terrific, and overdue, showcase for Cicely Strong. The 37-year-old comedienne has been one of the main reasons to watch Saturday Night Live for much of the past decade. Her character Melissa, looking to shore up an iffy relationship, can use a little magic. While she also finds the bright, shiny people and Disneyland-esque main street facade of Schmigadoon a tad weird and strange, she's also willing to get into it with the occasional burst of song when called upon. Strong can play to both the wonder and the ridiculousness of it all — and also has the singing chops.
Key's Josh starts off much more interested in opting out of the musical numbers. He retains enough cynicism to keep viewers who wouldn't know "Carousel" from "The Music Man" hooked. You need that perspective, for sure, or after three or four episodes, well, too much sugar leads to cavities.
Martin Short, who appears as a tiny leprachaun, is the cherry on top. He's Schmigadoon's Great Gazoo, the Flintstones' character who magically pops up to add a little whimsy and exposition. Short's been living in Schmigadoon his whole life, always ready to burst into song as Jerry or Liza. Bathed here in green with golden whiskers, he blends in perfectly with this cartoon-like setting.
Want to feel better this weekend? You could do worse than watch a double-header of Schmigadoon! and the new season of Ted Lasso. Both stream on AppleTV+, , which, in some ways, is more Disney than Disney+ when it comes to brighter outlooks and optimistic, feel-good storytelling.