Canada's longest-running scripted entertainment series is not The Beachcombers or Wayne & Shuster or even Murdoch Mysteries. It is This Hour Has 22 Minutes.
Premiering in 1993, the Halifax-based sketch comedy made stars out of brash Newfoundlanders Mary Walsh, Cathy Jones, Greg Thomey and Rick Mercer. Turnovers in the cast and writing talent – a formula shared by Saturday Night Live in the States — has kept audiences laughing and prime ministers in check into a 29th season.
This fall, the reset button seems to have been hit harder than ever. In short, this isn't your father's 22 Minutes.
"It was basically a troupe that started the show together, or people who had worked together at least," says executive producer Mike Allison. The New Brunswick native has been with the show, beginning as a writer, for 13 seasons. "Over the years, it has evolved into a SNL type thing with people who had different skills and wanted to say different things. I think it makes it more relevant."
I wrote an article for The Canadian Press about changes at This Hour Has 22 Minutes. The Toronto Star among others has picked it up on-line. You can find a link to the story here.
Among those changes has been two recent main cast additions:
Stacey McGunnigle, 35, a native of Alliston, Ont., joined the broadcast just last week as a writer and a main player. The Second City veteran beat out over 160 others in her audition to join the series.
Last season, Aba Amuquandoh got a similar call up as a featured player. This year she's a writer and main desk performer. Born in Nigeria and raised in Brampton, Ont., the 26-year-old is happy to be part of the diversification of the series and Canadian television in general.
Allison notes that these two are the series first Millennial and Gen Z main cast additions.
"They're both fantastic writers," he says. "Their voices are coming through on the sketches and on the desk pieces."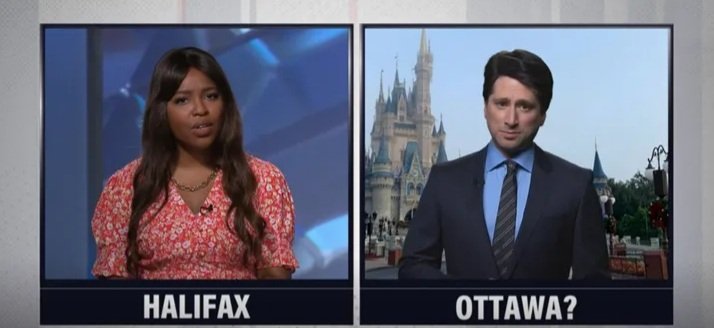 They join Trent McClellan, part of the show as a writer/performer since 2016. Mark Critch, after 18 seasons, is now the second longest-serving cast member ever behind recent retiree Cathy Jones.
That makes Critch Canada's Keenan Thompson, a familiar face on SNL for the same 18-year run. Coincidentally, both also now headline their own titular sitcoms. Thompson stars on NBC's "Keenan." Mark just wrapped season one of Son of a Critch, a sitcom based on his memoir which premieres Jan. 4 on CBC. [Hear more from Critch on this recent episode of brioux.tv: the podcast.]
Also part of the troupe are Brandon Ash-Mohammed and Leonard Chan, two Toronto-based performer-writers reporting from the field. Add in featured player Chris Wilson and there are now seven regular performers in the cast. (Look for Wilson tonight as Ringo in a Beatles' sketch).
The younger cast already seems to be reaching a younger audience. On TikTok, a sketch from last week's Halloween episode featuring McGunnigle and Wilson in a "Scream" parody has drawn 1.4 million views in less than a week and has been shared 42.3 thousand times.
Then again, you would expect a series called 22 Minutes to be at home on TikTok.
This Hour Has 22 Minutes airs Tuesdays at 8 p.m. (8:30 NT) on CBC.