Believe it or not, The Munsters once rode in Macy's Thanksgiving Day Parade. A photo of Fred Gwynne and Al Lewis, in full makeup as Herman and Grandpa Munster, caught my eye the other day when it was posted on Facebook.
This Thursday morning, from 9 am to noon, NBC will present the 95th Annual Macy's Thanksgiving Day Parade. Unlike in 2020, when things were shut down and a smaller version of the parade carried on without spectators, the event is back up to full speed. This year, there will be 15 giant character balloons, 28 floats, more than 800 clowns, 10 marching bands and nine performance groups as well as Santa Claus.
What there won't be are any Munsters. Travel back to 1964 for that story.
Co-created by Allan Burns — yes, the same guy who teamed with James L. Brooks on The Mary Tyler Moore Show — The Munsters premiered in September of '64 on CBS. A cast appearance on the Thanksgiving Day parade was a big deal for the new series, and arrangements were made to fly the Munster Koach, designed by custon car ace George Barris (who also did The Batmobile), to New York for the event. That's Barris behind the wheel in the top photo, next to series' makeup artist Karl Silvera.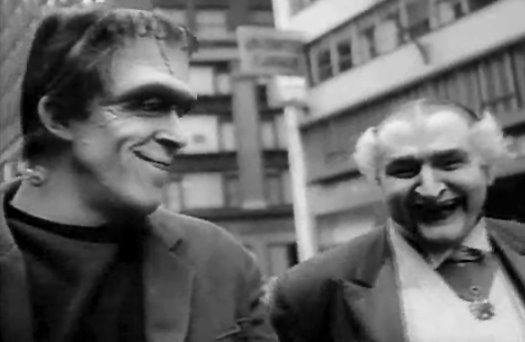 Gwynne was not that keen on public appearances because it took hours to get in and out of that Munster makeup. Nevertheless, he and Lewis rode the entire parade route in the open coach, waving to the crowds. It was kind of a homecoming for the pair, who co-starred in the early '60s, Bronx-based sitcom, Car 54 Where Are You?
Stephen Cox, who wrote, "The Munsters: A Trip Down Mockingbird Lane," interviewed Silvera for the 2006 book. The makeup man explained how Gwynne fortified himself against the elements on that chilly November day in Manhattan.
"Fred had brought along a bottle with him, wrapped in a paper bag, and he got fractured," said Silvera.
Apparently Gwynne started yelling obsenities at spectators. Silvera, who had the job of playing the Munster's TV theme as they rode along, kept cranking up the music to drown out Herman's unseasonal greetings.
Eventually the Koach arrived near the platform where parade TV hosts Betty White and Lorne Greene were perched. Ottawa-born Greene was by then into his fifth season as Pa Cartwright on Bonanza. He even once rode on horseback in the parade with Bonanza co-star Dan Blocker. White, who co-hosted the parade from 1963 to 1972, was, well, Betty White. Born in 1922, she's older than the parade itself and with any luck will turn 100 next January.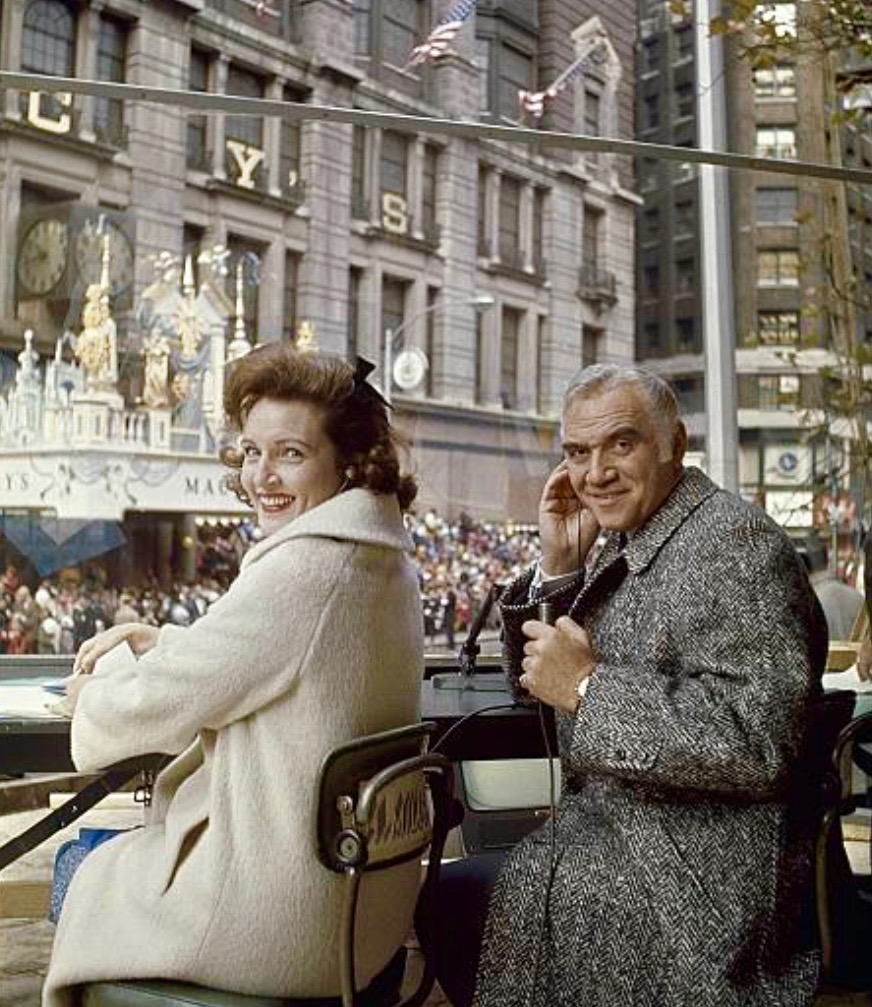 Well oiled by this point in the parade, Gwynne recognized them both in the media box, and, according to Silvera, cut loose to the cameras with a loud, "F– you!"
Once again, Silvera cranked the volume way up on the Munsters' theme.
"I thought Betty White and Lorne Greene were going to fall off the platform," Silvera told Cox. "But I have to admit, it was funny."
The Munsters were not invited back for the 1965 parade.
A black and white Universal newsreel from 1964 captures The Munsters parade appearance on film. (The Munsters was shot at Universal Studios.) Check it out below. Watch this year's parade Thursday morning from 9 am to noon in all time zones on NBC (also streamable, for the first time, on Peacock).