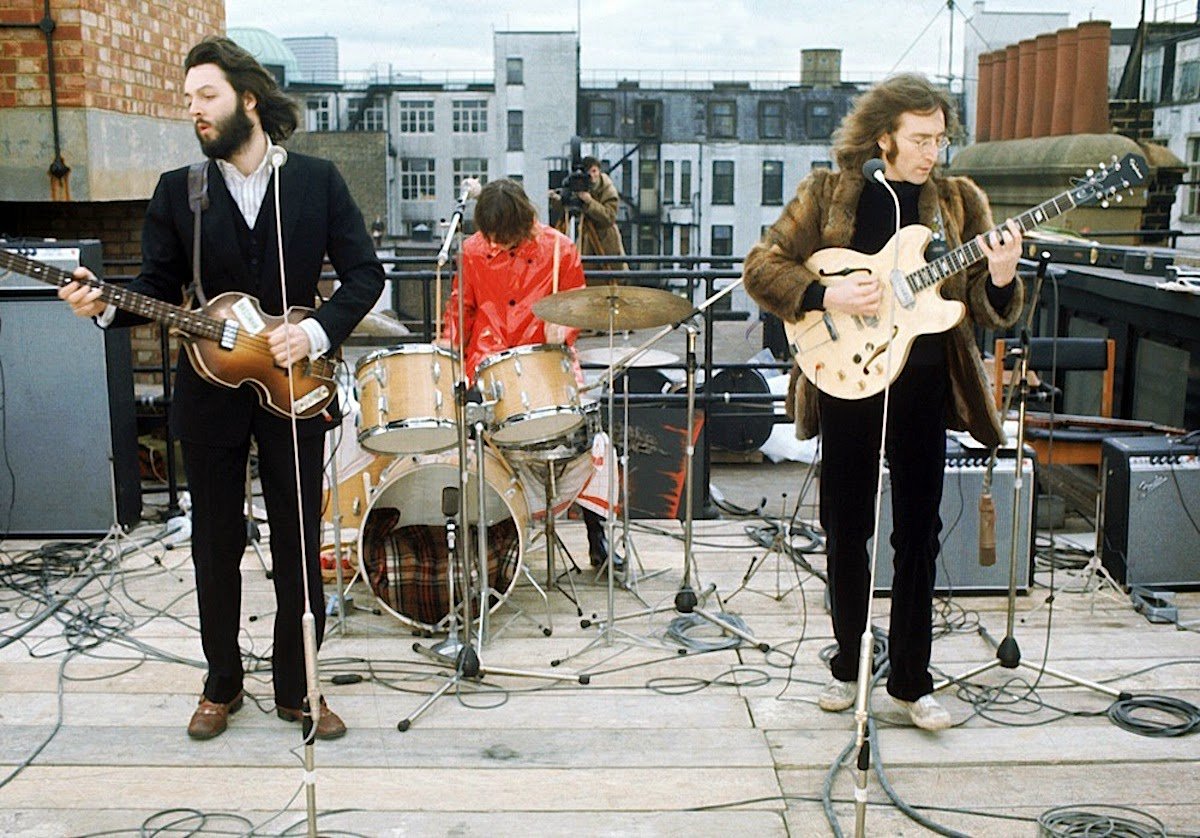 My friend Alan Pergament of the Buffalo News tweeted that, "You have to love The Beatles as much as John loved Yoko to watch all 8 hours of 'Get Back' in one day."
As usual, Alan is not wrong. I love The Beatles and even I had to watch Peter Jackson's epic repackaging of "Let It Be" over three consecutive days; one per episode as it was wisely released by Disney+.
I've already written my assessments of Parts 1 and 2; here is my take on Part 3.
The Beatles are in the home stretch of their impossible mission to create 14 songs for a new, "live" album," and to have it all culminate in their first live performance is two-and-a-half years. It has not looked good so far as the lads are all pretty-much Fabbed out. George Harrison briefly quit, John Lennon has looked stoned most days and Ringo Starr has said about four words so far all series.
A big corner has ben turned, however, with the start of this third episode. A suggestion, from original "Let It Be" documentary director Michael Lindsay-Hogg, that the band play their big live show on the roof of their own building on London's Savile Row solves a big problem: where the heck are they going to get a concert venue that is available in two or three days?
It seems to spark the band as Part 3 begins. Paul McCartney and soon-to-be-bride Linda Eastman arrive at the basement studios at their Savile Row offices with Linda's young daughter Heather in tow. She steals most of the next 20 minutes, bringing the clown out in Ringo by banging on his drums, getting tossed way up in the air by Paul and imitating Yoko Ono's screech-singing style into a mic to the delight of John.
Also more of a presence this episode is George Martin, the daddy producer who has been mostly mute in rare appearances so far. He gets involved with suggestions for Ringo, who brings the first few bars of "Octopus's Garden" into the audio den. George kindly suggests a middle 8 to help the drummer along.
There is another hour or so of rehearsal and by this point the repetition is testing the patience of even this Beatles nut. I mention this to my son Dan — at 28 the same age today that Lennon and Starr were in January of '69 — who disagrees. He feels "The Beatles Get Back" is very cool, something easy to slip in and out of as a viewer.
For me, having seen all eight hours-plus, I'm never likely to watch it all again, but I am very happy to have this access to footage that was hidden away in a vault for 50 years. There are many highlights I can scan right to on future viewings.
Director Peter Jackson teased that viewers will finally see the entire rooftop concert with "Get Back." That is true and welcome, but its not like any actual songs were skipped with "Let It Be" in 1970. The Beatles only performed four songs live on the roof and they were the four they had rehearsed the most, "Get Back," "Don't Let Me Down," I've Got a Feeling" and "Dig a Pony." I think they play them all twice.
They were the four loudest rockers, which likely helped speed the shut down by the constables who took the "see here" complaints to the Apple receptionist on the ground floor. The Bobbies were so ineffectual it was like a Monty Python sketch. You can't watch without thinking how much faster this all would have been shut down by armed state troopers in America.
Beatles roadie Mal Evans is the hero of the concert as he stalls the cops for at least half an hour.
Had The Beatles opened with "Let it Be," or "The Long and Winding Road," would the neighbouring businesses have just carried on and opened a few windows? We'll never know.
Two things I did observe: there is hardly any footage of Billy Preston from the rooftop performances. That's a shame as he contributes to all of the songs and his keyboard solo makes "Get Back" soar. Were the ten cameras mounted on the roof (at least one across the street) told to pan away from "the Fifth Beatle"?
The other is the sheer joy they all seem to be having playing live together, even if their audience can't really see them. There is a shot of Ringo getting out from behind his kit to peer over the edge of the roof to the fans gathered on the street below. Lennon in particular just radiates energy. Clearly rocking on the rooftop was a high he was missing and had been searching for elsewhere. It was wonderful to see them all re-discover, albeit briefly, the joy it must have been to be The Beatles.
Fun, as well, to see them play though the cold (it was January in London). At one point, Lennon flags down a roadie to hold a clipboard with the lyrics to "Dig a Pony" so he can read them while he performs. He did go up earlier on "Don't Let Me Down," a fun mistake recorded for posterity on the album.
Mal finally managed to get word through to the band that the cops were out of patience and that the amps must be turned off. Lennon utters his famous, "Thank you on behalf of the group and ourselves and I hope we passed the audition."
That's not where it ends, however. Jackson deals with the day after – the last where they recorded songs for "Let it Be" — by squeezing it into the end credits. It seems odd, especially considering that was the day they nailed the album versions of the album's title song as well as "The Long and Winding Road." We never do get to hear those songs or most that they worked on played all the way through.
I get it though. The climax was the rooftop session. We've heard all the songs played straight through a million times over the last 50 years. Jackson's goal was to let us witness how these four men, over 22 days, found a way to get back to where they once belonged. That is very cool indeed.