We all know Anne Murray was an adult contemporary, pop and country music super star, selling more than 55 million records. Her impact on television, however, was also tremendous.
As she relates in this special Christmas Week episode of brioux.tv the podcast, Murray got her TV start on CBC's Singalong Jubilee. Spun off from the earlier Don Messer's Jubilee, Singalong ran from 1961 to 1974 and over the course of its run featured Murray as well as Catherine McKinnon, Ken Tobias from The Bells and other budding East Coast artists.
When "Snowbird" broke big in 1970, Murray says she did so many TV appearancs "it's all a blur to me now." Canadian shows such as Front Page Challenge and Wayne & Shuster specials came calling, but so did American showcases. Murray credits The Glenn Campbell Goodtime Hour (1969-'72), where she appeared as a semi-regular, as a series that really put her on the map stateside.
Between TV appearances and live concerts, including many state and provincial fairs, Murray figures she was on the road 365 years of the year.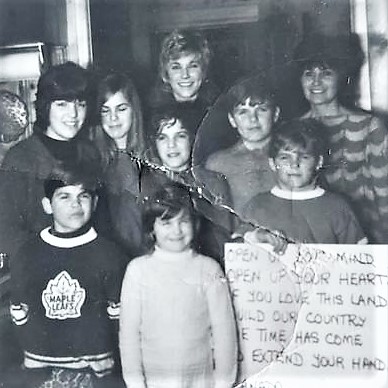 That included a stop at my cousin's farm in Nashville, Ontario. The photo is a little bent and worn now, but thanks to cousin Dawn for forwarding this shot of Murray in her parent's Norm and Barb's kitchen, where she had been recording a commercial. All seven of their children are in the shot along with mom Barb. Cousin Norm recalls Murray was still based in Nova Scotia at the time, placing the ad somewhere around 1970.
That appearance with the Brioux cousins, of course, led directly to appearances with Johnny Cash, Bobby Vinton, Merv Griffin, Mike Douglas and many others. Suddenly she was thrust into the Great American pop music melting pot, duetting with Johnny Cash, Danny Thomas, Tennessee Ernie Ford and Brady Bunch mom Florence Henderson.
I had the pleasure of interviewing her a few times, once at Walt Disney World in Florida where Murray was taping a special with her guests Julio Iglasias and Patty LaBelle. Producer Sandra Faire and her CBC crew had set up at the Castle for an overnight shoot, the only time the park was free of thousands of guests. It was surreal to be standing in one of the tunnels underneath The Magic Kingdom as Murray and LaBelle did a back-to-back photo shoot for TV Guide magazine.
"This is an odious comparison!" Murray, who has quite a sense of humour, kidded at the time. Listening to the two of them harmonize later was quite a privilege.
Those Anne Murray Christmas specials were record breakers at the time with one CBC effort drawing upwards of 4.5 million viewers. Yet they're not even mentioned in "Anne Murray: Full Circle," the new documentary now streaming on CBC Gem. The two-hour doc is simply crammed full of too many other great stories.
You can hear some of them on this podcast, including the details behind the notorious photo op that took place in the fall of 1973 (above) with Murray surrounded by the bad boys of rock and roll: John Lennon, Alice Cooper, Harry Nilsson and Micky Dolenz.
Murray, 76, retired nearly 15 years ago and recently moved back to Nova Scotia. Among her fans today is Stewie from Family Guy, who has an incredible crush on Canada's snowbird, as you can see from the following clip:
Murray had the grace to go along with this running gag on the animated comedy, even appearing as herself to do a voice-over in a rather outrageous episode.
Thanks to Frances Bedford at CBC for setting up the interview. Follow this link to my feature on Anne Murray at Everything Zoomer. This link takes you directly to the podcast.