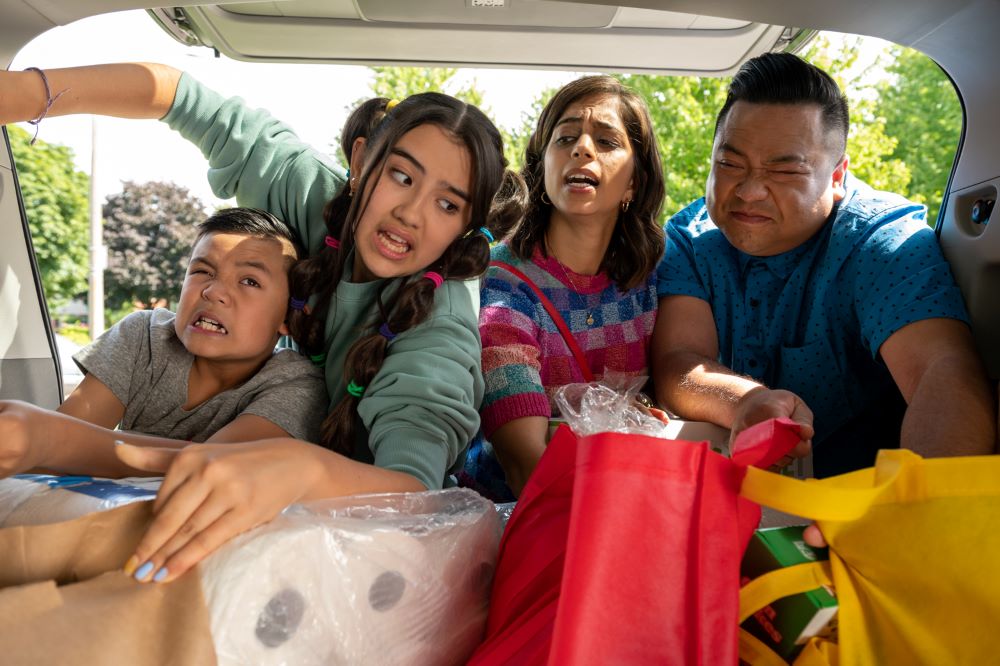 If you live in the 'burbs you'll recognize the family at the heart of Run the Burbs, the second new sitcom to launch this week from CBC.
It stars and was co-created by Andrew Phung, best known for his five seasons as Kimchee on Kim's Convenience. Co-creator is Scott Townend, with Canadian TV veteran Laszlo Barna's name among the execs.
Expressive Phung plays Andrew Pham, head of the "Pham clan" — one of many new-speak phrases heaped over everything in this very now sitcom. Andrew is a stay-at-home dad who dotes on his two children Khia and Leo, played with dimension by Zoriah Wong (Nancy Drew) and Roman Pesino (Odd Squad).
Playing kick-ass wife and mom Camille is this show's secret weapon, Rakhee Morzaria (Private Eyes). I laughed out loud when she took on the neighbourhood gear heads in the most suburban street race ever. Camille risks the family van, which she dubs "Van Deisel."
This show is very different from Tuesdays premiere of Son of a Critch on CBC. That sitcom reached me on a Wonder Years level and is steeped in nostalgia. Run the Burbs is another tale of the suburbs, but a modern one.
Phung says at one point that the Phan clan like to "sneak the line in — that's our thing." It is and they do and you'll hear things are "on the DL" and watch them bring "fam hands in." These four know how to work eight screens at once to book summer camp, buffering be damned.
The pilot is well directed by Alysa Young and the fun of the street race is revved up by some clever split-screen editing.
Another bonus is Aurora Brown from Baroness von Sketch Show. She's the snooty neighbourhood bylaw lady from hell in the pilot.
Local hip-hop legend Kardinal Offishall adds slang and sass to the opener. A neighbour of the Phan's, he claims he's just Jason now and no longer "slingin' rhymes" — but then he rhymes it with Maritimes. Take that, Drake.
There's music from Black Prez and Kid Something, Exco Levi, and Tranz Trenderz on the soundtrack. Son of a Critch features Dean Martin and Rush. Between the two shows they have Canada covered.
Not matter what your age, if you live in the T-Dot or the 6 or especially in Brampton, where I live, you'll get Run the Burbs. The multi-cultural richness will ring absolutely true. So will the street dynamics. The rowdy neighbours who moved in across the street and down a bit from me are still waking folks up with their lawn parties and their drunken, 2 a.m. medley of that one Backstreet Boys hit. Where is the bylaw lady when I need her?
Run the Burbs premieres tonight, Wednesday, at 8:30 p.m. (9 in NT) on CBC and can be streamed at CBC Gem.