Just as we're all starting to explore life again outside our own personal bubble spaces, along comes a movie from Judd Apatow that holds a funhouse mirror up to the challenges of shooting movies and TV shows during the pandemic. That's just one of several new offerings this month, including the long-awaited prequel to Game of Thrones. As always, check back often as shows will be added to this list throughout the month. UPDATED April 26.
FRI/APRIL1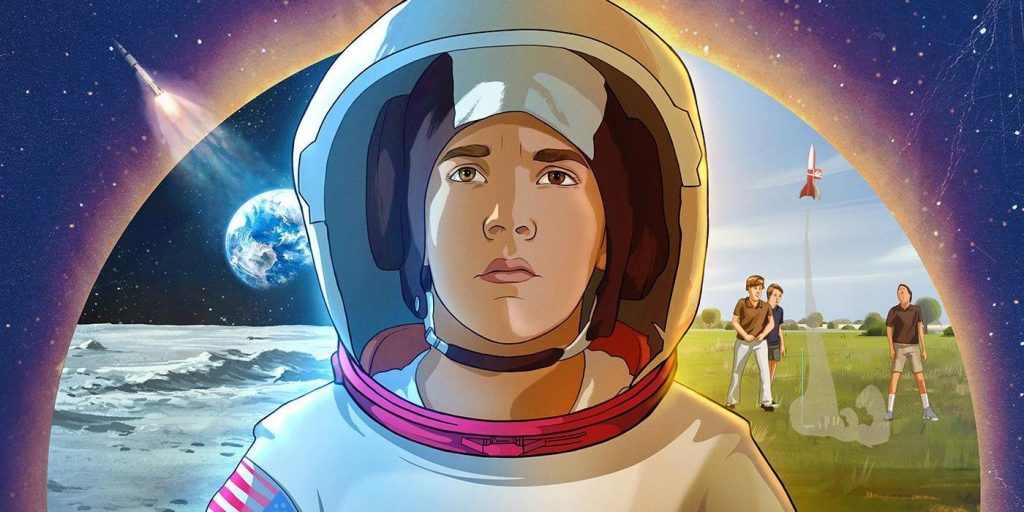 Apollo 10 1/2: A Space Age Childhood (Netflix). A cool little animated film from Richard Linklater (Childhood; A Scanner Darkley) is a fun fantasy for kids today or those of us who remember that first moon landing. Set in the late '60s, it finds NASA engineers screwing up and building the Lunar Modual too small — and they need a kid to go to the moon and test it out. Jack Black, Zachary Levy are among the voice cast.
"Night Raiders" (Crave). In this Canadian thriller set in the near future, the military has seized control of society. In an eerie echo of the indigenous residential school system, children are taken from families and put into State Academies. Available in English, French and Creee.
"The Bubble" (Netflix). Director Judd Apatow's first film since "The King of Staten Island" is about a movie cast sequestered in a hotel in England during the pandemic. They are working on a big-budget, special effects heavy feature called "Cliff Beasts." The cast includes Apatow's wife Leslie Mann, daughter Iris Apatow, Pedro Pascal, Kate McKinnon, David Duchovny, Karen Gillan, Keegan-Michael Key, Fred Armisen, Rob Delaney, Peter Serafinowicz and Maria Bakalova.
SAT/APRIL 2
Whitney, a Look Back (CBS). A music special about the late Whitney Houston.
SUN/APRIL 3
The 64th Annual Grammy Awards (CBS). Guards have been posted at all entrances in case Will Smith decides to show up and start slappin'. Actually, CBS would probably pay him to do that. Thee industry music awards are finally taking place after bieng postponed from January and re-located from LA to Las Vegas.

MON/APRIL 4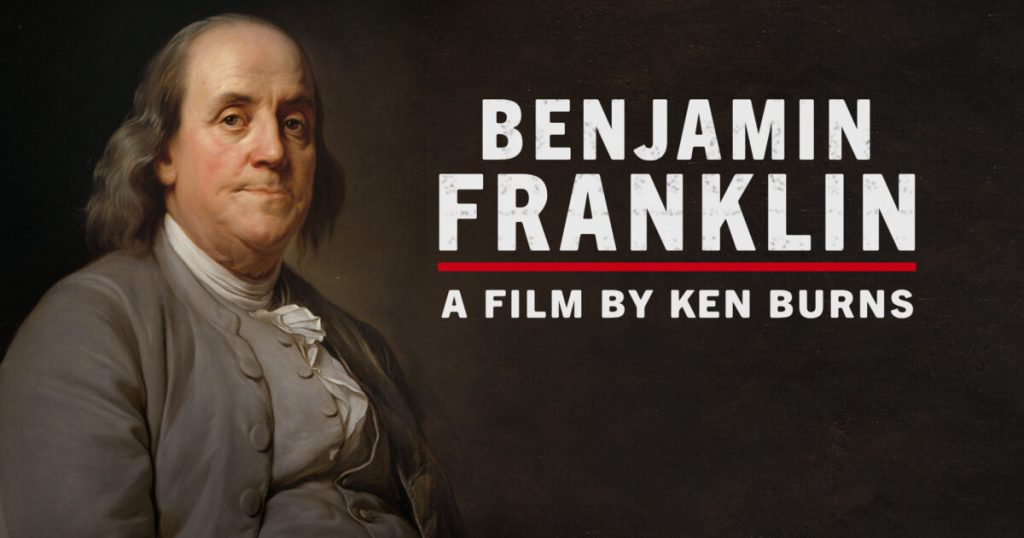 Benjamin Franklin (PBS). After a couple of documentaries based on figures from the 20th century (Muhammad Ali, Ernest Hemingway), filmmaker Ken Burns goes back to the 18th to one of America's founding fathers, Ben Franklin — who shares a birthday with Ali. Four hours, shown over two consecutive days. Narrated by Burns' favourite Peter Coyote, with Mandy Patinkin speaking for Franklin.
TUES/APRIL 5
Tony Hawk: Until the Wheels Fall Off (HBO; Crave). Which is the same way I feel about my SAAB. A profile of the relentless skateboardr.
WED/APRIL 6
Jimmy Savile: A British Horror Story (Netflix). This creep was a monster star in The UK. Turns out he was just a monster, who died in 2011 before he could be brought to justice for more than 450 allegations of sexual assault and abuse, many with very young minors.
THURS/APRIL 7
Tokyo Vice (HBO Max; Crave). Remember Michael Mann? The Miami Vice creator and showrunner is back with this 10-episode drama set in the '90s and centered on the Tokyo Metropolitan police force. No word yet if anybody wears pastels or goes sockless. Ansel Elgort, Ken Watanabe, Rachel Keller, and Rinko Kikuchi star. Begins with three episodes, with new hours dropping on subsequent Thursdays.
FRI/APRIL 8
All the Old Knives (Amazon Prime Video). Chris Pine stars in this spy thriller who rekindles an affair with an old flame (Thandiwe Newton) from their days as CIA operatives in Vienna. Things get messy when the truth behind a terrorist attack they were unable to prevent begins to emerge. Laurence Fishburne Pryce also star.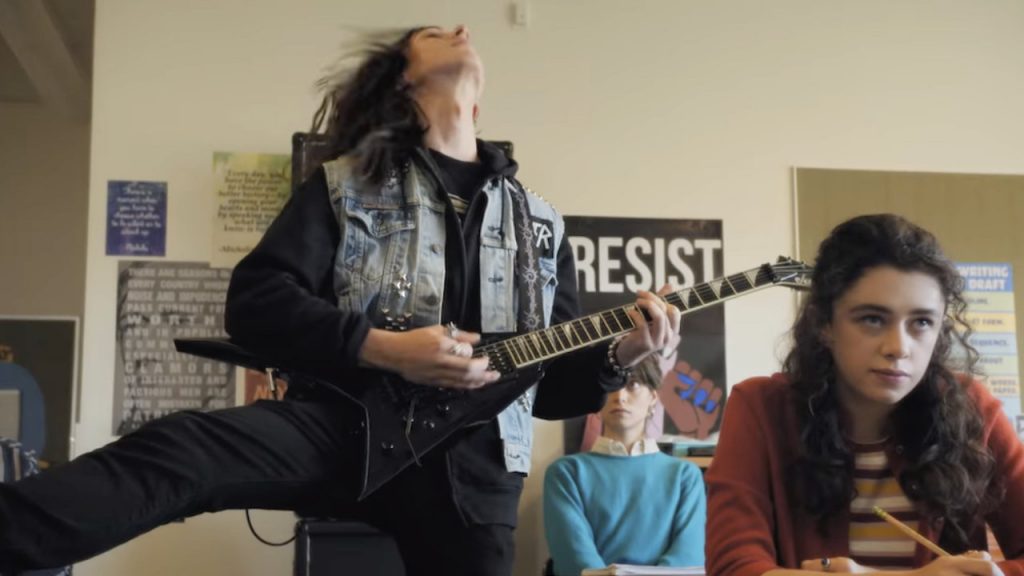 Metal Lords (Netflix). Game of Thrones co-creator D.B. Weiss is behind this Battle of the metal bands comedy set in a high school. The question: is there room in the band for a girl who plays the cello?
Returning: A Black Lady Sketch Show (HBO; Crave). Third season premiere. Wanda Sykes, Ava DuVernay, Kel Mitchell, David Alan Grier, Raven-Symone, and Lance Reddick among the guest stars. Also: Woke (Hulu). Lamorne Morris returns in Season Two of this series set in San Francisco but shot in Toronto.
SAT/APRIL 9
Would I Lie to You? (The CW). Matt Walsh and Sabrina Jalees lead teams trying to determine who is lying and who is telling the truth. Laura Benanti, Preet Bharara, Michael Ian Black, Jordan Klepper, Adam Pally, Amber Ruffin, and Brooke Shields are in on the game, which is based on a British series.
SUN/APRIL 10
61st Street (AMC). A black high school student is singled out by the police and prosecutors intent on avenging the death of a cop during a drug bust gone wrong. Courtney B. Vance (above), Aunjanue Ellis, and Holt McCallany are among the stars. From writer Peter Moffat.
MON/APRIL 11
CMT Music Awards (CBS). They don't even air on CMT anymore! Shouldn't they be called the CBS Music Awards? Kelsea Ballerini and Anthony Mackie host.
Returning: Scott's Vacation House Rules (HGTV). Real estate expert and contractor Scott McGillivray talks about what to expect on Season 3 in a recent brioux.tv podcast conversation you can find here.
TUES/APRIL 12
Hard Cell (Netflix). This must be where the female criminals arrested on Pretty Hard Cases wind up — the Britich ones, anyway. A six-episode mocumentary about a prison for women starring series creator Catherine Tate (not to be confused with the CBC exec).
WED/APRIL 13
Our Great National Parks (Netflix). Former US president Barack Obama brings Hope to squirrels, etc., in this five-part look at America's national parks.
THURS/APRIL 14
The Kardashians (Hulu). The same obsession with this one family, moved to a new network. Episodes can be ignored every Thursday.
Killing It (Peacock). Craig Robinson stars in this 10-episode comedy about a prison guard who wants to buy some land. Love's Claudia O'Doherty plays an Uber driver who convinces him to enter a python-hunting contest to raise cash. Hilarity ensues. From the folks behind Brooklyn Nine-Nine.
FRI/APRIL 15
Paul Rabliauskas: Uncle (Crave). First Nations stand-up comedian Paul Rabliauskas performs in this Just for Laughs stage show shot in Montreal. First in a series of seven Crave original stand-up specials.
Tripping The Bruce (TVO). The third in executive producer Mitch Azaria's annual real-time documentaries explores the wonders of the Bruce Peninsula — a destination I suggested! The three hour tour, in a sailboat, takes viewers on a 34 kilometer trip across the tip of the Bruce, winding up at Flowerpot Island. Highlights include underwater explorations of several shipwrecks. Listen as Mitch sets it all up starting Monday on the next episode of brioux.tv the podcast.
Anatomy of a Scandal (Netflix). This new, sex-episode anthology series from veteran writer-producer David E. Kelley is yet another courtroom drama. Sienna Miller, Rupert Friend, Michelle Dockery, and Naomi Scott star in a sexual consent scandal mixed in with the trial of a politician.
Come Dance with Me (CBS). Hosted by Philip Lawrence, this new dance competition features dancers aged between 9 and 15 paired with a family member with no dance training. Jenna Dewan, Dexter Mayfield and choreographer Tricia Miranda judge which pair wins the $100,000 grand prize.
It's the Small Things, Charlie Brown (AppleTV+). This new, animated Peanuts special is themed around Earth Day. Seems Charlie Brown's little sister Sally has taken a shine to a dandelion growing on the kid's pitching mound, holding up the game. Good grief!
Bill Maher: #Adulting HBO; Crave). The Real Time host shows off his glasses in a new stand-up special. And, yes, he pokes fun at Trump. "Did you notice he was the only president who didn't age in office? WE did!"
Outer Range (Prime Video). Josh Brolin, Imogen Poots, Lili Taylor and Matt Lauria star as a Wyoming rancher in a family western with a supernatural twist. Episodees stream weekly two at a time.
SUN/APRIL 17
The First Lady (Showtime; Crave). This 10-episode series casts some of today's top stars as actual First Ladies of the past. Viola Davis plays Michelle Obama, Michelle Pfeiffer is Betty Ford, Gillian Anderson plays Eleanor Roosevelt and Stormy Daniels plays Melania Trump.
TUES/APRIL 19
Returning: Mayans MC (FX). New season.
WED/APRIL 20
Conversations with a Killer: The John Wayne Gacy Tapes (Netflix). The uber creepy clown serial killer from the '70s is unmasked gain through these never-before-heard audio tapes from his police interrogations. This new documentary also includes new interviews with investigators and survivors. Truly horrifying.\
Cypress Hill: Insane in the Brain (Showtime; Crave). Called the greatest rap group of all time, or the music of marijuana, this documentary looks at the legacy of a truly original hip hop force from the '90s.
Returning: Russian Doll (Netflix). Three years after Season One, a seven-epsidoe second season finally drops. New cast members include Annie Murphy and Sharlto Copley.
THURS/APRIL 21
House of the Dragon (HBO; Crave). Allowing several years to go by in hopes fans forget that horrible series finale, George RR Martin's follow-up to Game of Thrones finally wings it way to HBO. The 10-episode series will also stream on Crave and HBO Max. The series is set 200 years before Thrones and stars Paddy Considine, Matt Smith, Olivia Cooke, Emma D'Arcy, Steve Toussaint, Eve Best, Fabien Frankel, Sonoya Mizuno, and Rhys Ifans. Based on Martin's "Fire & Blood."
The Flight Attendant (HBO Max; Crave). Kaley Cuoco returns for a second season of this fast-paced thriller. The first two of eight new episodes drops on this day. They find Cuoco's flight attendant Cassie Bowden drying out in Los Angeles where she continues to moonlight for the CIA in her spare time. Does she get tangled up in international espionage? I'll drink to that. Joining the cast this season: Sharon Stone, Mo McRae, Callie Hernandez, Cheryl Hines, Jessie Ennis, Margaret Cho, Santiago Cabrera, Shohreh Aghdashloo, Mae Martin, and JJ Soria.
FRI/APRIL 22
A Very British Scandal (Prime Video). This three-episode drama looks back at one of the most sensationalized divorce trials in British history, the 1963 undoing of the Duke and Duchess of Argyll (played by Paul Bettany and Claire Foy). It had everything, including allegations of bribery, forgery, theft and drug use.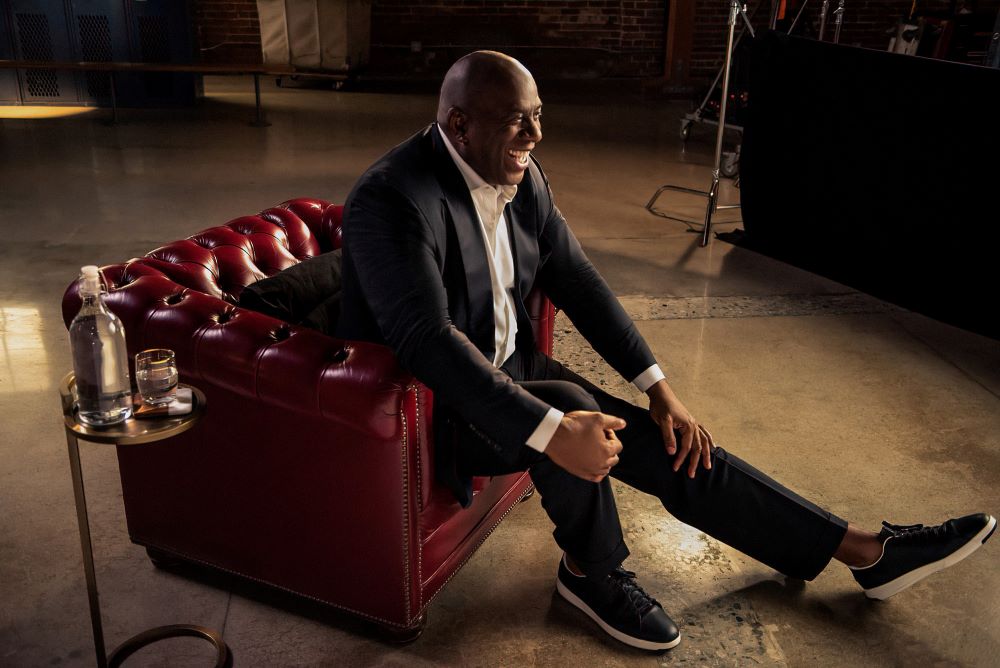 They Call Me Magic (AppleTV+). Los Angeles Lakers great Magic Johnson is the focus of this four-part documentary series from director Rick Famuyiwa. Johnson, who won five NBA championships with the Lakers in the 1980s, is also showcased in HBO's recent drama miniseries Winning Time where he's played by Quincy Isaiah. His teammate Kareem Abdul-Jabbar, however, says watch this one.
SUN/APRIL 24
Gaslit (Starz; Crave). A new re-telling of the Watergate break in and scandal which took place 50 years ago. The cast includes Julia Roberts (as socialite Martha Mitchell), Sean Penn (as Attorney General John Mitchell), Dan Stevens (as John Dean), Betty Gilpin (as Mo Dean), Shea Whigham (as G. Gordon Liddy), Allison Tolman (as journalist Winnie McLendon), Patton Oswalt (as Nixon advisor Chuck Colson), Hamish Linklater (as Mitchell assistant Jeb Magruder), Chris Bauer (as Watergate burglar James McCord), Nat Faxon (as Bob Haldeman), Chris Messina (as FBI agent Angelo Lano), and J.C. MacKenzie (as E. Howard Hunt). Inspired by a podcast and designed as an anthology series, with a different scandal examined in subsequent years.
The Baby (HBO; Crave). This eight-episode horror-comedy from The UK is about a 38-year-old woman (Michelle De Swarte) who suddenly gives birth to the baby from Hell.
The Man Who Fell to Earth (Showtime; Crave). Star Trek veterans Alex Kurtzman and Jenny Lumet are behind this remake of the classic 1976 feature starring David Bowie. Chiwetel Ejiofor stars as an alien who falls to Earth with Naomi Harris as the scientist who befriends him. Rob Delaney, Jimmi Simpson, Kate Mulgrew, Clarke Peters, Sonya Cassidy, Joana Ribeiro, and Bill Nighy also star. Begins with back-to-back episodes.
Returning: Barry (HBO; Crave). TV's favourite hit man is finally back, after an almost three-year wait for new episodes.
MON/APRIL 25
We Own This City (HBO; Crave). Master storyteller David Simon (The Wire) is back in Baltimore with this six-episode police series co-created by novelist George Pelecanos. This series looks at the Police Department's Gun Trace Task Force, a division thaty was eventually the target of a federal task force. The series stars Jon Bernthal, Wunmi Mosaku, Josh Charles, McKinley Belcher III, Dagmara Domińczyk, and Treat Williams.
Returning: Gentleman Jack (HBO; Crave). Finally! Sandra is happy.
TUES/APRIL 26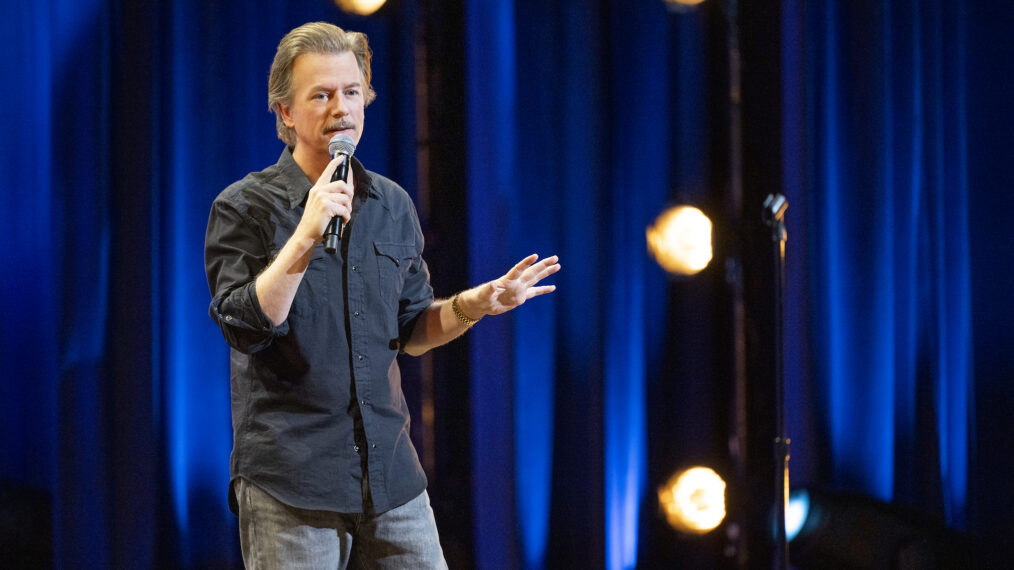 David Spade: Nothing Personal (Netflix). The comedian's first stand-up special for Netflix. Filmed at the Pantages Theatre in Minneapolis.
WED/APRIL 27
"The Survivor" (HBO; Crave). Ben Foster stars in this true story about Harry Haft, who survived the horrors of a Nazi death camp, including a gladiatorial boxing spectacle he was forced to participate in for the amusement of his captors. From filmmaker Barry Levinson and premiering on Holocaust Remembrance Day.
THURS/APRIL 28
The 2022 NFL Draft (ABC).
FRI/APRIL 29
Shining Girls (AppleTV+). Elizabeth Moss stars as a Chicago-based reporter who was assaulted and discovers that her assailant is a time-traveling serial killer. Based on a 2013 novel by Lauren Beukes. Three episodes drop all at once, then once a week over the eight-episode run.
SAT/APRIL 30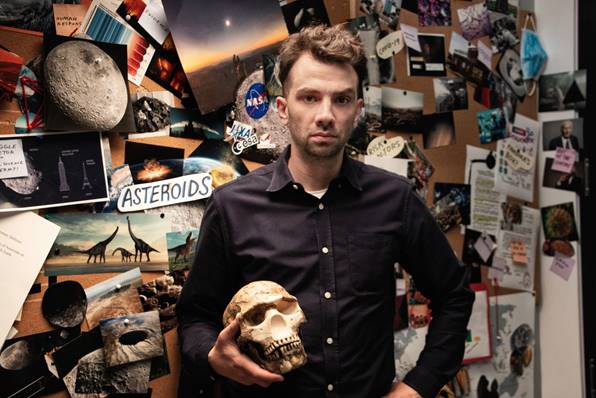 We're All Gonna Die (Even Jay Baruchel) (Crave). This half-hour, six-part series is based on this cheery thought: We're all going to die. How will it end? Baruchel counts the ways: an asteroid wipes out the planet; a nuclear meltdown, another, even worse pandemic; volcanoes; climate change; aliens!! Baruchel, who has been working on this for two years, talks to scientists and looks at technical innovations in hopes of finding some way out of this mess. Not for the faint of heart!