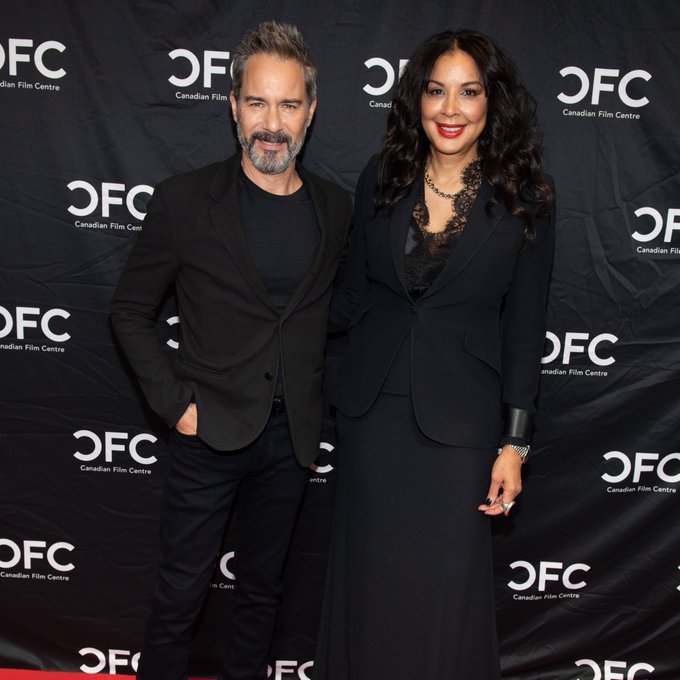 Eric McCormack enjoyed a sweet hometown homecoming this past Monday in Toronto at an "In Conversation" event hosted by the Canadian Film Centre.
The 59-year-old Emmy winner was on stage with Zoomer magazine editor-in-chief Suzanne Boyd (above, right) before a well-vacinated crowd assembled at the downtown Toronto Varsity VIP cinemas.
McCormack, in town to shoot the fifth season of Slasher (he plays a 19th century Jack-the-Ripper baddie), broke some news at the session: he has teamed with writer-producer Peter Tolan (Rescue Me; The Larry Sanders Show) on a Broadway production of the 1989 feature, "The War of ther Roses." Jason Alexander is down to direct. The divorce-drama, played by Michael Douglas and Kathleen Turner in the movie, has been re-spun as a marital meltdown beteen an interracial couple. McCormack hopes to have a theatre lined up in time to mount the production next March or April.
Speaking of Douglas, McCormack singled him out with a story about the many Will & Grace guest stars he tried to crack up over the 11-season run of that series. One of them was Michael Douglas, who McCormack grew up watching back in the '70s on The Streets of San Francisco.
"Can I tell you a dirty story?" McCormack asked the CFC audience. There were no objections, so he talked about the time Michael Douglas played a closeted detective on an episode of Will & Grace.
"The character was so serious," said McCormack, who thought, "I gotta get this guy." They had a scene where Will tells Douglas' character that he's always been into cops. On the first take, he mischievously ad libs, "When I was a kid, I used to jerk off watching The Streets of San Francisco."
The studio audience erupted into laughter. McCormack says his scene partner held it together, "just starting at me with that great Douglas face. As the laughter dies down, Douglas says, 'You liked Carl Malden that much?'"
Douglas so approved of the prank that, year later, he ended up presenting McCormack's star on the Hollywood Walk of Fame.
There were more stories like that one at the CFC "In Conversation" salute. Read the rest of my report here at Everything Zoomer.